I'm not sure about you, but I've really enjoyed watching Travis Hafner in pinstripes this season. Quite frankly, he's already surpassed my expectations in terms of production (and durability), and he has done a really good job of fitting in with the organization's preferred style of play — that is to say, power and patience.
Over 128 plate appearances, the man they call Pronk has batted .275/.383/.550 (.397 wOBA, 149 wRC+) with the Yankees. As indicated by the spray chart below (provided by Texas Leaguers), he's been willing to hit to all parts of the field, though most of his home runs have landed in right, as to be expected given his handedness. He's done a great job of crushing right-handed pitching (though he really hasn't been bad against lefties either).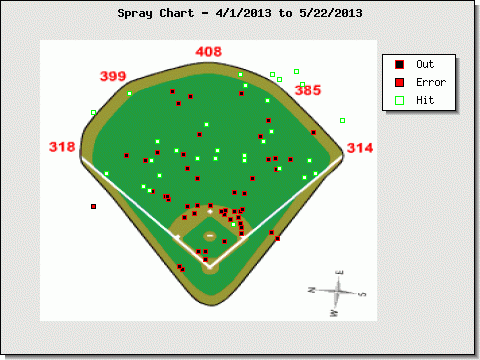 What's more, it appears as though his bat speed really hasn't declined very much; he's listed at 6.6 wFB (fastball runs generated above average). This is especially comforting given his age and the number of high velocity arms in the league. In terms of plate discipline, according to PitchF/X, Pronk's swung at 64.9% of the pitches thrown in the strike zone, and only 22.9% outside of the strike zone — resulting in am excellent 13.3 BB%. Meanwhile his 22.7 K% is basically in line with his career norms.
And then there are the hits. Pronk's .275 ISO is not an accident. Most of his home runs are not Yankee Stadium cheapies either. In other words, his power is most certainly as advertised. As of this point, he has the third most home runs on the team (8), despite having about 60 fewer at-bats than both Robinson Cano and Vernon Wells (who lead him with 13 and 10 HR respectively). Much to our delight, we've also seen that several of hits have been timely — he most recently victimized Orioles All-Star closer, Jim Johnson.
While I typically do not like to spend much time focusing on a player's intangibles, in this instance, I think it worth a quick mention. We never hear anything negative about this guy in the club house. More importantly, Hafner has completely embraced his role with the team. There were no surprises when he was signed for a one-year, $2 million dollar pact. Both he and the organization were in agreement that his job was to be a designated hitter — and a platoon bat more often than not. Unlike many players who dread the DH part time role, Pronk welcomed it from moment one and has thrived because of it. Anecdotally, all to often it seems that a club's expectations do not align with that of the player. Fortunately, that is not the case here.
Unlike players such as Jason Giambi who have vocalized their preference to remain on the field throughout the game (as it apparently helps them remain focused), Hafner seems to relish sticking by his rituals in-between at bats and disappears afterward (which incidentally, helps the team on the field defensively quite a bit too). While the rotating DH has proved itself a convenient method of resting veterans during the Joe Girardi era, it has simaltaneously resulted in some mediocre results occasionally from the designated hitter slot over the past few seasons. For the first time in a long time, the Yankees have a guy optimally suited for the role.
Will he wind up being the 5+ fWAR player that he was with the Indians back in the 2005-2006 circuits? Probably not; but as long as he stays healthy, he'll absolutely remain an effective offensive threat for the Yankees. In other words, keep those cortisone shots coming because Pronk is just what the Yankees need at DH.