We've spent some time dissecting the team's performance through the first half of the year. Mike wrote about the A's, the B's, and the C's. Notice he left me with the scrubs – the D's!* Well, at least the D's aren't the F's. Am I right?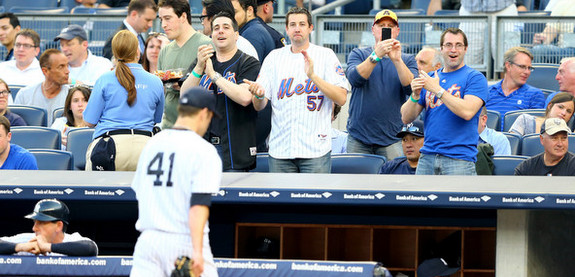 David Phelps
I know some of you might protest our decision to give Phelps a "D" grade. Whether you're lobbying to give him a "C" doesn't make much of a difference though — it doesn't change reality. He's not been great overall despite some solid starts. It's also funny, in a peculiar kind of way, how quickly the shine wears off of a guy.
Anyway, Phelps has pitched to a 5.01 ERA (3.85 FIP) and has been worth 1.1 fWAR thus far. He's struck guys out at a decent rate (8.17 K/9) and hasn't given up too many long balls (0.87 HR/9). Phelps has allowed a few too many free passes though (3.48 BB/9) and gives up more hits throughout his starts than one would ideally prefer.
Consistency has been the issue here. Despite several quality starts, Phelps has seen his numbers balloon thanks to some really awful games (particularly of late). He allowed four earned runs in 6.1 innings against Minnesota, nine runs against Baltimore (in 2.1 innings!), and four runs to the Mets in a third of an inning. On one hand you can look at Phelps a bit less critically when you consider that he is and always was expected to be a back of the rotation type of arm. One other hand, results are results. Sorry, David.
Phil Hughes
Getting tired of reading about Phil Hughes yet? Well, we all know the story here – frustrating inconsistency topped off by too many home runs surrendered (1.58 HR/9, here's the list of pitchers with the most HR surrendered — good to know the Yankees have two guys cracking the top 15). Through 102.1 innings, Hughes has pitched to a 4.57 ERA (4.48 FIP), and has been valued at 0.9 fWAR. In terms of peripherals, he's striking out 7.74 batters per nine and has limited the walks (2.29 BB/9).
Despite very legitimate concerns over next year's rotation, it seems pretty clear the Yankees are willing to part ways with the once-heralded Hughes. If they don't trade him for a bat by the deadline, they'll give him the qualifying offer after the season, which he probably won't accept. The funny thing is, as maddening as Hughes has been, he's still capable of throwing the occasional gem and should he string together some solid starts through the remainder of the season, you know some team will decide he's worth committing a lot of dollars and several years too. It's a shame it hasn't really worked out in New York but that's how it goes sometimes.
Chris Stewart
This is a tough break for Chris. He's basically producing at a reasonable level, I argue … for a backup catcher. The problem is he isn't a backup catcher. After the Yankees elected to forego Russell Martin for Francisco Cervelli, the most obvious predicament in the world occurred. Cervelli was injured and the team had to figure out where to go from there. That's when Chris Stewart stepped in as the every day guy.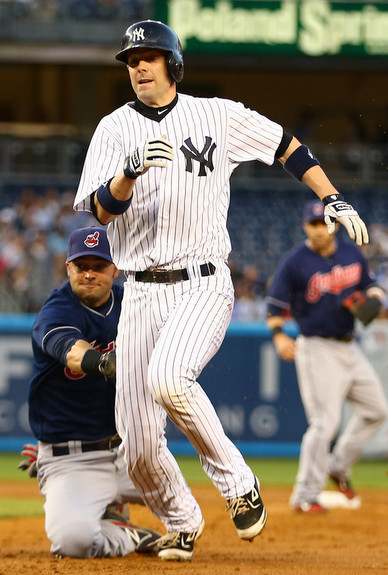 So what happens to a guy like Chris Stewart when he's forced to play day in and day out? Well over 197 plate appearances he'll hit .241/.316/.306 (.282 wOBA, 77 wRC+, 0.8 fWAR). He'll take a decent number of walks (9.1 BB%) and will put the ball in play frequently (14.2 K%). He'll also hit for no power whatsoever (three home runs, 0.65 ISO). Defensively, I think he's generally regarded favorably. Again, I would argue that none of these stats are necessarily bad, they're just not good.
To put it in perspective, the Yankees catchers collectively rank twentieth in all of baseball in terms of fWAR (1.1), twenty-fourth in wRC+ (68), and twenty-fifth in wOBA (.275). Obviously, not all of this production is Stewart's doing, though he's logged far and away the most innings behind the plate. Basically, the production the Yankees have received from their catchers ranks in the bottom third of all of baseball in just about every meaningful category.
Vernon Wells
Remember when Wells hit .300 with six home runs through April? Remember when folks were wondering whether Cashman was actually a genius for taking on one of the worst contracts in all of baseball? Yep, that didn't last long. In completely predictable fashion, Wells turned back into the pumpkin he's been for years — that is to say a grossly overpriced fourth outfielder.
Overall, Big Vern has batted .238/.276/.371 (.282 wOBA, 73 wRC+, 0.1 fWAR). On the plus side, he's been generally pretty good in the outfield defensively despite a few questionable plays of late. On the down side, he's managed to hit only four home runs since April. He's also hit in the heart of order basically all season, even during his putrid May slump.
Given the amount of exposure he's seen thus far, it's not surprising he's shown noticeable splits either (batting .207 against righties). Back in late May, I wrote about Vernon and what we could expect moving forward. Long story short, the conclusion was that he most certainly wasn't the player we saw in April, and hopefully also not the guy we saw in May. I think this still holds true. Unfortunately, what we can expect is a "D grade" player who was brought to the team out of necessity. Hopefully, he'll be used more sparingly going forward when and if Curtis returns.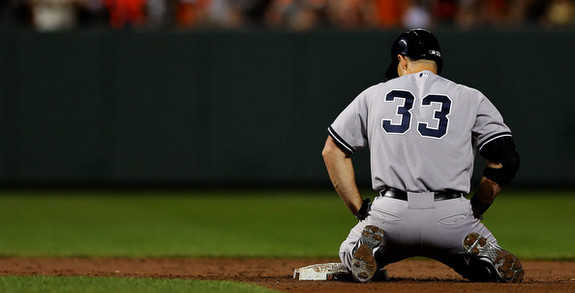 Travis Hafner
First, let me start by saying that I for one am shocked that Hafner has made it to this point. I was expecting Pronk to pull a Kevin Youkilis and suffer some season-ending injury after the first month or so. Surprisingly, he has generally kept himself in the lineup despite some nagging injuries here and there (most recently a foot contusion that happened during batting practice). Unfortunately (and much like Wells), Hafner has been lousy since May and he too, has shown noticeable splits as to be expected.
Overall, Pronk's batting .218/.314/.407 (.317 wOBA, 97 wRC+) and has been worth exactly 0.0 fWAR through 277 plate appearances. He has knocked 12 balls out of the park though, which is second on the team to only Robinson Cano (though Lyle Overbay and Wells are right behind him with 11). Hafner continues to take his fair share of walks (11.2 BB%) while striking out at a fair pace (26.0 K%).
Pronk was brought on board for one thing: his job is to mash. The thinking was simple. As long as he's healthy (or at least relatively healthy), he'll hit the ball. This hasn't really been the case though. He's struggled a lot. He'll need to turn it around for the rest of the season as the Yankees need some much needed depth in the batting the order.
*Mike did not stick me with the D's. It just worked out that way because of timing. Actually, I claimed the F's too.