We've already covered a bunch of players in Part I and Part II of the 2013 Potential Trade Targets series, so for those of you who missed out those posts, be sure to get yourself caught up. For the rest of us, there's no time like the present, so let's jump into the next batch of names.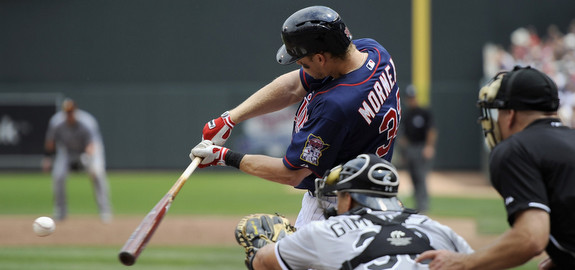 Justin Morneau
There was a time, not so long ago mind you, that most teams would be quite interested in a first baseman like Morneau. From 2004-2010, he hit 18 or more home runs each season (30+ home runs in his 2006 MVP season, 2007 and 2009). Throughout his career, he's been largely considered a solid defensive player and an all-around good clubhouse guy as well.
Unfortunately, he's not the same player he once was these days. In 2010, his season was derailed by a concussion (and lingering symptoms afterwards). The 2011 season required a neck surgery to fix of a pinched nerve. Shortly thereafter, Morneau experienced more concussion-like symptoms after suffering a shoulder injury (which ultimately shut him down for the rest of the season). He finally made it back onto the field in 2012, and posted very mediocre numbers (.267/.333/.440, .330 wOBA, 108 wRC+) though the former HR Derby champ did manage to hit 19 long balls in the process (.172 ISO).
This season has brought more of the same mediocrity (.288/.342/.407, .328 wOBA, 107 wRC+), except it's now without the power. Morneau's hit only four (!) home runs thus far. He's also taking fewer walks (down about three percent from his career norm). Contractually, he's owed approximately $7.5M for the rest of the season, after which point he'll hit free agency. Personally speaking, the team can't afford another guy incapable of hitting the ball over the fence, especially one who plays a position known for premium offensive production.
Now I can understand why Yankees fans may feel some trepidation about first base production for the rest of the season (and maybe even beyond). After all, Mark Teixeira is done for the year and Lyle Overbay was the same caliber player offensively and has cooled considerably since his hot start. I'm not sure Morneau is the answer though. We're talking about an expensive past-his-prime-veteran rental, who's basically been replacement level the past couple seasons. Granted, I don't think it would take too much to acquire him in terms of prospects due to the power shortage and durability concerns, but who knows, maybe the Twins value him differently given his local popularity and past contributions. Frankly, I'd just prefer the team roll the dice on a guy like Mike Morse, who could play multiple positions and come at half the salary. Basically, Morneau is one Twinkie I'm okay passing on (see what I did there?).
Josh Willingham
When I think of Willingham, I think of a guy who has basically been the quintessential role player — which don't get me wrong, certainly has value. As it turns out, my initial perception was about right on this one too. The now 34-year-old Willingham has been mostly a bit better than the average guy over the years (2.7 fWAR in 2008, 2.4 in 2009, 2.7 2010, 1.8 in 2011). Last season he managed to make the jump from "role player" to the type of guy I would probably categorize as "solid contributor" (3.6 fWAR).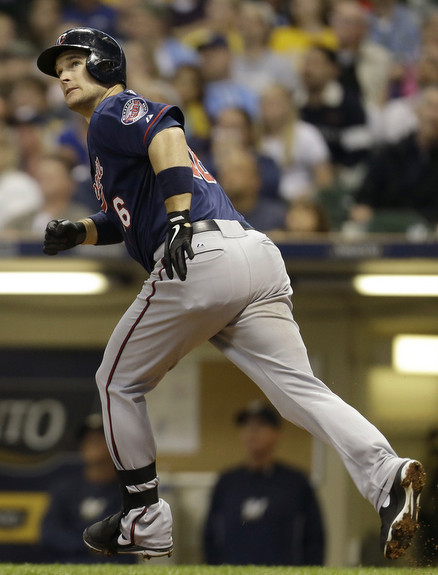 The 2013 campaign hasn't been as kind to Josh though. Despite the fact that he's managed to lead the Twins in home runs (with 10), he's slumped (.224/.356/.398, .336 wOBA, 113 wRC+). A lot. He's also had to nurse a balky left knee. To his credit though, Willingham has managed to get on base frequently via the walk (13.1 BB%) though he does strike out often (25.8 K%). It's also probably worth noting that from 2010-2012, Josh has had an increasing propensity to struggle against lefties. This season hasn't followed suit though, as a reverse split has become noticeable instead (a tidbit I'm not real sure what to make of yet). Maybe he's one of those guys who could benefit from a change of scenery; I know I'd find playing in Minnesota pretty tedious. Also, if he were in pinstripes, you'd be comparing Willingham's slumping numbers against those posted by Vernon Wells which certainly bodes well for his cause.
Although the Twins are only a few games under .500, I do think they kind of stink, and I do expect them to be potential sellers at the deadline. Assuming the Yankees were one of Willingham's suitors, they would potentially be on the hook for about $3.5M this season and another $7M next season. If I had to guess, I'd say a mid-level prospect and some salary gets it done. The real question isn't whether he's better than Big Vern though. It's whether you're comfortable with another role player patrolling the outfield for the next season and a half full-time. I'm not sure that I am, though if it wound up happening it wouldn't be the worst move in the world.
Marlon Byrd
First off, it's my official stance that anyone whose first name is Marlon should have the last name Brando, so that's strike one. Secondly, the Mets outfield, as a whole, is terrible. They're ranked 28th in wOBA (.298), 26th in wRC+ (91), and 28th in fWAR (0.2) — sounds a lot like another NY team I know actually — so Byrd gets strike two for guilt by association. He's also on the wrong side of 35, which makes for a convenient strike three.
Superficiality aside, Marlon has been by far the best outfielder in an otherwise anemic group. He's hit .262/.313/.489 (.341 wOBA, 120 wRC+) with 12 home runs and is on pace to end the season at about 3.0 fWAR which would be not only be pretty good generally speaking, but would mark the second best WAR produced by Byrd personally since his 2010 campaign with the Cubs.  Historically, he's been pretty inconsistent throughout his career in terms of production though.  On the plus side, although Byrd's patrolled right field for the Mets this season, he's also capable of manning Center Field as well (which would provide some added depth behind Gardner).
Perhaps the best argument that could be made here for obtaining Byrd is that he's dirt cheap right now ($700K) — remember he was close to retiring this past offseason (he would have called it quits had he not made the big league roster out of Spring Training). His stock was way down after his season ended rather abruptly last season after testing positive for Tamoxifen, a banned substance.  If the Yankees could squeeze half a season of decent production out of him, they'd have no problems cutting ties afterwards — he'd certainly pose no threat to the austerity budget if that ends up happening.
The Mets have a lot of work to do in their own outfield, so I don't know that it makes a whole sense for them to give up the one guy who's been a productive contributor this season.  While they may not be expecting to contend now, they might favor the idea of having Byrd as relatively cheap insurance policy (despite his age) in 2014. Perhaps a mid-level prospect is enticing enough to make it happen though — after all, salary isn't an issue here. In any event, I'm okay passing on Marlon Not-Brando Byrd given the age.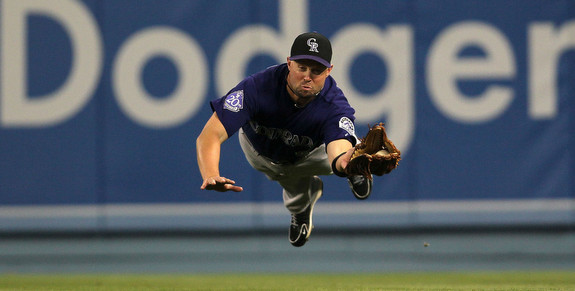 Michael Cuddyer
Is it just me, or does Cuddyer's name come up every single year around this time? I feel like he's one of those players folks are perpetually advocating a trade for. Anyway, the former Twins first round pick is another Willingham type — that is to say a role player who has value, but is probably not a difference maker.
Other than 2010, which was awful (0.4 fWAR), I think Cuddyer has generally been considered a decent outfielder despite playing a pretty poor defense — though to his credit, he can fake it at first if necessary, which would certainly help the Yankees in terms of roster flexibility.  Offensively, he's a career .274/.343/.461 (.348 wOBA, 112 wRC+) hitter who averages roughly 13 home runs a year. He doesn't take a ton of walks (career 8.9 BB%) but also doesn't strike out a ton (career 17.9 K%) either. This is his age 34 season, and he's owed about $5.25M for the rest of this season and another $10.5M next year.
I was dubious about the Willingham contract, and doubly so about this one. Cuddyer isn't getting any younger, and I suspect the Rockies would require a decent prospect in addition to salary relief. Is he better than what the Yankees have deployed in right field thus far? Definitely. Is he the type of impact bat that's worth the money, the prospects surrendered, and the additional year of service? Meh, I'm not convinced.  Cuddyer is a fine player and every team needs guys like him. I just think cheaper alternatives who can provide comparable production probably exist elsewhere.