Following yesterday's crucial extra innings win over the Rays, the Yankees confirmed right-hander Preston Claiborne will be send down to clear a roster spot for Derek Jeter. The Cap'n is coming back from his third leg injury of the year and will join the team for their series opener against the Blue Jays in Toronto. New York has been using a three-man bench since Jayson Nix broke his hand last week, so it makes sense to send a reliever down.
On the surface, keeping Joba Chamberlain over Claiborne is a head-scratcher. Claiborne (2.78 ERA/3.17 FIP) has pitched far better and appears to have entered the Circle of Trust™ — he's entered two of his last three games with a leverage index of 1.45+. Chamberlain (4.46/5.10) has been an untrustworthy mess all season, so much so that he rarely sees even medium-leverage work. Yesterday's tenth inning appearance (2.15 LI) was the first time he entered a game with an leverage index over 0.35 (!) since late-July and the first time over 1.00 since late-June. Joba has been relegated to mop-up duty, and even then his leash has been short.
In terms of having the best possible bullpen and 25-man roster, sending Claiborne down in favor of Joba is an obviously bad move. The bullpen will be worse off today than it was yesterday once things are made official, I think we can all agree about that. This move isn't about having the best possible bullpen right now though. It's about having the best possible bullpen for the remainder of the season. With Claiborne likely to join High-A Tampa, the team will circumvent the ten-day rule since Tampa's season ends on September 1st. They can bring him back on the 2nd, one week from today. They're trading short-term bullpen quality for long-term (long-ish term really, the season ends pretty soon) depth.
Unless Michael Pineda, David Phelps, or Vidal Nuno suddenly get healthy, the only pitchers who figure to be called up next month are Dellin Betances and Brett Marshall. I suppose the team could add someone like David Herndon to the 40-man roster, but that would be a surprise. Point is, they don't have a ton of pitching depth at the moment. At this point, keeping Joba around is preferable to not having him at all. The Yankees aren't in a position to give away arms, especially ones with a legit mid-90s fastball and occasionally wipeout slider. Joba has stunk of late, but there's a chance he will contribute in a positive way in the coming weeks. It's possible. Baseball is weird sometimes.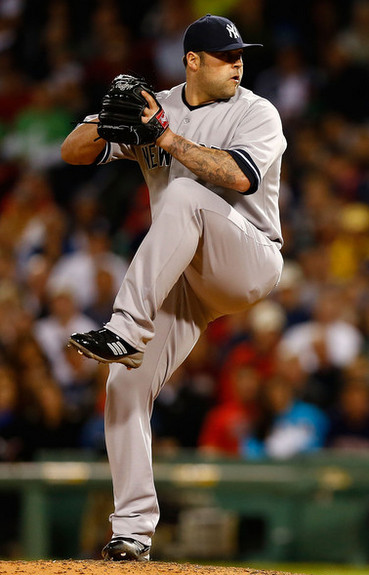 "I think it's been kind of up and down for him. Rib cage muscles can be tough to recover from. I think he has thrown better of late but we need big innings out of this guy … So he is going to have to get it done," said Girardi to George King when asked about Joba's role earlier this month. "I think he got into a little bit of a funk and he has been up and down … With rib cage muscles a player comes back and maybe he isn't where he was before he got hurt but there is no pain.''
The Yankees will play three super important games against the Orioles next weekend, and not having Claiborne for that series will suck. The good news is that they have Thursday off, a guaranteed day of rest for the bullpen. They'll head into that series with fresh arms, at least as fresh as can be this time of year. Bullpen depth will hopefully be less of a factor these next three days as the offense does what it's supposed to do against the second worst pitching staff in baseball. Any team can beat any other team on a given day, but if the Yankees drop two of three to the Blue Jays, someone else will have gone wrong besides keeping Joba over Claiborne.
It would be easy to sit here and rip the team for making the bullpen weaker, especially considering how important every single game is at this point. They're not all literal must wins, but they're damn close. I'd be looking at the trees and glossing over the forest if I ripped them though. If the Yankees want to make the postseason — 7.8% chance according to Baseball Prospectus — they need to win a lot of games, not just this week's. Joba is better than anyone they have stashed in the minors outside of Claiborne and he can help them win games in September. That sounds silly, but so does the notion of this team being a playoff contender. They're going to need unexpected contributions to pull this thing off and Joba pitching well in September would qualify. He can't help them if he's not on the roster.