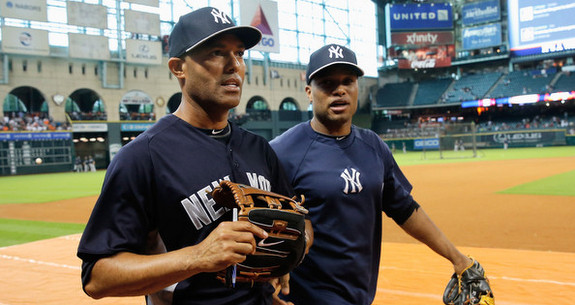 So this is it. The final game of the season. The Yankees were eliminated from the playoffs a few days ago and both Mariano Rivera and Andy Pettitte have had their grand send-offs. All of the important stuff has already been addressed, so this game is the epitome of meaningless. I expect a lot of quick at-bats by both teams since everyone wants to get home for the winter. Vacation's a waitin'. Here is the final lineup of 2013:
3B Eduardo Nunez
C J.R. Murphy
CF Curtis Granderson
LF Vernon Wells
1B Mark Reynolds
DH Travis Hafner
2B David Adams
SS Brendan Ryan
RF Zoilo Almonte
And on the mound is left-hander David Huff, at least for a little while. A parade of September call-up relievers will follow him to close out the year.
More heat, more humidity, and more rain in Houston. The retractable roof at Minute Maid Park has gotten a workout this weekend. First pitch is scheduled for 2:10pm ET and can be seen on YES. Enjoy.