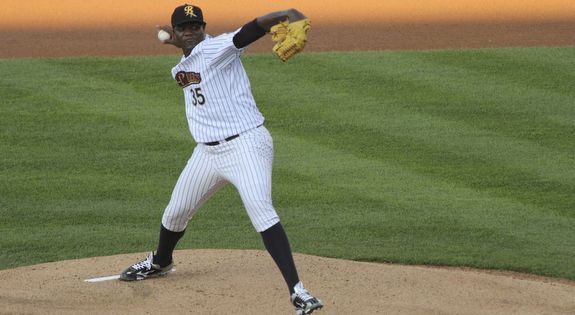 Got a bunch of injury updates, courtesy of Andy McCullough and Vin Mercogliano:
Michael Pineda (shoulder) is still just throwing bullpen sessions. He last pitched in a game one month and three days ago. Pretty obvious he won't be joining the team this month, though I wonder if the Yankees will let Pineda play winter ball back home in the Dominican Republic in a few weeks.
David Phelps (forearm) has been playing catch and will throw his first bullpen session in the coming days. It would be nice to get him back as either a starter or reliever at some point, that won't happen. Phelps won't be back in time and rushing it would be foolish considering how important he figures to be to the luxury tax driven 2014 team.
Travis Hafner (shoulder) recently played in a simulated game but still isn't quite ready to go just yet. I suppose he could make a quick rehab assignment pit stop with Double-A Trenton before rejoining the big league team for the last two weeks of the season or something.
Kevin Youkilis (back) has taken dry swings but nothing more. He recently had some more soreness in his back and had to slow down his rehab. Pretty much zero chance he returns to the team this month.