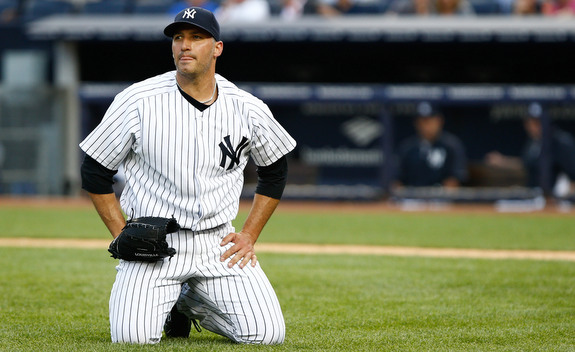 1. As Mike noted in the recap, Andy Pettitte has been the most reliable starter for the Yankees for several weeks now, and it hasn't even really been close.  On the off chance the Yankees somehow find their way into the play-in game, you'd have to give Andy the nod at this point.  Right?  It's pretty nuts how the oldest pitcher in the game is basically the stalwart of the rotation once again, but baseball is weird like that.  Plus, as we all know, Andy is a True Yankee™ and knows how to get it done.  (Now if only the rest of the damn team were capable.)  Unfortunately, even if the Yankees manage to squeak into the playoffs, they aren't exactly geared for a run.  Even in a crapshoot environment, having one capable starting pitcher and Robinson Cano is generally not enough to win a series.
2. I typically don't put too much stock into a manager's influence on a team other than the in-game decisions that he makes.  Don't get me wrong.  It's great that some of the managers are able to deflect the media off the players or deploy a shift appropriately, but ultimately, I've always kind of put the burden on the players at the end of the day.  I have to give Joe Girardi some major credit this season though.  He's had to cope with far more challenges than most of his peers I think.  The team had a disappointing offseason heading into the year, and has been saddled with injuries ever since.  Despite a (-17 run differential, 74-77 Pythag. record), the Yankees have miraculously managed to retain hope of playoff contention (though that's rapidly fading) late into the season.  Many of us (including me) didn't see that happening when they were having that awful stretch in August.  It'd be pretty cool if he won the Manager of the Year Award this go around.  Well done, Joe.
3. Last night on Twitter, I somewhat sarcastically stated that the team had more non-hitters in its lineup at this point then hitters.  The more I thought about it though, the more my sentiments kind of rang true.  Here was last night's lineup along with their respective wRC+.
CF Curtis Granderson (109 wRC+)
DH Alex Rodriguez (131 wRC+)
2B Robinson Cano (140 wRC+)
LF Alfonso Soriano (108 wRC+, 122 wRC+ since joining the Yankees)
1B Lyle Overbay (90 wRC+)
3B Mark Reynolds (98 wRC+, 121 wRC+ since joining the Yankees)
RF Ichiro Suzuki (72 wRC+)
SS Brendan Ryan (45 wRC+, 75 wRC+ since joining the Yankees)
C Chris Stewart (56 wRC+)
Having Overbay batting fifth hurts a lot, though probably not as much as the offensive void that is Suzuki, Ryan, and Stewart.  It's tough to score runs when five of your players are below-average hitters overall.  I suppose, if there is silver lining to be seen here, it's that some of these castoffs have been offensively revived a bit since joining the Yankees.  So, kudos to you New York for maximizing talent from sub-par or aging players.  Also, please stop putting the team in the position of having to depend on so many sub-par or aging players at once.
4. This has definitely been the season of "what ifs," at least for me anyway.  What if the Yankees had a capable catcher all year?  What if CC Sabathia didn't fall off a cliff?  What if Derek Jeter or Mark Teixeira were around all season?  Could the Yankees have that elusive Wild Card spot locked up already if they caught a break, anywhere really?  Possibly.  Probably.  I don't know.  Unfortunately "what ifs" are just that.  Useless hypotheticals.  That said, it's incredibly frustrating that in spite of the circumstances, the Yankees have had more than a fair opportunity to make the playoffs.
The Rays and Rangers have gone out of their way to play miserable baseball for weeks now.  Meanwhile, the Orioles and Indians seem to be more than willing to concede their playoff berth as well as they've both had plenty of timely losses.  I don't know where I'm going with this last point other than if the team winds up missing the playoffs – and they probably will – they have no one to blame but themselves.  Unfortunately, as Mike noted in his rant the other day, if they do make the playoffs, it'll probably further mask some of the more serious underlying concerns surrounding the team heading forward.