Only four questions this week, but they're good ones. The Submit A Tip box in the sidebar is the best way to send us anything, mailbag questions or otherwise.

Nate asks: If Homer Bailey is indeed being dangled, what kind of package would it take to land him? Should the Yankees go after him?
There has been speculation the Reds could trade Bailey in an effort to create payroll space, perhaps to sign Shin-Soo Choo long-term. Matt Swartz's insanely accurate arbitration model projects the right-hander to earn $9.3M next season, his last before qualifying for free agency. Bailey reportedly hasn't shown much interest in signing a long-term contract and presumably has his eye on a massive contract a year from now. Hard to blame him.
Bailey, 27, has emerged maybe not as an ace these last two years, but something damn close to an ace. He had a 3.49 ERA and 3.31 FIP in 209 innings this season after posting a 3.68 ERA and 3.97 FIP in 208 innings last year. Bailey was once one of the very best pitching prospects in the game — he was one spot behind Phil Hughes on Baseball America's top 100 prospects list after the 2006 season — and now he's coming into his own as he enters his peak years.
Even though he only has one more year of team control left, I do think the Yankees should pursue Bailey if the Reds are indeed open to moving him. Not only would they be acquiring a really good pitcher –they could definitely use one or two of those, you know — but they would get a year to evaluate him in their league and ballpark before deciding whether to commit to him long-term. If not, they'll get a draft pick. Kind of a win-win situation, I suppose.
Not too many pitchers of Bailey's caliber have been traded one year from free agency in recent years, so we don't have a good idea of what it would take to acquire him. Javy Vazquez (Expos to Yankees) and Cliff Lee (Phillies to Mariners) kinda fit the bill, but they were both better and more established than Bailey at the time of those trades. I'm guessing three prospects — one stud and two lesser pieces — is in the ballpark. The Reds don't have any urgency to trade him though, so they won't give him away. I don't even think they will trade him. He's a guy a win-now team keeps.
Andrew asks: With Jason Giambi looking to play one more year (according to Ken Rosenthal), would a reunion on a cheap one-year deal make sense? Cheap power designed for Yankee Stadium off the bench to hit for offensively challenged Yankees late in games (i.e., Brendan Ryan types should they re-sign him).
Giambi, who turns 43 in January, hit .183/.282/.371 (85 wRC+) with nine homers in 216 plate appearances for the Indians this year. That includes some really memorable walk-off homers as the Tribe made their push for a wildcard spot. I think it's safe to assume moving into Yankee Stadium would help his power output, but how much? An extra five homers? Eight? Ten? The concerns I have are a) Giambi can't play the field, and b) Derek Jeter figures to eat up a lot of DH time next season. The Yankees had an inflexible DH-only type on the roster this year (Travis Hafner) and it was a problem at times. I love Giambi as much as the next guy, but I don't think he's a fit for the current roster.
Michael asks: I wanted to know your thoughts about seeing Johan Santana in pinstripes for next year? He has a $25 million player and a $5.5 million buyout option. Can you picture Brian Cashman offering him a one-year, league minimum contract?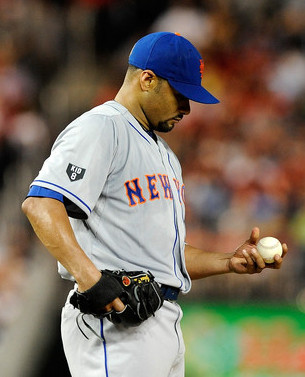 The Mets are obviously going to buy Santana out, but no, I can't see the Yankees giving him a one-year contract at any salary. There's no way they would (or should) guarantee him anything coming off his second (!) torn shoulder capsule. Torn capsules are the kiss of death; no one has ever had one and come back the same pitcher. The victim list includes Santana, Rich Harden, Mark Prior, Chien-Ming Wang, John Maine, John Danks, and Dallas Braden, among others.
That said, I do think the Yankees would be open to giving him a minor league contract a la Wang this year or Bartolo Colon in 2011. Santana came back from the first torn capsule and had a 4.85 ERA and 4.09 FIP in 117 innings last season, and that was in a big ballpark in the easier league. I'm not sure how anyone could expect anything out of him after another capsule injury, nevermind moving into Yankee Stadium and the AL East. Santana has been adamant that he wants to continue pitching, so if he wants to take a minor league deal to prove himself in Spring Training (and likely Triple-A early in the season), great. If not, no biggie.
Donny asks: After reading your "What Went Right: One-Run Games" post, I came to the conclusion that the team should keep David Robertson in the eighth and find someone else for the ninth. I came to this conclusion based on how Robertson reacted to his first introduction to closing (not good). My worry is that changing his role might have similar effects that it had on Joba Chamberlain and, to a lesser extent, Phil Hughes. Do you agree with this thought and if so, who should top the wish list (reasonably) if you are Brian Cashman?
Two things here. One, why is everyone freaking out about Robertson as the closer? How long as he actually been the team's closer? A week, maybe, before getting hurt? That's not enough to tell us anything about anything. Mariano Rivera blew three saves in the first two weeks of the 1997 season, remember. Robertson is one of the absolute best non-closer relievers in baseball. If you aren't comfortable sticking him in the ninth inning, then who? He's the perfect candidate. Two, moving Robertson from setup man to closer is not at all similar to moving Joba and Hughes back and forth between the rotation and bullpen. All you're changing is the inning Robertson throws. The other two guys had to change their preparation, off-day routines, the way they pitched, everything. Huge, huge difference. Huge.
Now, all of that said, yeah the Yankees definitely need to bring in a good late-inning reliever this offseason in my opinion. With Rivera retiring, they're losing an elite reliever. That's 60 or so elite innings gone.Off the roster. Doesn't matter what inning or role they came from, that's a lot of production to replace. Free agent relievers are always risky investments, but the Yankees don't really have a choice. A bullpen full of kids scares the crap out of me. Looking at the list of free agents, potential bullpen targets include Jesse Crain, Matt Lindstrom (if his option is declined), Edward Mujica, and the perpetually underrated Jamey Wright. I had my eye on Grant Balfour earlier this year, but he had a great season and won't come cheap.