The 2013 season is over and now it's time to review all aspects of the year that was, continuing today with a young-ish player who finally got a big break before suffering a big break.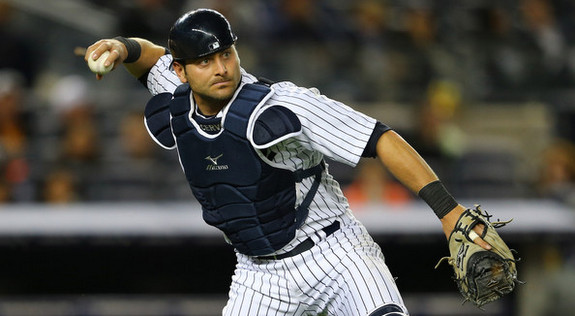 The Yankees made little effort to solidify the catcher position this winter. They were seemingly caught off-guard when Russell Martin took a two-year contract worth $17M from the Pirates in November — Martin was reportedly open to returning to New York on a one-year contract — taking the best all-around catcher in a weak free agent class off the market. Rather they overextend themselves for an imperfect solution (A.J. Pierzynski?), the Yankees decided no solution was best.
Spring Training started with what was supposedly a three-man competition for the two roster spots, but that was never really the case. The Bombers have a knack for holding fake competitions. Austin Romine was always a long shot for the Opening Day roster while, barring injury, Chris Stewart and Frankie Cervelli were the favorites. A career backup catcher and a guy who was sent to Triple-A to make room for the career backup catcher last year.
None of the team's in-house catching options stood out offensively in camp — seriously, all one of these guys had to do to win the starting job was swing the bat decently during Grapefruit League play, but no one did it — but Cervelli showed off some seriously improved throwing mechanics, gunning down seven of 14 attempted base-stealers. That was enough to win him the starting catching job on Opening Day. This was how the Yankees sorted out their catching situation coming into a year in which ownership repeatedly called he team "championship-caliber."
Anyway, Cervelli made the Yankees look very smart for a few weeks. He was one of the team's best hitters out of the gate, picking up a single and a walk on Opening Day before hitting a homer two games later. During a two-week stretch in the middle of April, Frankie went 10-for-28 (.357) with three doubles, a homer, five walks, and four strikeouts. Cervelli started 16 of the team's first 22 games and hit .269/.377/.500 (143 wRC+) with three homers in 61 plate appearances, plus he threw out two of four attempted base-stealers. For the first time in his career, he looked like a starting big league catcher.
Then, in the very first inning of the team's April 26th game against the Blue Jays, Rajai Davis foul tipped a pitch off Cervelli's unprotected right hand. It was a direct hit, right on the knuckles:
After being looked at by the trainer and trying to talk his way into remaining in the game, Frankie was lifted and sent for tests. X-rays showed a fracture in his hand that required surgery, which was expected to send him to the DL for a minimum of six weeks. Not only had the Yankees lost one of their most productive early-season players at a crucial position, but Cervelli's big chance to show what he could as a regular catcher was kaput.
Those six weeks turned into at least two months when the Yankees slid Cervelli over to the 60-day DL to clear a roster spot a few days after the injury. He continued his rehab over the next several weeks at the team's complex in Tampa and progressed to the point where he was swinging a bat and taking batting practice pretty much everyday, which meant an official minor league rehab assignment wasn't too far away.
Unfortunately, since he's a Yankee, Cervelli suffered a setback in early-July. It was a stress reaction in his right elbow — the precursor to a stress fracture, so they caught it early — which apparently happened when he changed his throwing motion to compensate for the hand injury. I'm not exactly sure how that happens, but it sounds plausible. Either way, it happened and Cervelli's #obligatorysetback effectively ended his season. In the unlikely event he got healthy enough to rejoin the team, it wouldn't have happened until late-September.
On top of all of that, the injury and the setback and losing his chance at a starting catching job, Cervelli was one of 12 players suspended 50 games in early-August for his ties to the South Florida performance-enhancing drug hub Biogenesis. Frankie did not appeal the ban and was officially done for the rest of the year. He suffered both a season-ended injury and a season-ending suspension. Rough. To his credit, Frankie faced the music and admitted he used a banned substance after breaking his foot in Spring Training a few years ago.
All told, Cervelli played in just 17 games this year before the injuries and suspension ended his season. He never got a chance to show if his hot start was something sustainable or if he could even play at an acceptable level as a starting backstop. The Yankees never got a chance to see that either, meaning right now they don't know if he in the middle of a breakout age 27 season or if he was a small sample size fluke. Given the half-assed catching situation, the team had an opportunity to learn something about Cervelli, about whether he deserved to be in their plans going forward. Instead, he remains an unknown.