The 2013 season is over and now it's time to review all aspects of the year that was, continuing today with the utility infielder who was forced into regular duty.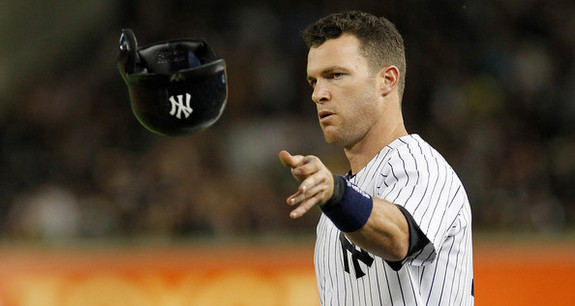 Before the season even started, the Yankees had two injured regular infielders. Alex Rodriguez was going to be out until the All-Star break following hip surgery and while Derek Jeter was initially expected to be ready for Opening Day, his slow progress in Spring Training was sign of things to come. Injury-prone Kevin Youkilis was brought in to replace A-Rod and the unreliable Eduardo Nunez was the backup plan for Jeter, so incumbent utility man Jayson Nix was an important cog in the Yankees machine.
It's easy to forgot that when camp opened, Nix wasn't even on the 40-man roster. The team re-signed him to a one-year, $900k contract over the winter and immediately designated him for assignment — Nix agreed ahead of time to accept the minor league assignment to Triple-A Scranton if he cleared waivers. He was re-added to the 40-man roster at the end of Spring Training (along with Ben Francisco!) to round out the bench. Nix was likely to make the team the whole time, but the team took advantage of his situation — unlikely to find a guaranteed $900k elsewhere — to create a 40-man roster spot over the winter.
At the start of the year, New York's plan was to play Youkilis at first base and Nix at third against left-handed batters. Nix appeared in three of the team's first five games (two starts) and went 0-for-7 with five strikeouts, but he broke out in the sixth game by going 3-for-4 with a two-run homer against Justin Verlander. He continued to play sparingly for another two weeks until Youkilis' back gave out, at which point Nix became the everyday third baseman. When Nunez hurt his ribcage in early-May, Nix took over at shortstop with David Adams stepping in at third.
From April 20th through July 1st, a span of 66 team games, Nix hit .244/.312/.305 with one homer and 61 strikeouts (!) in 241 plate appearances. That's a 25.3% strikeout rate for a player who was hitting with no power. Nix started 58 of those 66 games and appeared in four others off the bench. He was a regular, playing every single day at either shortstop of third base. It's worth noting he had a real nice 20-game stretch from late-May through mid-June, going 23-for-72 (.319) with ten runs driven in (.730 OPS).
Nix's time as a regular came to an end in early-July when he was placed on the 15-day DL with a Grade II hamstring strain. He hurt himself running the bases at some point. On the DL he remained for four weeks, until being activated on July 28th. By then Nunez had returned from his ribcage injury (and was kinda sorta hitting) and both Jeter and A-Rod were days away from returning. The team always wanted to give Adams another shot and soon acquired Mark Reynolds for third base support. The playing time well had dried up.
After coming off the DL, Nix appeared in 14 of the Yankees' next 21 games but had only started nine of them. He went 7-for-30 (.233) with ten strikeouts during those 21 games and was mostly pinch-running and replacing A-Rod late in games for defense. In the second game of a doubleheader on August 20th, Nix hit a game-tying solo homer off Mark Buehrle in the seventh inning before lacing the walk-off single against Darren Oliver in the ninth. It was his best game of the season.
In his first at-bat the very next day, Nix's season came to an end when an errant R.A. Dickey knuckleball broke his left hand. It hit him flush. Talk about a serious roller coaster of emotion. He went from the highlight of his year to a season-ending injury in the span of 24 hours. Brutal.
All told, Nix hit .236/.308/.311 (70 wRC+) with 80 strikeouts (26.4%) and 13 extra-base hits (three doubles) in 303 plate appearances this season. He did go 13-for-14 in stolen base chances and hit a tolerable .266/.357/.330 (93 wRC+) in 114 plate appearances against left-handers. Nix led the team in starts at third base (33) and was second in starts at shortstop (41). I thought he was rock solid defensively at both positions. Steady and reliable. Regardless of your WAR preference, Nix was a smidge above replacement level (0.7 fWAR and 0.8 bWAR).
The problem this season wasn't so much Nix himself, but the fact that he had to play so damn much. That's all due to the injuries. It certainly wasn't by design. I think Nix is a solid utility infielder who is best used once or twice a week like a normal utility infielder, not as a platoon third baseman or whatever. Certainly not as a starter. He chipped in some big hits this summer and played admirably even though he was exposed with all that playing time. It's not Nix's fault he played so much this year, but all that playing time is the reason he was a baseball player net negative in 2013.