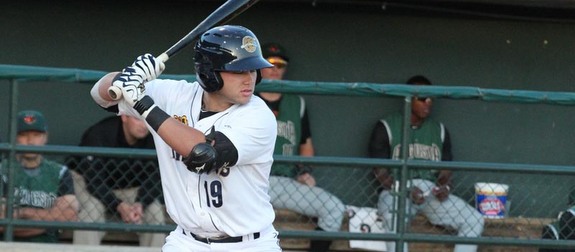 Two years ago, 3B Dante Bichette Jr. was one of the top prospects in the Yankees' system. They selected him with the 51st overall pick in the 2011 draft (the compensation pick for Javier Vazquez) and he hit .335/.440/.507 with 17 doubles and four homers in 54 games with the Rookie GCL Yankees after turning pro, a performance that earned him the league MVP award. The Yankees were widely panned for the pick but the early returns were great.
The last two seasons have not gone as well, however. Bichette, now 21, hit .248/.322/.331 with only three homers in 122 games for Low-A Charleston in 2012, then followed it up with a .214/.292/.331 batting line in 114 games for the River Dogs last year. Repeating a level and performing worse in the second year is as bad as it gets. Bichette dropped off prospect lists this spring and understandable so.
In a free article at Baseball Prospectus — all of their content is free today, by the way — the staff compiled some miscellaneous scouting notes from the Spring Training backfields. Here's the write-up on Bichette, from Steffan Segui:
Bichette looks like he might be turning the corner this spring. While still rotational, everything in his swing has been simplified, and his good natural power hasn't been depleted. His swing is now rock, identify pitch, and roll. Short and quick, don't ask questions, just hit the ball. Previously, he was doing too much: It used to be huge rock, never identify pitch, enormous Javier Baez-type leg lift, front shoulder bails, hands drop and then roll. This new approach should definitely help Bichette and might allow him to recapture the prospect status he once had, assuming his issues with off-speed stuff stemmed from his swing rather than his approach. At third, he isn't very good, his hands lack softness and he really doesn't have any fluidity. He might make strides there at some point, but if not the arm is good enough for right field.
The knock on Bichette was always his complicated setup and hitch-y swing. The Yankees actually did a good job of quieting him soon after the draft in 2011, but it didn't stick and Bichette has been his old self these last two years. Those numbers aren't an accident.
A simplified swing and a new approach could help Bichette regain some prospect luster, but I want to see some improvement before I believe it. Baseball Prospectus has been bullish on Bichette over the years and so far he has yet to reward their faith. Maybe this is the start of him turning his career around. I hope it is. I don't think Bichette has earned the benefit of the doubt though. Let's see the new swing and approach produce some results first.
There's also a write-up on Aaron Judge in the BP article, though there isn't any new information in there.