Got seven questions in this week's mailbag. A few other really good ones came in too, but I'm holding those back because I need more time to think about them. Use the Submit A Tip box in the sidebar to send us questions, links, comments, whatever.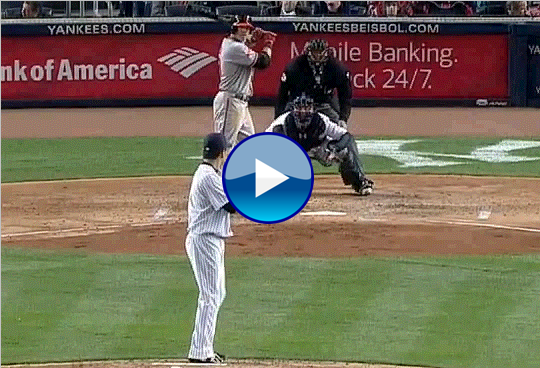 Paul asks: Am I reading this FanGraphs article correctly? Yankees have gotten +25 strikes (from pitch-framing), a strike is worth .14 runs, 10 runs = 1 win, so the Yankees have gotten about 1/3 WAR from pitch-framing in the first week of the season? Or are these wins different from wins above replacement?
According to the article, the Yankees have gotten 25 extra strikes than expected due to pitch-framing so far this year, the most in baseball. That's seems … reasonable, I guess? I don't really know. Brian McCann is an elite pitch-framer and Frankie Cervelli has graded out well in his sporadic playing time over the years, so it stands to reason they would be near the top. That +25 strikes number is just an estimate in that post, remember.
Here is an older list of the run value of events, like singles and homers and sacrifice flies and a bunch of other stuff. It does not include called strikes though, so I'm not sure where that 0.14 runs per called strike number came from. I know Jeff Sullivan though and I trust he got it from somewhere reliable. So anyway, 25 extra strikes at 0.14 runs per strike works out to +3.5 runs total. FanGraphs says 9.386 runs equals one win these days, so the Yankees have "earned" 0.37th of a win through framing alone in 2014. That's the straight forward math. A win is a win regardless of whether your starting point is replacement level or league average. In this case, the 25 extra strikes was compared to the league average.
There are two issues here, in my opinion. One, pitch-framing analysis still has a long way to go. I think it needs to be adjusted for umpire and for the pitcher, for starters. Maybe even treat it like a pitching stat and consider leverage. Two, that 0.14 runs per called strike number is an average for all situations, but not all called strikes are created equally. Turning a borderline pitch into a strike in a 3-2 count is more valuable than doing the same in a 3-0 count, for example. These win values we're seeing from pitch-framing seem way too high to me — it's basically the single most valuable thing in baseball, if you believe the numbers — but for a quick and dirty analysis, the FanGraphs stuff is fine. It's interesting but I don't think we can take these at face value yet.
JK5 asks: Do defensive metrics take 'shifts' into consideration? There was a play Jonathan Schoop (officially playing 3rd) made on a ball hit by McCann into shallow RF. Just reading the box score play-by-play would make one thing this play was a normal 5-3 putout, which it absolutely wasn't. So Schoop's range factor at 3b is helped by a ball hit nowhere near his normal position. So going forward, with increased 'shifts', are we gonna see sort of a manufactured rating for 3b (who are most often used as the primary 'shifted' fielder)?
Yes and no. Some defensive stats do recognize shifts, others don't. As far as I know, UZR basically has an on/off switch. If there is no shift, the play is recorded the same way it always is. If the shift is on, the play is not recorded and ignored. DRS does not consider shifts and assumes the defender starts every the play wherever the league usually sets up at that position. That's why Brett Lawrie had a good +4.5 UZR but an elite +20 DRS in 2012. UZR ignored all the times he was standing in shallow right on the shift while DRS thought he started all those plays at third base. I don't know how (or if) Total Zone and FRAA handle shifts.
The problems are obvious here. With shifts becoming more prevalent, UZR is reducing its own sample size by ignoring plays with the shift. DRS is assuming third basemen have superman range, which is worse. That only adds to the uncertainty of defensive stats. I think they are best used directionally with a multi-year sample. They can give us an idea of who is good, who is bad, and who is average. The exact values though? I don't think we can take them seriously. There's no way you can say Shortstop A is a better defender than Shortstop B because he had a +5.7 UZR/+9 DRS from 2010-13 while the other guy was at +5.3 UZR/+7 DRS. They're both good. Leave it at that.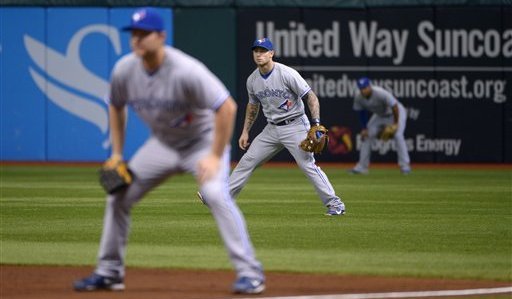 Dan asks: If the Yankees even had an average infield in terms of range, do you think Joe would be employing the shift as much? Now that they are flipping the third baseman and Derek Jeter during the shift, if Jeter makes a play when he's the only one on the left side of the infield would he be the third baseman for purposes of scoring the game? He is the player furthest to the left side of the infield. Finally, how do the advanced stats take shifts into account? Thanks.
Just answered that last part, conveniently. As for the other questions, yes, I absolutely think the Yankees would still be shifting as much if they have rangier infielders. Heck, they might shift more if they had more mobile defenders. Like I said yesterday, the shift is here to stay. You're playing Super Nintendo while everyone else is on Playstation 4 if you're not shifting.
As for the position stuff, the defensive stats recognize everyone as whatever position they are playing. Jeter would still be a shortstop in the example Dan gave in his question. That's why Lawrie's DRS was so high a few years ago. He was still considered a third baseman while standing in shallow right, not a second baseman.
Ben asks: Seems like early scouting reports on Dante Bichette Jr. suggested he would need to move to the OF at some point in his MiLB career. Seeing as how he is DH'ing so much due to the presence of Eric Jagielo, don't you think now would be a good time to make the move? They're not doing him any favors DH'ing him this regularly.
I think the bat is the most important thing for Bichette. He always was and always will be a bat-first prospect, and they have to get him to start hitting more than anything. (He went into last night's game hitting .235/.458/.353 in six games.) They can stick him in left field or at first base a little later down the line. Right now, the most important thing is for Bichette to get his swing, his timing, his balance, his whatever else on track so he can produce at the plate. He is a huge reclamation project and they need to focus all their time and energy on his bat. It's the most important thing for him.
Nick asks: If Aaron Judge and Jagielo tear it up do you think the Yankees should keep moving them up or let them finish the year at the level they are at?
Definitely move them up. They are two college hitters who spent three years as starters at major college programs. Those aren't the guys you hold back. I fully expect Jagielo to end the year with Double-A Trenton and Judge to earn a promotion to at least High-A Tampa at some point. I think it's possible he'll go from Low-A Charleston to Tampa to Trenton this summer. I think the Yankees generally move their prospects a little too fast — ever notice how their prospects come to the big leagues still in need of refinement while the Cardinals and Rays call up guys who are so polished? Compare how much time they've spent in the minors — but these are two guys who should move up the ladder quick. Especially Jagielo.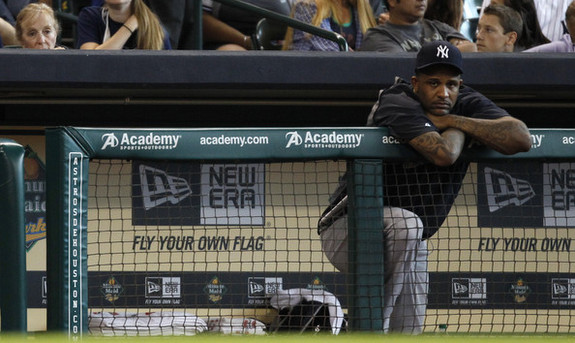 Jeff asks: Would the Yankees be better served to have a quicker hook with CC Sabathia on the mound? I understand a lot of the value he has is as an innings eater, but it comes down to which would be better: ~200 league average or slightly below league average innings, or ~170-180 slightly above league average innings.
You know, I'm not sure. Is Sabathia at 90-100 pitches worse than, say, a fresh Dellin Betances or Vidal Nuno? I guess that depends on the day and how Sabathia has fared during those first 90 pitches. There is an obvious benefit to limiting his workload at this point, saving bullets and all that stuff, but an individual game is a different animal than the big picture. Even during his awful 2013 season, Sabathia really wasn't less effective from pitches 76+ than he was from pitches 1-75. I know he got knocked around in the final inning of his start last week, but that's one game. If the Yankees had a deeper and higher quality bullpen, I think the answer would be closer to yes. Since they don't, I'm not sure.
Bill asks: The Yanks had three different players steal a base on Sunday, none of whom was Jacoby Ellsbury. When was the last time the Yanks had steals from four different players in the same game?
It's actually not that uncommon and I didn't think it would be. We've seen quite a few games in recent years where the Yankees just had the opponent's battery down pat. They knew the pitcher's move, knew the catcher's arm, and were running wild. We saw it last Friday, when they stole four bases off Dustin McGowan in his 2.2 innings of work (and didn't attempt another steal after he left the game).
Anyway, the Yankees have had at least four different players steal a base in a game 15 times this century, including six times in the last three years. They had six (!) different players steal a base in one game against the Red Sox just last September. Here's the box score. Pretty clear they knew they could run on Ryan Lavarnway. Here is the list of all 15 games with at least four players stealing a base since 2000 for you to dig through.