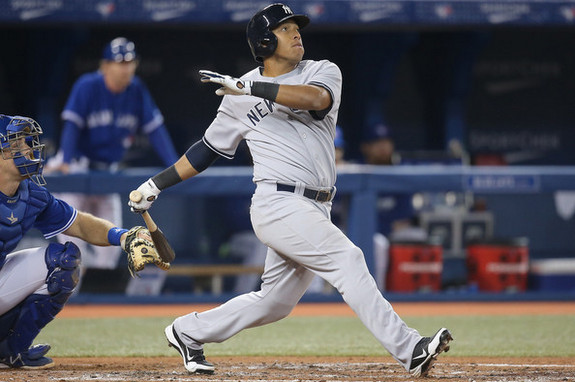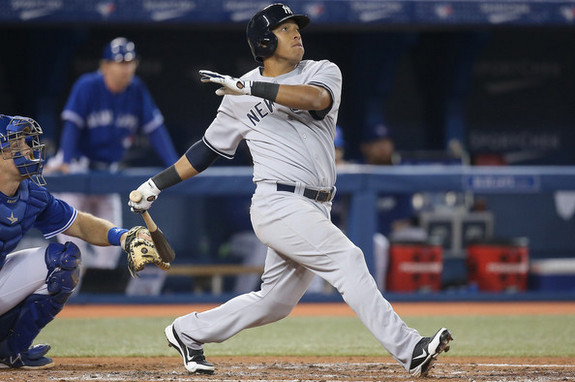 Back in January, the Yankees signed a nondescript journeyman named Yangervis Solarte to a minor league contract. It was reported that he would compete with guys like Eduardo Nunez and Dean Anna for a bench spot in Spring Training, but come on. Yangervis Solarte? When I posted the news of the signing, I wrote "he's likely at the very bottom of the infield depth chart." You know why I wrote that? Because he was.
Then, in Spring Training, Solarte became that guy. The random player no one knew anything about who had a huge spring. Solarte hit .429/.489/.571 with two homers in 47 plate appearances during Grapefruit League play, and most years that would mean nothing. The Yankees tend to have very few roster spots up for grabs in camp. This year was different though, and Solarte played his way into consideration for a bench job –Brendan Ryan's injury certainly helped — a bench job he eventually won. He didn't just take Nunez's job, he took his 40-man roster spot and uniform number. Scorched earth.
Solarte made his Yankees debut as a pinch-hitter in the team's second game of the season, banging into a rally killing double play in his first at-bat. He got the start the next day and went 3-for-3 with a double. He went 2-for-5 with two doubles the next day. Then 2-for-3 the next day. Then 1-for-3 with a double the next day and 1-for-3 with a walk the day after that. Yesterday, Solarte went 2-for-4 with two doubles. He got into the lineup and he hasn't given Joe Girardi a reason to take him out.
So, now that the hot spring has turned into a hot start to the season, we're sitting here wondering if Weird Al Yangervis (h/t @rxmeister28) is legit. And who knows, really? I don't know, you don't know, the Yankees don't know, no one knows. I mean, obviously Solarte will not continue to hit .458/.519/.708 (248 wRC+) all season because no one does that. I'd be happy with literally half that production (124 wRC+). But, eventually balls like this …
… will not find a hole on the infield. Balls like this …
… will not drop in for a base hit. Balls like this …
… will not plop out of the outfielder's glove. Let's not kid ourselves here. Solarte has definitely been lucky these first eight games, and yes, it's luck. That word is thrown around way too often to explain random events in baseball, but a pop-up falling between a bunch of infielders? Luck. A soft line drive clanking out of a Gold Glove right fielder's mitt? Luck. Let's call it what it is.
At the same time, Solarte's MLB-leading (!) six doubles are not luck. Five of the six have either clanked off the wall or landed on the warning track. The other was a bloop that a diving outfielder just missed. Solarte has a little bit of pop in his bat — I'm not sure how much harder he can hit a ball than five doubles, it looked like he got a hold of each one — and he can turn on a mistake pitch. Some of the singles have been lucky. The doubles? Not so much.
Solarte, who is only 26 and had never played in the big leagues before this season, did not make the team just because of his hot spring. He made the team because he's a switch-hitter who makes a lot of contact (one strikeout in 27 plate appearances so far) and can play reliable defense at second base, third base, and in left field. He can even fill in at shortstop in a pinch. Is he a great defender? No. But he is adequate, something you could not say about the man he replaced.
How long will Solarte's hot start last? Who knows. It could end today, it could end next week, it could end in July. I'm not ready to declare him a long-term piece for the Yankees but he is playing very well right now and the production is in the bank. It happened and it helped the team win games while Mark Teixeira has been hurt and the middle of the order has gotten off to a slow start. He's been just what the team needed.
Solarte should play everyday until he stops hitting, and moving him up a spot or three in the lineup isn't a bad idea either. Even if he turns into a pumpkin tomorrow, the club has already gotten more out of him than they could have reasonably expected, and he's been a huge boost early in the season.