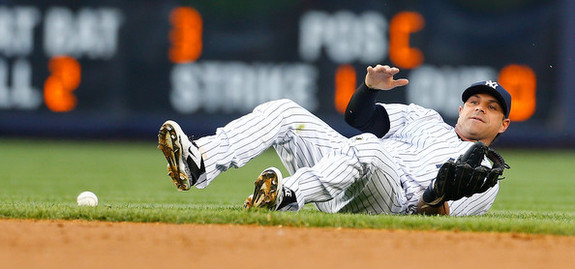 The non-waiver trade deadline is roughly 48 hours away, and based on the way he's been talking the last few days, it seems likely Brian Cashman will swing another trade or two in an attempt to improve the team. Another starting pitcher feels inevitable, and they've been connected to a bunch of right-handed hitting outfielders as well. Those two upgrades are the bare minimum to make a run in the second half, in my opinion.
The Chase Headley trade solidified the infield, at least in the sense that they replaced a collection of bad players at the hot corner with one potentially good one. Headley's first week in pinstripes has gone very well — 9-for-27 (.333) with two doubles, a homer, and a walk-off single — and hopefully that continues through the end of the season now that he's out of Petco Park and doesn't have to be The Man in the lineup. The upgrade on defense has already been noticeable as well.
The Yankees are locked into Derek Jeter at shortstop and Mark Teixeira at first base for a few reasons, and so far they've lived with Brian Roberts at second. In fact, I wouldn't even say they've "lived" with him, they seem legitimately happy to have him out there. Roberts has somehow managed to stay healthy and he always puts together a long and quality at-bat, which is not nothing. Given how hacktastic this lineup has become, seeing someone who doesn't go down on two or three pitches each time out is refreshing.
The problem is that Roberts' long at-bats have not led to enough production. He is hitting a weak .237/.300/.360 (81 wRC+) in 348 plate appearances this year, including an even weaker .226/.281/.352 (72 wRC+) in 171 plate appearances since June 1st. Roberts was steady in the field earlier this season but has been much worse defensively of late, making three errors in ten games since the All-Star break and bobbling just about everything that isn't hit right at him. He's a liability both at the plate and in the field right now.
Remarkably, Roberts have remained pretty healthy this season. He missed a few games with a minor back issue in April but that's it. His 91 games played are his most since 2009, his last full, healthy season. Given his age and his lengthy injury history, it could be that he is simply wearing down in the second half of the season. That would explain the lack of hitting and reliable fielding. It's tough to expect a 36-year-old who has averaged 48 games and 202 plate appearances per year over the last four years to be an everyday player across a full season.
Soon after the Headley trade, Brian Cashman told reporters that while he is looking to make big upgrades to the roster at the trade deadline, he is making smaller, incremental upgrades whenever possible. "We have to try to improve, reinforce and upgrade, certainly," said the GM to Andrew Marchand last week. "We certainly we would love to have some significant upgrades but when you lose four out of five starters, it is hard to re-materialize the same type of abilities with the guys you lost. It is whether you incrementally upgrade."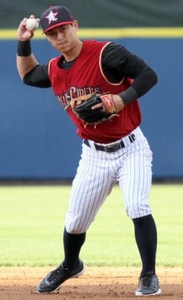 Unlike the rotation and right field, the Yankees may be able to make an incremental upgrade at second base without having to make a trade. Second base prospect Rob Refsnyder — who you have all heard about by now — is stashed in Triple-A, hitting .296/.400/.500 (151 wRC+) with seven homers in 44 games and 190 plate appearances with the RailRiders after dominating with Double-A Trenton early in the season. He has cooled down of late but still has a solid .250/.327/.427 (108 wRC+) batting line this month. When a young player hits like that, you have to take notice, especially when he plays a position of need, both short and long-term.
Despite his Triple-A success, Cashman made it clear he doesn't believe Refsnyder would be enough of an upgrade to justify calling him up and dropping Roberts. "I don't think he would be significantly upgrading at second base right now … If you did see [Refsnyder], he would be probably more likely an outfielder for us. It's a super big jump to the big league level," said Cashman during a radio interview last week. He also pointed out the 40-man roster issue — Refsnyder won't be Rule 5 Draft eligible for another year and they don't want to clog up the 40-man roster, though that seems like a lame excuse more than anything. I don't think a 40-man spot would stand in the way of helping the MLB club.
Now, here's the thing: I'm not completely sold on the idea of Refsnyder being an upgrade over Roberts either. The defensive question marks at second are real, and Refsnyder struggled immediately after being promoted to both Double-A and Triple-A this year. That's not unusual, Brett Gardner had the same problem while he was climbing up the minor league leader, but it is something to consider. The whole "how could he be any worse/what's the harm?" argument is totally silly because Refsnyder could absolutely be worse than Roberts, just like David Adams was worse than Kevin Youkilis and Austin Romine was worse than Chris Stewart. It could always be worse.
At this point though, I think Roberts has forced the team's hand and given them every reason to try someone new at second base. He isn't hitting and he hasn't been reliable in the field. When a player's only redeeming quality is the ability to foul off pitches and have long at-bats, it's time to try someone new. Roberts is about to start making some decent bucks through bonuses — he has already banked $350,000 in incentives and is two plate appearances away from another $250,0000 — so there is a financial incentive to make a change as well. The Yankees would pay Refsnyder through the end of the season less than the bonus they'd owe Roberts if he gets those next two plate appearances.
I would like to think being pulled for a pinch-hitter last night was the team's way of preventing Roberts from triggering that next bonus under the guise of improving their chances to win, but I'm pretty sure that isn't the case. The Yankees love their veterans and seem to think Roberts has some very real value to the team, but I don't see it. Not at this point. He isn't hitting and he isn't fielding. When all the GM talks about are incremental upgrades and you've got a this sort of second base situation at the MLB and Triple-A levels, I don't know how they don't make a move. Refsnyder might not produce when he gets called up. It's a very real possibility. But we know Roberts isn't producing. That part isn't up for debate. If they're not going to make a change now, when will they?