Make it six wins in seven second half games. The Yankees wrapped up their series against the Rangers with a tidy 4-2 win on Thursday afternoon, giving them three wins in the four-game series. Business, it's being taken care of.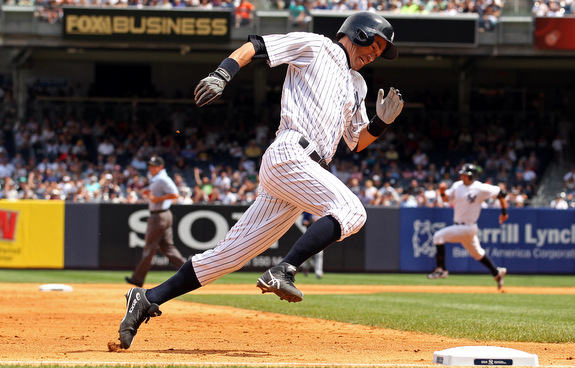 Second Time Around
It took Colby Lewis, he of the 6.37 ERA and .347 opponent's batting average coming into Thursday, a total of 29 pitches to work through the first three innings. The only base-runner during those three innings was Brendan Ryan, who took a pitch off his elbow with two outs in the third. After watching the Yankees get shut down by the likes of Miles Mikolas and Nick Martinez earlier in the series, it was easy to think the offense was on its way to another no-show.
Then, thankfully, the second (and third) times through the order went much differently. Four of the next seven batters reached base, including a leadoff bloop double by Brett Gardner and a two-out single off the wall by Chase Headley with two outs in the third. That scored Gardner for the team's first run. A four-pitch Ichiro Suzuki walk and a Frankie Cervelli double into the left field corner leading off the fourth led to the second run. Cervelli eventually came around to score on Gardner's sacrifice fly later in the inning. A Ryan sac bunt and an unintentional intentional walk to Jacoby Ellsbury was sandwiched in the middle there.
After retiring eight batters to start the game, Lewis put eight of the next 20 Yankees on base, including two on extra-base hits and four without making them take the bat off their shoulders (three walks and a hit batsman). Carlos Beltran and Brian McCann teamed up for a much-appreciated insurance run in the eighth inning — Beltran found a hole with a ground ball single and McCann drove him in with an opposite field double into the left-center field gap. Off a lefty too. The Yankees couldn't get McCann home from second despite having three chances, but whatever. Getting the one run is a win in my eyes.
No Command, No Problem
In terms of stuff and command, this was the worst of Brandon McCarthy's three starts as a Yankee. Seventy-four of his 109 pitches were strikes but six of 23 batters saw a three-ball count and 15 had at-bats of at least four pitches. McCarthy came into Thursday averaging 3.59 pitches per plate appearance, the seventh lowest among 94 qualified starters, so he wasn't sharp and Texas forced him to work hard.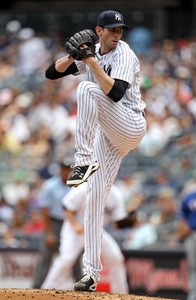 And yet, McCarthy gave the Yankees six innings of one run ball. It helped that the Rangers are awful, no doubt about it, but McCarthy also made some pretty big pitches to work out of jams in the third (Alex Rios flew out with runners on the corners) and fifth (Elvis Andrus struck out with runners on second and third) innings. The only run scored after two ground ball singles (Rougned Odor and Shin-Soo Choo) and a bloop (Andrus) that fell between Ellsbury and Brian Roberts in shallow center. It was just out of the reach of Roberts and he kicked it away, letting Choo advance another base. Blah. Considering he did not have his best stuff and certainly not his best location, it was a solid outing for McCarthy.
To The Bullpen
Two-run lead with nine outs to go and a rested-ish bullpen after the rain-shortened game on Wednesday? Joe Girardi had things set up perfectly. Then Adam Warren served up a leadoff homer to J.P. Arencibia to start the seventh, throwing a bit of a wrench into things. Warren retired the next two batters (fly out, foul out) and Matt Thornton got his lefty (pop up) to finish off the seventh. Dellin Betances (strikeout, two fly outs) tossed a perfect eighth and David Robertson pitched around a one-out walk in the ninth (fly out, two strikeouts) for his 25th save in 27 chances. Give that man an extension already.
Leftovers
The only starters without a hit were Ellsbury, Roberts, and Ryan. Ellsbury drew a walk and Ryan got hit by that pitch, so they still managed to reach base. Gardner, McCann, Headley, Ichiro, and Cervelli all had exactly one base hit, though they were of varying importance. Gardner has now reached base in 35 of his last 34 34 of his last 35 games. Pretty awesome.
Odor made an outstanding sliding stop at first base on Ryan's sac bunt in the third. Adrian Beltre's throw was low, but Odor slid feet-first into the base to grab the short-hop. It was pretty stellar. Girardi challenged the play — it appeared Odor's foot might have been off the bag when he caught the ball — but the call was upheld. Really nifty play. A Yankees infielder would have crumbled into dust and a run would have scored if they had tried that.
And finally, the Yankees are now 24-24 at home on the season. I said they needed to play better at home to make a run at the postseason and they've done that so far. Getting back to .500 in the Bronx is a nice start to the second half.
Box Score, WPA Graph & Standings
For the box score and video highlights, head over to MLB.com. FanGraphs has some additional stats and ESPN has the updated standings. The Orioles and Mariners start a four-game series tonight, so the Yankees will gain ground in either the AL East (Mariners win) or the second wildcard (Orioles win) race. They are 2.5 games back of the top spot in the division and tied with Seattle for the second wildcard spot at the moment.

Source: FanGraphs
Up Next
The homestand will wrap up with a three-game series against the Blue Jays this weekend. That's kind of a big one, the Yankees and Jays are basically tied in the standings. Hiroki Kuroda and Mark Buehrle will be Friday night's pitching matchup. Check out RAB Tickets if you want to catch of this weekend's games.