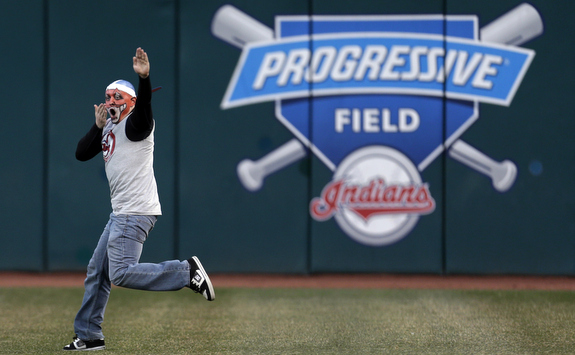 One AL Central opponent leaves town and another comes in. The Indians are in the Bronx for a three-game series this weekend. They split a four-game set with the Yankees in Cleveland last month.
What Have They Done Lately?
The Indians just lost three straight to the Reds but they had won four straight before that. They are 9-11 since the All-Star break and 57-58 with a +7 run differential overall this year, good for third place in the AL Central. They are 3.5 games back of the Yankees (and Mariners and Blue Jays) in the wildcard race, so this series is not nothing.
Offense
Cleveland quietly has one of the best offenses in the game, one that averages 4.43 runs per game with a team 104 wRC+. They are currently without OF Michael Bourn (97 wRC+) and DH Jason Giambi (26 wRC+) due to hamstring and knee injuries, respectively. Bourn just started a rehab assignment and is unlikely to return this weekend. Giambi is out long-term and there's a decent chance he's played his last MLB game. I'll miss Big G.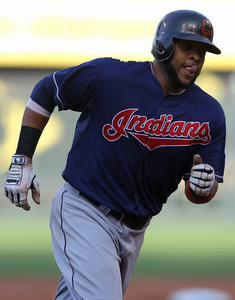 Manager Terry Francona's lineup is built around OF Michael Brantley (151 wRC+), who has emerged as one of the best two-way players in baseball. He's excellent. 1B Carlos Santana (131 wRC+) has been tearing the cover off the ball for two months after a terrible start while 3B Lonnie Chisenhall (135 wRC+) is going the other way — he started out hot and has slowed down big time of late. C Yan Gomes (127 wRC+) has established himself as one of the best hitting catchers in baseball these last two seasons.
2B Jason Kipnis (95 wRC+) and OF David Murphy (102 wRC+) have been just about average this year while ex-Yankee OF Nick Swisher (73 wRC+) has been awful. IF Jose Ramirez (21 wRC+ in very limited time) has taken over at short since Asdrubal Cabrera was traded away. UTIL Ryan Raburn (52 wRC+) and ex-Yankee OF Chris Dickerson (122 wRC+ in limited time) see platoon duty while IF Mike Aviles (71 wRC+) and C Roberto Perez (87 wRC+ in very limited time) fill out the bench.
Pitching Matchups
Friday: RHP Esmil Rogers (vs. CLE) vs. RHP Trevor Bauer (vs. NYY)
Bauer, 23, has finally found some success at the MLB level after years of tinkering and having coaches try to "fix" his unique mechanics and workout routines. He has a 4.20 ERA (3.99 FIP) in 16 starts and 92.1 innings with a good strikeout rate (8.31 K/9 and 21.3%) and an okay walk rate (3.27 K/9 and 8.4 K%). Righties (.346 wOBA) have hit him harder than lefties (.325 wOBA) and he's been worst on the road (.351 wOBA) than at home (.326 wOBA). Bauer is an extreme fly ball pitcher (32.4% grounders) who gives up homers (1.03 HR/9 and 8.3 HR/FB%), but that is by design — he's said he likes pitching up in the zone because fly balls are higher percentage outs than ground balls, and he'll live with the homers as a byproduct. He is definitely in the minority when it comes to that approach. Bauer throws a mid-to-high-90s fastball, a mid-to-upper-80s cutter, a mid-80s changeup, a low-80s slider, and an upper-70s curveball. He throws all five pitches regularly with the slider and curve being his go-to offspeed pitches. New York scored three runs (two earned) in seven innings against him last month.
Saturday: RHP Brandon McCarthy (vs. CLE) vs. RHP Corey Kluber (vs. NYY)
The Yankees lucked out and did not face the Klubot during their four-game series in Cleveland a few weeks. That aren't getting that lucky twice. The 28-year-old Kluber has a 2.55 ERA (2.49 FIP) in 24 starts and 165.2 innings this year, and his peripherals are excellent across the board: 9.62 K/9 (26.7 K%), 1.90 BB/9 (5.3 BB%), 0.54 HR/9 (7.4 HR/FB%), and 49.2% grounders. Lefties (.309 wOBA) have had much more success against him than righties (.236 wOBA). Kluber is primarily a three-pitch pitcher with a low-to-mid-90s sinker, a hard upper-80s slider, and power low-80s curveball. Both breaking balls are legit out pitches. He'll also throw a handful of mid-80s changeups per start, but it is his clear fourth pitch. Kluber is not a big name, but the guy has pitched like an ace this year. He's outstanding.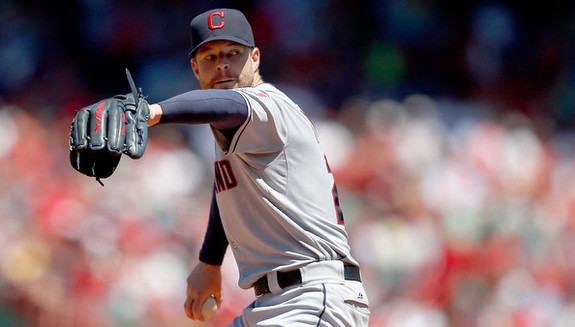 Sunday: RHP Hiroki Kuroda (vs. CLE) vs. RHP Carlos Carrasco (vs. NYY)
The Tribe have had a revolving door at the back of their rotation all year. Carrasco, 27, is coming out of the bullpen to make this start after spending most of the season as a long reliever. He has a 3.88 ERA (3.20 FIP) in 26 relief appearances and four spot starts in 2014, and across the board he has very good strikeout (8.58 K/9 and 23.2 K%), walk (2.49 BB/9 and 6.7 BB%), homer (0.69 HR/9 and 9.4 HR/FB%), and ground ball (56.4%) numbers. Lefties (.309 wOBA) have been more successful against him than righties (.269 wOBA). Obviously his numbers in relief will not translate perfectly over into a starting role. Carrasco sits in the mid-90s with his four-seamer when he comes out of the bullpen, and he uses it to set up his upper-80s changeup, mid-80s slider, and low-80s curveball. He throws all three secondary pitches at least 11% of the time, so he's a true four-pitch pitcher. Carrasco made two relief appearances against the Yankees last month, three scoreless innings in one and one scoreless inning in the other.
Bullpen Status
Francona is currently on his third different closer in RHP Cody Allen (2.44 FIP). RHP John Axford (4.23 FIP) lost the job early in the season and RHP Bryan Shaw (3.45 FIP) only had it for about a week. Those two plus RHP Scott Atchison (3.32 FIP) serve as Allen's primary setup men. Like the Yankees, the Indians are carrying eight relievers at the moment.
The rest of the Tribe bullpen includes LHP Marc Rzepczynski (2.93 FIP), LHP Kyle Crockett (3.28 FIP), LHP Nick Hagadone (3.36 FIP), and RHP C.C. Lee (3.96 FIP). Yes, the Indians have a dude named C.C. Lee in their bullpen. It's like the ghost of Cy Young winners past has come back to haunt them. Lee threw two innings yesterday but the rest of the bullpen had the day off. Check up on the Yankees' bullpen at our Bullpen Workload page. Once you've done that, head over to Wahoo's on First for everything you need to know about the Indians.