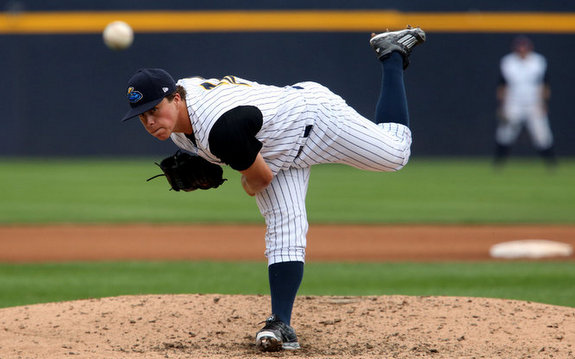 Over the last six or seven years, basically the entire Joe Girardi era, the Yankees have done a nice job of building the bulk of their bullpen on the cheap. Oh sure, there still is the occasional Rafael Soriano or Matt Thornton signing, but the days of handing out big money multi-year contracts to (occasionally multiple) relievers every offseason are over. That has allowed the club to maintain some semblance of payroll and roster flexibility.
Low-profile pickups like Boone Logan, Luis Ayala, Cory Wade, Brian Bruney, and Shawn Kelley have contributed over the years, even if only for a short period of time — not everyone needs to be around forever to qualify as a success, getting 50-60 good innings out of a scrap heap pickup is a win — but for the most part the farm system has provided the bullpen core. David Robertson and Dellin Betances are the standouts, with others like Adam Warren, Preston Claiborne, Phil Coke, Joba Chamberlain, Edwar Ramirez, and Alfredo Aceves playing important roles at various times.
There are no indications the Yankees will stray from this approach, nor should they. They've been successful at cobbling together bullpens this way for several years, and it saves money to use elsewhere on the roster. They could have easily signed a veteran closer over the winter to replace Mariano Rivera, that would have been a very Yankees move, but no, they went with Robertson. (They were connected to Fernando Rodney and Grant Balfour at different points, though I think that was just due diligence.) It'll be interesting to see what happens when Robertson is a free agent after the season.
Anyway, as I mentioned yesterday, bullpens have a way of getting overhauled during the course of the summer. Already this year we've seen Betances go from interesting wildcard to arguably the best reliever in the game. Warren went from long man to setup man and back to … something. His role is kinda undefined at this moment. Thornton was signed to be the primary lefty specialist but was literally given away for nothing. Robertson in the ninth inning has been the one constant, so in a sense this year has been no different than the last few, only with Robertson playing the role of Rivera.
Coming out of Spring Training, the Yankees had three young relievers who were slated to serve as depth in Triple-A in Mark Montgomery, Danny Burawa, and Fred Lewis. All three impressed in camp and put themselves in position to be called up if a need arose. Instead, all three pitched their way into demotions down the Double-A before the end of July. All three of them! Lewis almost made the team out of Spring Training and now he's currently on the Double-A disabled list after pitching to a 6.89 ERA with the same number of walks as strikeouts (31) in 32.2 innings. We shouldn't forget Jose Ramirez either. He was part of that next bullpen wave but has been alternately hurt and ineffective in 2014.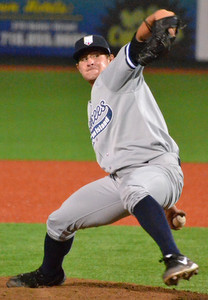 Such is the life of a reliever though, especially reliever prospects. They just start sucking without warning and sometimes for no apparent reason. That's why you need a lot of them, which the Yankees have. As Lewis, Montgomery, Burawa, and Ramirez took steps back this year, other relievers have taken steps forward and put themselves on the big league map. Specifically, I'm talking about righty Nick Rumbelow and lefties Tyler Webb and Jacob Lindgren. Lindgren you all know by now. Rumbelow (seventh) and Webb (tenth) are both 2013 draftees who have climbed from Single-A to Triple-A this summer. Rumbelow started all the way down at Low-A Charleston, Webb with High-A Tampa.
The Yankees have emphasized one singular trait these last six or seven years while building their bullpen: the ability to miss bats. They don't care how the guy does it — blow a fastball by hitters, nasty breaking ball, filthy changeup, whatever — but that is clearly their top priority out of the bullpen. In fact, the Yankees have the highest bullpen strikeout rate in baseball this year (26.7%) and the second highest since the start of the Girardi era in 2008 (23.0%). Only the Braves (23.3%) have been better. It makes sense, right? Late in the game you want to miss as many bats as possible. The other team can't hurt you if they can't put the ball in play, after all.
Lindgren, as you know, has a wipeout slider that has allowed him to pile up 41 strikeouts in only 20.2 pro innings (17.9 K/9 and 49.4 K%). Rumbelow has 72 strikeouts in 51.1 innings this year (12.6 K/9 and 35.0 K%) thanks to his big breaking curveball. Webb is another curveball guy. He's struck out 89 in 64.1 innings (12.5 K/9 and 33.1 K%) during his meteoric rise this year. That's the trademark right there. Strikeouts. The Yankees do as good a job as any team of digging up pitchers with present or future out pitches in the mid-to-late rounds of the draft, whether it be Rumbelow or Montgomery or Robertson. If you have one swing-and-miss pitch, you have a chance to help out of the bullpen. If you have two, you can dominate like Robertson and Betances.
"We've got some arms, no doubt about it," said Brian Cashman to Nick Peruffo yesterday. "We had Webb here (at Double-A), and now he's at Triple-A. Rumbelow is at Triple-A. These guys are pretty interesting characters in themselves, and we have some guys who could be moving up to Triple-A soon enough. I think a lot of the guys that you are seeing that have been here or are currently here, you have a chance to see as early as next year, and in some cases you can never rule anything out. We do have some left and right side arms that get asked a lot about, and that I'd certainly ask about a lot."
Like the big league bullpen, the Yankees' pool of minor league relief prospects has changed as the season as progressed. Montgomery and Ramirez in particular where expected to help at some point — Ramirez got a chance but it didn't go well, it happens — while guys like Rumbelow and Webb were little more than interesting arms in Single-A back in April. I didn't even know who Lindgren was in April and now he's on the cusp of being a Yankee. Their rises combined with the fall of some upper level arms have given the Yankees a new-look crop of bullpen prospects these last four months.