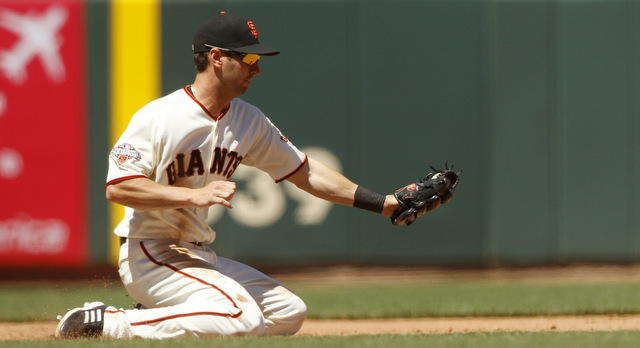 According to Joel Sherman, the Yankees have signed infielder Nick Noonan to a minor league contract. I assume he received an invitation to Spring Training. The Yankees tend to pay well on minor league deals and that could have come into play here. Noonan was designated for assignment by the Giants at midseason and became a minor league free agent a few weeks ago.
Noonan, 25, spent the season in Triple-A and hit .237/.282/.303 (51 wRC+) with three homers, a 24.1% strikeout rate, and a 5.9% walk rate in 406 plate appearances. That's bad. Noonan had a huge camp in 2013 and made the Giants out of Spring Training only to hit .219/.261/.238 (36 wRC+) in 111 plate appearances during the regular season. He was 32nd overall pick in the 2007 draft.
Baseball America (subs. req'd) ranked Noonan as the 23rd best prospect in San Francisco's system prior to last season, saying teams view him as a future utility infielder who can play "adequately at three infield positions." Noonan has a ton of experience at second base and shortstop but less than a half-season's worth of games at third base. He's a left-handed hitter too.
After Yangervis Solarte last year, I have a hard time thumbing my nose at signings like this. The Yankees do need an extra infielder for Triple-A Scranton next summer and that's the role Noonan will likely fill. No biggie. Maybe he puts together another strong camp and makes the team as a reserve player, who knows. Given the current roster, building infield depth is important, and a minor league contract carries zero risk.