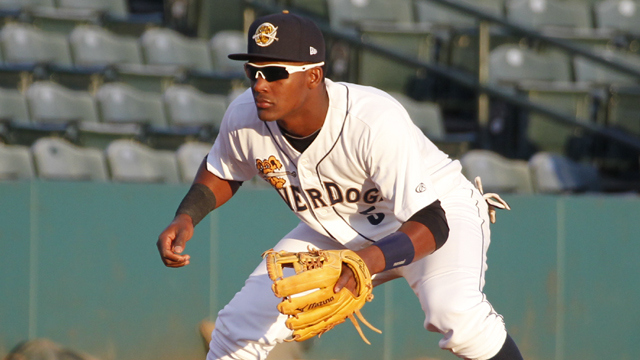 Miguel Andujar | 3B
Background
Considered one of the top players available during the 2011-12 international signing period, the Yankees signed Andujar as a 16-year-old out of San Cristobal, Dominican Republic in July 2011. He received a $750,000 bonus. It was the second largest bonus they gave out during the signing period, behind only the $2.5M (originally $4M) they gave Cuban lefty Omar Luis.
Pro Career
The Yankees were very aggressive with Andujar. They skipped him right over the Dominican Summer League and had him make his pro debut in the rookie level Gulf Coast League as a 17-year-old in 2012. Andujar predictably struggled, hitting .232/.288/.299 (80 wRC+) with one homer in 50 games. The Yankees sent him back to the GCL in 2013 and Andujar was much better the second time around, putting up a .323/.368/.496 (152 wRC+) line with four homers in 34 games.
Last season, the Yankees bumped Andujar up to Low-A Charleston, where he played the entire season at 19. He started out very slow, hitting .212/.267/.335 (67 wRC+) with ten doubles, five homers, 16 walks, and 46 strikeouts in his first 63 games. The second half was much better — Andujar put up a .319/.367/.456 (129 wRC+) line with 15 doubles, five homers, 19 walks, and 37 strikeouts in his final 64 games. The end result was a .267/.318/.397 (99 wRC+) batting line with 25 doubles, ten homers, a 15.7% strikeout rate, and a 6.6% walk rate in 127 games.
Scouting Report
Listed at 6-foot-0 and 175 lbs., Andujar is a right-handed hitter with good bat speed and above-average power potential. He's aggressive but not a hacker — Andujar can wait back on breaking balls but doesn't hesitate to punish a fastball in the zone. It's more of a low walk, low strikeout offensive profile than a low walk, high strikeout profile. Here's some video (there's more at MiLB.com):
Andujar is a good athlete whose best defensive tool is his arm, which is plenty strong for third base. His footwork needs to improve and he needs to add experience at the hot corner in general. Andujar's worst tool is his speed. He's not someone who adds much value on the bases, not now and not in the future either.
Like just about all 19-year-olds, Andujar is more potential than "now" skills. He projects to hit for average, hit for some power, and play a strong third base, but getting from here to there is going to take a lot of time and work.
2015 Outlook
Andujar will jump to High-A Tampa this coming season after his strong finish with the River Dogs last year. He's going to be very young for the level — Andujar was the tenth youngest player on a Low-A South Atlantic League Opening Day roster last year — and I expect him to stay in Tampa all season. There's no reason to fast track him whatsoever.
My Take
I really like Andujar, especially because he's struggled initially at each level and shown the ability to adjust and improve. It happened with the GCL Yanks (across 2012-13) and again with Low-A Charleston (in 2014). Andujar has jumped over 2013 first rounder Eric Jagielo as the best third base prospect in the system in my opinion, and he has some of the best pure upside among the team's prospects as well. The Yankees haven't had much success developing raw young prospects into big leaguers these last few years, and I really hope Andujar is the exception.