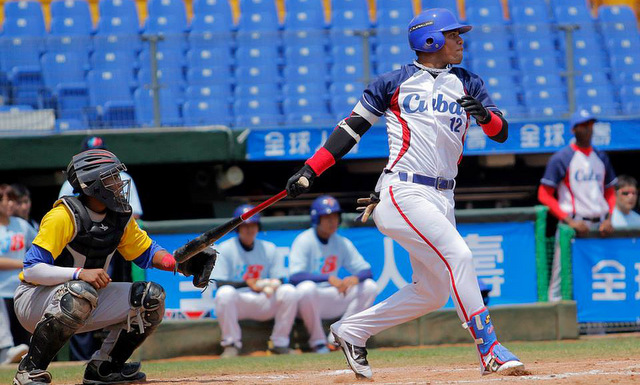 1:01pm: Jon Heyman says Moncada is done with his private workouts and Hastings has begun fielding contract offers. "Dynamic, electric, explosive, robust talent. All thirty teams will have some degree of interest. The competition will be fierce for his services, no doubt," said one scout to Heyman while cautioning "there are just enough holes to keep him in the .260 range."
12:00pm: According to George King, the Yankees had Cuban wunderkind Yoan Moncada in Tampa for a second private workout late yesterday. Their first private workout was a month ago. King says the Yankees are leery of the money it'll take to sign Moncada, but I think that's just posturing. You don't bring a guy back for a second workout if you're not interested.
Last week David Hastings, Moncada's representative, said he and his client hope to pick a new team relatively soon so Moncada can get to Spring Training. Hastings mentioned next Monday as a target date but it didn't sound like a firm deadline. Moncada has already been declared a free agent by MLB and unblocked by the Office of Foreign Assets Control. He can sign at any moment.
By now you know the 19-year-old Moncada is considered a budding superstar, a switch-hitter with power and speed to go with strong defensive chops. King says the Yankees see Moncada as a second baseman long-term though there's really no consensus about his future position. The consensus is basically "anywhere but pitcher, catcher, and shortstop." Here's some game footage of Moncada from an under-18 tournament in 2013.
"He would have to start at Single-A and that is a lot of money for somebody to begin at that level,'' said an international scout to King. "If he was in the draft, he would be a first-round pick, but that's a long way from that type of money for a 19-year-old.''
Moncada's bonus is expected to be in the $30M to $40M range — King says the Dodgers are willing to go to $40M, but I'll believe it when I see it — and that will be taxed at 100% regardless of who signs him due to the international spending rules. Moncada's a $60M to $80M investment, all up front. The Yankees are unable to sign an international player for more than $300,000 the next two signing periods due to last summer's spending spree, so Moncada is their last chance to get a top talent for a while.