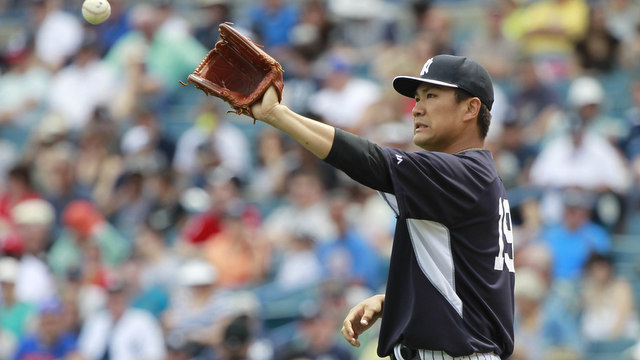 Six days from now, Masahiro Tanaka will open the 2015 season for the Yankees at home against the Blue Jays after being named the Opening Day starter last week. This afternoon will be his final tune-up of the spring, and really it's more about Tanaka getting his pitch count up than anything. His stuff and command have looked fine. Tanaka just needs to stretch it out up over 80 pitches this afternoon.
Today's reason to watch: Tanaka! I'm not sure why anyone would need any more reason than that, but, if you do, prospects Rob Refsnyder, Greg Bird, and Eric Jagielo will play today as well.
The Yankees are in Fort Myers this afternoon to play the Twins, and not many regulars made the two-hour bus trip south even after yesterday's off-day. The last thing they need is someone developing back spasms after spending four hours on a bus a week before the season. Here is the Twins' lineup and here is the Yankees' lineup:
LF Brett Gardner
3B Brendan Ryan
CF Chris Young
1B Garrett Jones
C Austin Romine
2B Rob Refsnyder
RF Ramon Flores
SS Nick Noonan
DH Eric Jagielo
Available Position Players: C Eddy Rodriguez, 1B Greg Bird, LF Taylor Dugas, and CF Mason Williams will be the second string off the bench. Jagielo is also slated to move from DH to third base. 1B/C Francisco Arcia, IF Dan Fiorito, OF Mark Payton, and UTIL Collin Slaybaugh are the extra players.
Available Pitchers: RHP Chris Martin, RHP Danny Burawa, RHP Branden Pinder, RHP Cesar Vargas, and RHP Nick Goody are all scheduled to pitch. RHP Kyle Haynes, RHP Chris Smith, and RHP Alex Smith are the extra arms.
The weather this spring has been pretty great and it continues today. It's nice and sunny with temperatures in the low-80s in Fort Myers this afternoon. Today's game will begin just after 1:05pm ET and you can watch live on both MLB Network and MLB.tv. Neither will be blacked out in the Yankees' home market. Also, if you happen to live in the Twins' market, you can watch on FOX Sports North. Enjoy the game.