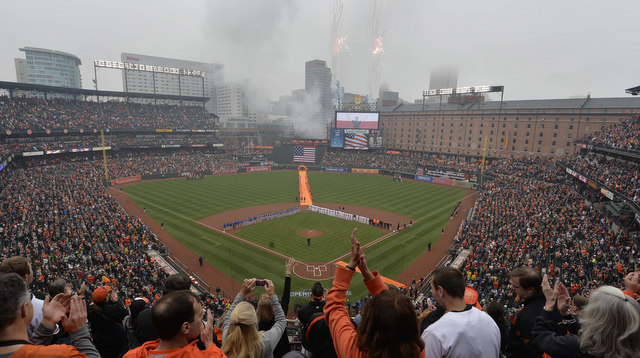 The first homestand of the season is over and the Yankees now head out on a three-city, ten-game, eleven-day road trip. The first stop: Baltimore for a three-game set with the Orioles, the defending AL East champs. The Yankees won just two of nine games at Camden Yards last season and are 6-13 in Baltimore since the start of 2013.
What Have The Orioles Done Lately?
The Orioles and Blue Jays just wrapped up a series of slugfests in Baltimore — the two teams combined to score 42 runs in the three games. Toronto took two of three, including yesterday's game 10-7. Overall, the O's are 3-3 with a -1 run differential. They're right smack in the middle of the AL East pack after the first week of the season.
Offense & Defense
The Orioles had one of the better offenses in baseball last year (4.35 runs per game), and aside from replacing Nick Markakis and Nelson Cruz with Travis Snider, they have the same basic lineup this year. Once again, they're one of the highest scoring teams in the super early going this year (5.12 runs per game), scoring at least five runs in five of their six games. Here is their starting lineup with their 2015 performance to date and overall ZiPS projections:
| | 2014 Performance | 2015 ZiPS Projection |
| --- | --- | --- |
| LF Alejandro De Aza | 7-for-23 (.304), 2 HR | .262/.320/.396 (100 wRC+) |
| DH Steve Pearce | 5-for-23 (.217), 2 HR | .262/.345/.473 (129 wRC+) |
| 1B Chris Davis | 5-for-19 (.263), 1 HR | .241/.326/.495 (126 wRC+) |
| CF Adam Jones | 8-for-21 (.381), 2 HR | .279/.315/.475 (120 wRC+) |
| RF Travis Snider | 7-for-18 (.389), 1 HR | .242/.310/.410 (101 wRC+) |
| 3B Manny Machado | 1-for-19 (.053) | .285/.323/.448 (115 wRC+) |
| 2B Ryan Flaherty | 2-for-13 (.154), 1 HR | .228/.287/.381 (85 wRC+) |
| SS Everth Cabrera | 4-for-17 (.235) | .251/.312/.329 (87 wRC+) |
| C Caleb Joseph | 2-for-13 (.154), 2 2B | .235/.279/.393 (81 wRC+) |
Baltimore is currently without SS J.J. Hardy (shoulder) and C Matt Wieters (Tommy John surgery), both of whom are on the DL and won't return this series. That's why Cabrera and Joseph are starting at short and catcher. Flaherty has been more or less platooning with IF Jonathan Schoop, who straight up crushed the Yankees last season (126 OPS+). That was annoying considering he had a 67 OPS+ overall.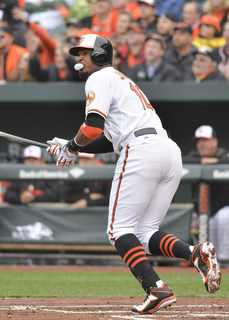 Because they're carrying 13 pitchers, the O's only have DH Delmon Young and C Ryan Lavarnway on the bench alongside Schoop. Delmon platoons with Snider against lefties — Young slots in at DH and Pearce moves to right — and Lavarnway is there because they need a backup catcher, and he's not really a catcher to start with. They're going to play Joseph as much as humanly possible until Wieters returns in a few weeks.
Over the last two or three years the Baltimore defense has gotten overrated because they don't commit many errors — their 141 errors from 2013-14 are the fewest in baseball. They're good defensively in general, but not the best in the game. Manny Machado is superb at third, best in baseball at the position, and both De Aza and Jones are very strong in the outfield. Joseph is solid behind the plate and Davis, Flaherty, and Schoop are adequate at their positions.
Cabrera is below average at short in general and is a big downgrade from Hardy. Snider and Pearce are shaky in the outfield — they take a lot of short, choppy steps when moving around and it just looks bad — and Delmon is a total disaster in the field. The Yankees should consider it a gift if the Orioles play Young in the outfield at some point this series. It all adds up to a slightly above average team defense, which is valuable, but does not match the O's reputation.
Pitching Matchups
Monday: RHP Michael Pineda (Career vs. BAL) vs. LHP Wei-Yin Chen (Career vs. NYY)
It's hard to believe this is already Chen's fourth year in MLB, isn't it? I still feel like he just got here. The 29-year-old had a 3.54 ERA (3.89 FIP) in 185.2 innings a year ago despite below average strikeout (17.6 K%), ground ball (41.0 GB%), and homer (1.11 HR/9) rates. He doesn't walk anyone though (4.5 BB%) and has historically been a bit better against lefties (.300 wOBA) than righties (.329 wOBA). Chen works with both two and four-seam fastballs and his velocity is down about two miles an hour this year compared to the last few years, even considering how early it is in the season. Low-80s sliders and changeups and a mid-70s curveball round out his five-pitch arsenal. Chen's not a blow you away type, he's a keep you off balance guy. He allowed three runs in just 4.1 innings against the Rays last week, his first start of 2015.
Tuesday: LHP CC Sabathia (Career vs. BAL) vs. RHP Miguel Gonzalez (Career vs. NYY)
Gonzalez, 30, is another guy who's been around longer than you'd think. This is his fourth season in the show too. He pitched to a 3.23 ERA (4.89 FIP) in 159 innings last season, and considering he has a 3.43 ERA and a 4.58 FIP in 441.1 careers innings, it's probably time to say Gonzalez is one of those guys who consistently outperforms his peripherals. His strikeout (16.5 K%), walk (7.6 BB%), grounder (37.3 GB%), and homer (1.42 HR/9) rates don't jump out at you at all, but he makes it work. Gonzalez's moneymaker is a dynamite low-80s split-changeup hybrid that generates a lot of weak contact. He sets it up with low-90s heaters and will also throw low-80s sliders and mid-80s curveballs. Gonzalez has had a negligible platoon split in his career — .314 vs. 318 wOBA in favor of lefties — and last week he allowed one run in five innings in his first start of the year.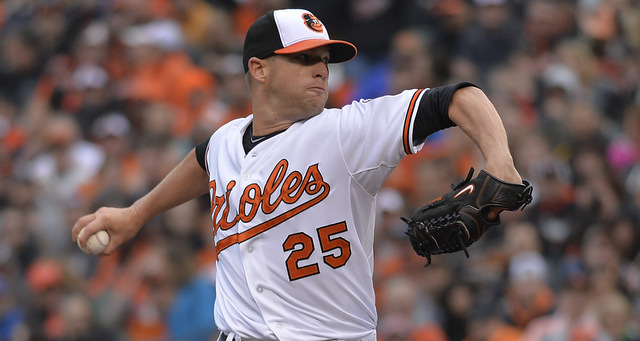 Wednesday: RHP Nathan Eovaldi (Career vs. BAL) vs. RHP Bud Norris (Career vs. NYY)
Norris is another one of those league average-ish starters the Orioles seem to have in spades. The 30-year-old gave the team 165.1 innings of 3.65 ERA (4.22 FIP) ball in 2014 with almost perfectly average peripherals across the board: 20.2 K%, 7.6 BB%, 42.2 GB%, and 1.09 HR/9. Lefties have hit Norris quite a bit harder than righties the last few years because he throws low-to-mid-90s fastballs and mid-to-upper-80s sliders almost exclusively. He's thrown his show-me mid-80s changeup less than 10% of the time the last few seasons. The Blue Jays clobbered Norris in Baltimore's home opener last week (eight runs in three innings), so I guess he should just go ahead and have Tommy John surgery now.
Bullpen Status
The Blue Jays did the Yankees a solid yesterday and knocked Chris Tillman out of the game after only 2.2 innings. Long man extraordinaire RHP Kevin Gausman needed 37 pitches to get four outs, forcing LHP Brian Matusz to throw two innings (26 pitches) and RHP Brad Brach to throw 1.2 innings (28 pitches). RHP Darren O'Day also threw 1.1 innings (20 pitches). Manager Buck Showalter had to go deep into his bullpen yesterday.
In addition to Gausman, Matusz, Brach, and O'Day, the O's are also carrying closer LHP Zach Britton, RHP Tommy Hunter, Rule 5 Draft pick RHP Jason Garcia, and knuckleballer RHP Eddie Gamboa. What is it with all the knuckleballers? The Yankees could end up seeing three different knuckleballers in their first three series of the season. When's the last time that happened? Anyway, with Matusz throwing two innings yesterday and Britton being confined to the ninth inning, Showalter probably won't have a lefty to deploy in the middle innings today. That'll be nice.
Check out the status of the Yankees bullpen with our Bullpen Workload page, then check out Camden Chat for everything you need to know about the O's.