Ed. Note: In addition to Katie and Sunny, we've also added Matt Imbrogno to the RAB roster. You know him from IIATMS. He'll be contributing an article every Sunday. So think of him as a specialist. RAB's LOOGY.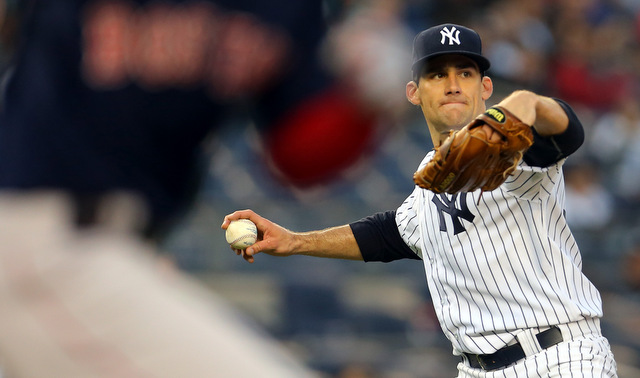 Just as much as any sport, if not more than any sport, baseball is one of anticipation; the action in the moment may not be constant and is over relatively quickly. In those hanging instants just before and just after contact, infinite possibilities exist. It's those instants that bring us to the edge of our seats, bring our hands to our faces in excitement. They ready us for the joy or for the agony and they are where the beauty of baseball lies. In games, those instants are obviously short, fractions of a second. Even during the season, the anticipatory moments are relatively quick since teams play just about every day. Those simple facts of the game make the offseason seem even longer, giving us long, cold, miserably snowy months to build anticipation bit by bit. That anticipation is generally focused on new things: the new season, new players, new prospects. Such was the case regarding Nathan Eovaldi's first start in pinstripes on Friday night.
Eovaldi carried with him from Miami and Los Angeles a reputation for being a bit of a project and that was definitely on display Friday; though he lit up the radar gun, he registered just one strikeout and five swings-and-misses and, as he's done with some frequency in his career, gave up more hits than innings pitched. The non-fastballs he threw, as advertised, were certainly a work in progress as well. His performance didn't change the fact that before the game, I was certainly feeling that aforementioned anticipation.
He came into that game as a new thing among new things. While we'd gotten used to his presence during Spring Training, he came to the Bronx as a relative stranger. He'd spent all of his career in the National League, either out on the West Coast with the Dodgers or in the relative obscurity with the Marlins, and did not face the Yankees in any interleague matchup. Aside from that "demographic" newness, Eovaldi's the type of player you can dream on — a big, seemingly strong guy with a dynamite fastball (even if he does look like Carl Pavano). The anticipation I felt for him on Friday night will continue as the season wears on: Will he harness the breaking stuff? Will he stop giving up such hard contact? Will he put batters away and thus prevent Twitter from making Phil Hughes flashback jokes? Eovaldi has just as many questions around him, even if for different reasons, as does another pitcher whose 2015 debut I was anticipating highly: CC Sabathia.
Of course, the anticipation I felt for Sabathia on Thursday night was completely different than the anticipation I felt for Eovaldi on Friday night. Going into the game, I still felt a familiar optimism that I get when Sabathia pitches. It may not be deserved at this point, but for some reason, I still believe in CC. I liken it to the feeling I get when an even-slightly-diminished Alex Rodriguez comes to the plate: when he's up there doing his thing, there's the potential for something special to happen. Maybe this anticipation is a bit of misplaced nostalgia that will come crashing down on me as CC repeats his mostly disastrous last two seasons of pitching. But, on the other hand, however small that hand may be, I'm still anticipating a repeat of 2009-2012.
While we can't repeat the past with Sabathia and we can't tell the future with Eovaldi, this is the most anticipatory time in a sport driven by anticipation. I choose to anticipate good things for both Sabathia and Eovaldi.