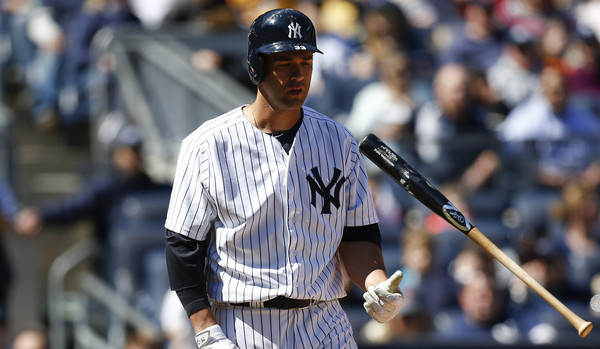 The Yankees had been after Garrett Jones for quite a while before landing him this offseason in the Martin Prado/Nathan Eovaldi trade. They first tried to get him in the A.J. Burnett trade a few years ago, at least as far as we know. Given his left-handed pull power and the ability to play first base as well as right field, Jones sure seemed like a good fit for the roster this year. The Yankees needed protection at those two positions as well as DH.
Instead of being that part-time first baseman, part-time right fielder, part-time DH against righties this year, the 33-year-old Jones has been limited to 34 unproductive plate appearances in the team's first 27 games. He's started just seven of the 27 games — two in right, two at first, and three at DH. Jones is currently in an 0-for-15 slump and has hit .152/.176/.242 (9 wRC+) with no homers so far this year. His defense hasn't been anything special but that was always the case.
The lack of playing time is only partly due to the ugly batting line. Both Alex Rodriguez and Chris Young are off to very good starts and are stealing at-bats from Jones, so to speak. No one expected A-Rod to be this productive this soon. We all figured Jones would get a fair amount of DH at-bats coming into the season. And whenever someone in the outfield has needed a day off, Young has stepped in because he's tearing the cover off the ball, even against righties.
The leaves Jones almost as a man without a role. He's not seeing much time in the outfield, isn't seeing much time at DH, and Mark Teixeira's combination of good health and lots of dingers has kept Jones from playing first base as well. There's just no way to squeeze him into the lineup right now, and his lack of production is only going to make it easier for Joe Girardi to avoid using him going forward. Jones is stuck between a rock and a hard place.
Jones averaged 527 plate appearances per season from 2010-14 and never came to the plate fewer than 440 times. He's on pace for 204 plate appearances this year, so his playing time has been more than cut in half, and it's hard to be a bench player after playing everyday your entire career. This is a chicken or the egg thing — is Jones not producing because he isn't playing, or is he not playing because he isn't producing? It's probably some of both. He's the position player version of David Carpenter, basically.
I'm not saying Jones should play more. I just don't think he's turned into a true talent 9 wRC+ (!) hitter in an offseason and my guess is the lack of regular playing time is at least partially to blame. It's hard to stay sharp when you play this infrequently. Extra batting practice and time in the cage only does so much. Live pitching is a different animal. A-Rod and Young (and Teixeira) have been too good to take out of the lineup and the Yankees should milk those hot starts for all they're worth.
Jones is stuck in an unfortunate spot right now, and, aside from an injury, I'm not sure there is any way to get him the playing time he maybe needs to be a productive part-time player. I don't think the Yankees should replace him, at least not yet, and even if they were going to replace him, who's a better option? It's not like the next guy is going to play much. Calling up Slade Heathcott or Ramon Flores to play once a week is a waste. For the time being the Yankees should ride it out with Jones and hope he figures out a way to be a productive yet seldom-used bench player.