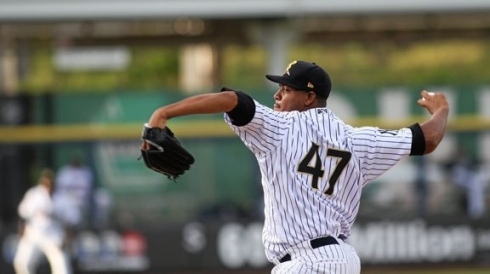 At some point very soon — likely next week — the Yankees will welcome Ivan Nova back to the rotation. He allowed one run in six innings in his second Triple-A rehab start over the weekend, but apparently he had issues with his command and wasn't as sharp as he had been in previous rehab starts. Joe Girardi confirmed yesterday Nova will make one more minor league rehab start later this week.
"We just feel we want to make sure that he's finished off," said the skipper to Chad Jennings. "It's not something that's easy to make an adjustment if you say, we wish we would have had one more start, so we talked about it for a couple days and we just think it's better that we know that he's ready to go and ready to handle the rigors of throwing every fifth day and all that … We waited a long time and to give him one more start and to make sure that he's ready is probably the best thing to do."
Once Nova is deemed ready to rejoin the Yankees, the team will have to figure out a way to squeeze him back into the rotation, unless of course they decide to use a six-man rotation. Sunday's subpar start by Adam Warren seems like the excuse the Yankees have been waiting for to plug him back into the bullpen after his recent run of strong starts. Girardi's somewhat quick hook was telling.
Soon after Nova returns, Jacoby Ellsbury is expected back from his knee problem. Cashman told Erik Boland the team expects Ellsbury back before the All-Star break (which is less than a month away now) and that he could return later this month. Once he does return Ellsbury will slide right back into his usual center field/leadoff hitter slot and the rookie outfielder du jour (Mason Williams, currently) will be send down.
Last week the Yankees had to send Jose Pirela to Triple-A to make room for Brendan Ryan even though Pirela has gone 14-for-27 (.519) against lefties in his very brief MLB career. Jacob Lindgren was dropped in favor of Sergio Santos partly because the Yankees wanted another righty reliever and partly because Lindgren gave up three dingers in his seven innings. Ramon Flores was swapped out for Williams despite his solid showing.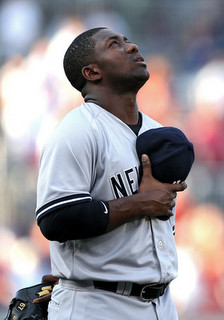 In this recent stretch of games the Yankees have had to make some tough roster decisions and they have some more tough decisions on the way. Keeping Pirela, Flores, and Lindgren around would have easily been justifiable. Warren may move to the bullpen but chances are the Yankees wish they could keep him in the rotation to see what happens. His last six starts as a whole has been very impressive, even including Sunday.
The Yankees suddenly have depth and extra players who belong on the roster. Too many times in the last two seasons the club was left scrambling for players, whether it was shortstops like Luis Cruz and Reid Brignac in 2013 or pitchers like Alfredo Aceves and Matt Daley in 2014, there was always someone on the roster that needed to be replaced. Obviously injuries played a part in that, but the Yankees have had injuries this year too. This season's crop of replacements has been much more productive.
Right now, Santos is probably the only guy on the roster the Yankees would drop in a heartbeat if a better option presents itself. If Ryan or another outfielder gets hurt, Pirela and Flores are capable replacements. Those internal replacements rarely existed from 2013-14 and Hal Steinbrenner made it clear he viewed that as a problem in the last two offseasons. I know we're all looking for stars from the farm system, but getting capable fill-ins like Pirela and Flores is very important too. It prevents the Brignacs and Daleys from even being needed.
When the time comes to activate Nova and Ellsbury, the Yankees will have tough decisions to make and that's a good thing. Having more quality players than roster spots is a plus. The lack of depth and general lack of production from the farm system helped sink the Yankees the last two seasons. Now they have multiple young outfielders and a young infielder waiting in Triple-A, and will probably move a capable starter in Warren to the bullpen to make room for Nova. Figuring out who has to go isn't so easy anymore. That's a good thing.