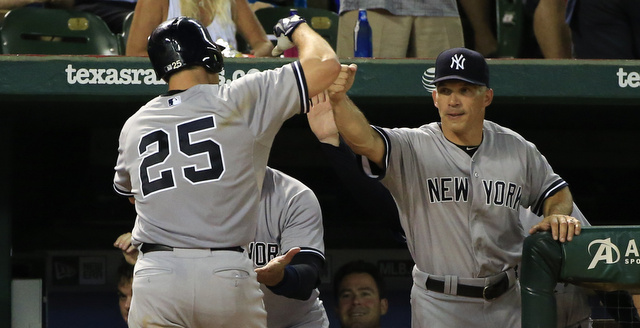 The trade deadline has come and gone. The Yankees didn't do anything other than pick up Dustin Ackley, so they're sticking with the roster they have and whatever they get from their farm system. I find that quite risky! But it is what it is. The post-deadline portion of the season starts tonight on Chicago's south side.
The Yankees dropped their last two games to the Rangers but have generally played well of late. They're 9-4 with a +24 run differential since the All-Star break, stretching their AL East lead to six games. That's pretty good. Heck, if you'd have told me before the season that the Yankees would be six games up on deadline day, I'd have taken it in a heartbeat. Shake off those last two losses and get a win tonight, mmmkay? Here is the White Sox's lineup and here is the Yankees' lineup:
CF Jacoby Ellsbury
LF Chris Young
DH Alex Rodriguez
1B Mark Teixeira
RF Carlos Beltran
3B Chase Headley
C John Ryan Murphy
2B Brendan Ryan
SS Didi Gregorius
RHP Nathan Eovaldi
It's nice and sunny in Chicago yet not nearly as hot as it was in Texas the last few days. Mid-80s, not 100+. Tonight's game will begin a bit after 8pm ET and you can watch live on good ol' YES. Enjoy the game, everyone.
Injury Updates: Brett Gardner and Brian McCann are fine, just sitting against the lefty Carlos Rodon … CC Sabathia (dehydration) is doing much better. He was discharged from the hospital in Texas and has rejoined the team in Chicago.
Roster Moves: In case you missed it earlier, Garrett Jones was designated for assignment to clear a roster spot for Ackley and Esmil Rogers was released so he could sign with a team in Korea … Chris Capuano cleared waivers and was outrighted to Triple-A Scranton, the Yankees announced. He can reject the assignment and elect free agency if he wants … Slade Heathcott was activated off the 60-day DL and optioned to Triple-A Scranton, the team announced.