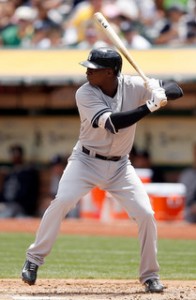 If not for Alex Rodriguez's (mostly triumphant) return to pinstripes, the biggest narrative surrounding the Yankees this season would likely be Didi Gregorius and his attempt at replacing the beloved and legendary Derek Jeter. To say that talk of this has fully died down would be disingenuous as we hear it fairly frequently, mostly when the Yankees play on national broadcasts. Thankfully, Didi has worked hard at and succeeded in making those conversations positive, even if that wasn't the case at first.
In the early going of this year, things were not looking great for Sir Didi. He was scuffling at the plate, hitting to just a .499 OPS during his first month as a Yankee. On top of that, he was flubbing plays in the field and making some poor decisions on the basepaths. He was pressing–and who could blame him? Going from the relative obscurity of playing for the Diamondbacks to the relative ubiquity of playing for the Yankees while replacing Derek Frickin' Jeter would make any player, regardless of skill-level, press. As the season's gone on, though, Didi has adjusted and looked more and more comfortable in the Bronx and a second-half surge at the plate has helped make that possible (along with fewer baserunning blunders and mostly stellar fielding–seriously, this dude's arm is off the charts!).
Since the All-Star Break, Didi has hit .304/.333/.415. That hot streak didn't just start after the (not really) midpoint of the season. If we extend back to July 1 to now, Didi is hitting .294/.333/.400. That's ever-so-slightly off from the post-ASB pace, but it's still solid, especially for a shortstop who's as good a fielder as Didi's proven himself to be. Let's take a look into some batted ball numbers and see what we can find as a possible source for Didi's improvement.
As it so often does, Didi's improvement may start with the old number one. Since July, Didi's seen a big increase in line drives per balls in play on fastballs: 33.33% compared to just 17.50% in April through June. Unsurprisingly, this has led to an increase in BABIP–.268 instead of .228–which has led to a slight increase in BA against fastballs, .239-.222. Also at factoring in here is a big drop in pop up percentage. In the early part of the season, Didi popped up on exactly 10% of the fastballs he put into play; that number is now hovering closer to 2%.
The non-fastball pitch Didi has seen most often this season has been the sinker, and he's been productive against it all along. In the first few months of the season, he hit well against the pitch with a .298 batting average. However, from July on, he's done even better. Currently, he's hitting .556 (!) against the sinker. What's interesting is that Didi has seen almost as many sinkers since July (104) as he did in all of April through June (156).
Didi's 'formula' seems pretty simple: sting the ball a little bit harder and get some more hits because of it. I'm no scout–and it's difficult and dangerous to draw such conclusions from data alone–but the harder contact, the more frequent line drives, and the less frequent pop ups (the trend from fastballs mirrored itself in sinkers, with a drop off in PU/BIP% of about 4%) seem to suggest that Didi's leveled out his swing, which has led to an uptick in production. No matter what it is, the last two months have Didi have been great to watch (even if he's been allergic to taking a walk) and let's hope he settles in to his role even more.