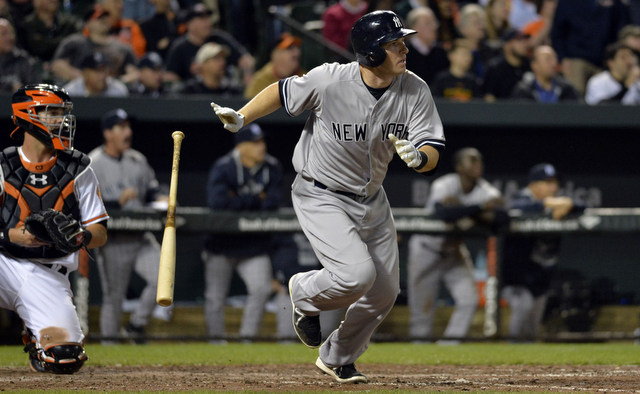 Thanks to free agency and Derek Jeter's retirement, the Yankees were faced with replacing three-fourths of their starting infield last offseason. Mark Teixeira was the only holdover. The Yankees traded for Didi Gregorius to replace Jeter, and they wound up re-signing Stephen Drew and Chase Headley to play second and third bases, respectively.
Headley has a history of being an above-average player, so he received a multi-year contract. Drew? He was coming off a miserable 2014 season in which he hit .162/.237/.299 (45 wRC+) in exactly 300 plate appearances after sitting out the first few weeks because no team wanted to forfeit a first round pick to sign him. The Yankees felt Drew was a better player than what he showed and gambled he wouldn't be that bad again in 2015. Technically, they were right.
The Return
Around this time last year, we were all looking forward to a free agent class loaded with shortstops. It never materialized. J.J. Hardy re-signed with the Orioles before free agency opened and no one loved the idea of giving Hanley Ramirez or Jed Lowrie multiple years to play shortstop because they're no good defensively. Asdrubal Cabrera's offense and defense had both been declining as well.
A very good case can be made Drew was the best shortstop on the market last year. I mean actual shortstop. Capable of playing the position defensively. And yet, he was unable to find work until the Yankees re-signed him in mid-January, after they traded for Gregorius to play shortstop. Drew had to settle for a second base job. The cost: one year and $5M. That's nothing in baseball dollars these days. It was a low cost flier.
The Importance of Spring
One of the reasons the Yankees hoped Drew would bounce back in 2015 was Spring Training. He would have a normal Spring Training for the first time in three years — he missed Spring Training in 2012 with a fractured ankle, missed a big chunk of Spring Training in 2013 with a concussion, and missed all of Spring Training in 2014 because no one signed him. Drew would finally get a proper spring to prepare himself.
Drew, who turned 32 in mid-March, played in 22 Grapefruit League games, the most of any regular. He played well too, hitting .256/.310/.481 with three home runs in those 22 games. Also, the Yankees kept Drew at second base so he could continue to learn the position after making the switch at midseason last year. He played only one game (six innings) at short. That's all. Everything else was at second base. All things considered, Drew had a solid spring, which he needed.
Home Runs … And Nothing Else
When the season started, it quickly became apparent a full Spring Training hadn't helped Drew a whole lot. He went 2-for-17 (.118) in his first four games, then hit a solo home run off Clay Buchholz to cap off a seven-run first inning in his fifth game of the season. The next night, Drew had what was legitimately one of the biggest hits of the season, a go-ahead pinch-hit grand slam against the Orioles:
That was incredible. Even that early in the season, it felt like a huge hit because the Yankees — and Drew, for that matter — stumbled out of the gate. That was as big a win as you'll see in April.
In the following days Drew continued to hit the ball out of the park and do little else. He went 8-for-42 (.190) with four home runs in his first 13 games and 31-for-177 (.175) with nine home runs in his first 53 games (58 team games). That's 25-homer pace across 162 games, but he was also hitting .175 with a .237 OBP, so yeah. The homers were nice, but Drew was a black hole through the first third of the season.
Sneaky Good Production
From June 2nd through September 2nd, a totally arbitration three-month stretch of season, Drew quietly hit .250/.320/.485 (117 wRC+) with 12 home runs in 68 games and 225 plate appearances. That's really good! Especially for a second baseman. I mean geez. Middle infielders who can put up league average offense are hard to find these days. Drew was quite a bit better than average during those 68 games.
And yet, because he started the season so terribly, his average remained under the Mendoza Line and everyone wanted Drew out of the lineup. It wasn't entirely undeserved either. Drew was awful last year and awful for the first two months this season. We're talking close to 500 plate appearances. And with Rob Refsnyder sitting in Triple-A, it was not at all unreasonable to want the Yankees to make a change. Aside from Refsnyder's four-game cameo around the All-Star break, they never did.
It was not until August 30th in Atlanta that Drew finally (finally!) saw his average creep over .200. All it took was a 4-for-4 day. He homered and also drew two walks that day. Drew went into the game hitting .192/.262/.369 (69 wRC+) on the season and left hitting .201/.274/.385 (77 wRC+). I can't imagine many everyday players raise their wRC+ eight points in a single game in late-August.
The grand slam against the Orioles was certainly important, though Drew's biggest hit as a Yankee came on September 1st against the Red Sox, his former team. The Yankees had slipped behind the Blue Jays in the AL East but were still within striking distance (only 1.5 games back), so they needed every win possible. Drew went 1-for-3 on the night, and the one was a go-ahead two-run double in the fifth inning.
The Yankees held on for the 3-1 win and kept pace with the Blue Jays. That was part of a ridiculous four-game surge for Drew, during which he went 9-for-12 (.750!) with two doubles and two home runs. That raised his season batting line to .211/.281/.404 (84 wRC+) in 399 plate appearances, which is still comfortably below-average, but it was much better than what the Yankees got out of Drew in April and May.
The Premature End
Drew limped to the finish line the last few weeks of the season. He went 2-for-27 (.074) to close out the season and seemingly lost his starting second base job to Dustin Ackley. It wasn't entirely performance related, however. Drew took a bad hop ground ball to the face on September 12th and suffered what was eventually diagnosed as a vestibular concussion. It was the same thing that cause him to miss most of Spring Training in 2013.
Drew played again on September 13th and that was essentially his final game of the season. He never played a full nine innings after that, instead coming off the bench for defense and occasionally to pinch-hit. Drew didn't play at all after September 22nd, the 150th game of the season. He missed the team's postseason berth clinching celebration because he was seeing a specialist in Pittsburgh, which sucks. Drew was there all season and deserved to celebrate with his teammates.
When it was all said and done, Drew hit .201/.271/.381 (76 wRC+) with 17 home runs in 131 games and 428 plate appearances this season. (His average was over .200 for only 20 of those 131 games.) He actually finished with the fifth most homers on the team, behind Alex Rodriguez (33), Teixeira (31), Brian McCann (26), and Carlos Beltran (19).
Normally when a player has better than average strikeout (16.6%), walk (8.6%), and ISO (.80) rates, he has a good offensive season. Not Drew. The first few weeks and the last few weeks were a mess, among the worst hitting performances I've ever seen, but those three months in the middle were really good too. The overall numbers were very bad, but, for those three months there, Drew was an asset at the plate.
The Other Side of the Bag
The Yankees moved Drew to second base in the middle of the season in 2014. He had never played a position other than shortstop (and DH) in his entire career, Majors or minors, but they felt Drew had the athleticism and instincts to handle the move, so they took a shot. Drew went through some growing pains last year before settling in.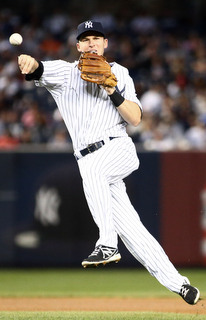 This season Drew looked much more comfortable on the other side of the second base bag. It's a bigger adjustment than you may realize! Turning a double play is completely different for a second baseman, mostly because you have to make the blind pivot with the runner bearing down on you. It's not as easy as Robinson Cano made it look. There are also cutoff assignments and whatnot.
The one-year sample of defensive stats — not even a full season at that — say Drew was right in the vicinity of average in the field. Total Zone liked him the most (+3 runs) and DRS liked him the least (-3). UZR was in the middle (-0.2). I thought Drew was solid, not way better than average and not below-average either. He made all the routine plays and occasionally spectacular ones, especially going to his right.
When the ball was hit to Drew, I didn't freak out. I guess that's the best way to evaluate defense across one season. I felt comfortable with Drew handling the baseball even in big situations — if the Yankees needed a double play to escape a jam, cool, hit it to Drew. I was confident he'd make the play. He is as sure-handed as you could want.
Between solid defense and his three strong months at the plate, Drew had a nice stretch of production this year. The middle of the season was good! The beginning and end? Eh. Drew finished with +0.2 fWAR and +0.4 bWAR, though the defensive stats might be underselling his glove a bit. Normally when a player sits below the Mendoza Line most of the season, he's sub-replacement level. Drew's power and glove helped him contribute in a positive way, albeit slightly.
Looking Ahead to 2016
Drew is once again a free agent this coming offseason. Gregorius is entrenched at short and the Yankees are "leaning towards" using Ackley and Refsnyder at second base next year, meaning there's no room for Drew unless he's willing to be a backup infielder. I'd rather have Drew on the bench than Brendan Ryan, but, given the dearth of middle infielders, my guess is Drew will find a greater opportunity for playing time elsewhere. (Plus it would be nice to have a righty bat on the bench.) Bringing Drew back at a low cost this year was a fine move. It was a risk worth taking. It just didn't work out too well.