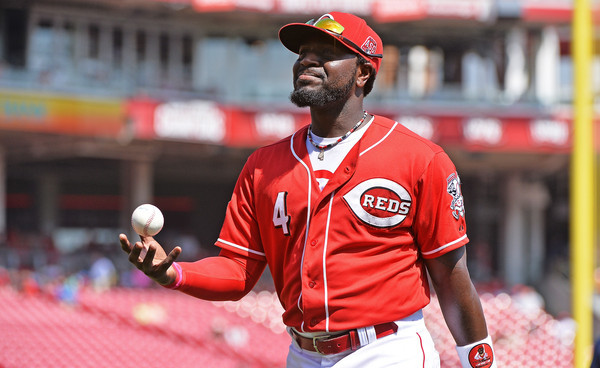 According to Jon Heyman, Reds second baseman Brandon Phillips invoked his no-trade clause to block a trade to the Yankees two years ago. He first asked for some kind of compensation to accept the move. It's unclear whether the Yankees and Reds agreed to a trade before Phillips shot it down, or if Cincinnati went to him first before advancing talks with New York.
The Yankees lost Robinson Cano to free agency two offseasons ago, and soon thereafter we heard the Reds offered Phillips for Brett Gardner. The Yankees said no. Heyman's report seems to indicate the Yankees still had some level of interest in Phillips though, enough that the Reds went to him about the possibility of going to New York.
Phillips, 34, signed a six-year extension with the Reds in April 2012. That contract included a limited no-trade clause allowing him to block a deal to ten teams, and I guess the Yankees were among those ten teams. Phillips picked up ten-and-five rights in 2014, so he has full no-trade protection now.
Over the last two seasons Phillips has hit .282/.318/.385 (92 wRC+) — he put up a .294/.328/.395 (96 wRC+) line in 2015 — which would have been an upgrade for the Yankees. They've gotten very little from second base since Cano left. Phillips had four years and $50M left on his contract two offseasons ago. Now it's two years and $27M.
Reports indicate the Nationals and Reds agreed to a Phillips trade recently, but he is again blocking the deal. That's his right. Phillips lives in Cincinnati year round and doesn't want to uproot his family. He'd rather stay with the Reds and be comfortable than join a potential contender. (He'd get to play for Dusty Baker again with the Nats too.)
The Yankees landed their second baseman of the present and future two weeks ago, when they acquired Starlin Castro from the Cubs. Even if Phillips were willing to come to New York, they no longer need him. I would have much preferred Rob Refsnyder to Phillips anyway. As Brian Cashman said at the Winter Meetings, they don't do "old and expensive" anymore.