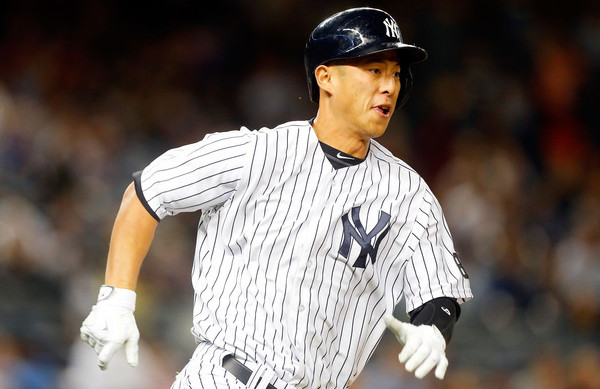 Last week, the Yankees acquired Starlin Castro to be their second baseman of the present and future. Castro will see time at shortstop and third base as well, but he's the new starting second baseman, and he's under contract through 2019 with a club option for 2020. This is not a short-term move. Castro was brought in for the long haul.
Prior to the Castro trade the Yankees had a Rob Refsnyder/Dustin Ackley platoon penciled in at second base. Ackley can also play the outfield and first base, plus he's a left-handed hitter with Yankee Stadium friendly pull power, so he figures to move into a true bench role now. Refsnyder? His future with the Yankees is in question following the Castro deal.
The Yankees have three options with Refsnyder. The could trade him, they could stash him in Triple-A as depth, or they could keep him on the bench. They'll do one of those three things at some point between now and Opening Day. I don't think there's an obvious answer here. You could easily argue any of those three options is the right move. Let's lay out the case for each.
Trade him!
The Yankees have enough second base depth to cash Refsnyder in as a trade chip. They have Castro — he's been very durable in his career, by the way — as the starter and Ackley as the backup, with Tony Renda sitting in Triple-A as the third option. They also signed Pete Kozma to a minor league deal recently, so he's Plan D. There's some depth there.
Plenty of teams need second base help right now — off the top of my head, the White Sox, Athletics, Angels (Billy Eppler connection!), Nationals, Phillies, Braves, Brewers, Pirates, Diamondbacks, Padres, and maybe even the Indians (Jason Kipnis is a natural outfielder) could use second base help — and those teams may not want to (or be able to) spend big for a free agent like Howie Kendrick.
What's Refsnyder worth in a trade? Well, similar good but not great second base prospects like Joey Wendle and Devon Travis have been traded within the last 12-14 months. Wendle was traded for two years of Brandon Moss and Travis was traded for five years of Anthony Gose, so we're talking anything from a nice complementary big leaguer to a similar young player at another position.
There's also the possibility of trading Refsnyder as part of a package, which complicates things. He certainly has trade value, but as a defensively limited player who didn't have a great year in Triple-A and is still unproven at the MLB level, that value is not sky high. Refsnyder won't be included in a trade for an impact player unless he's the second or third piece, know what I mean?
Stash Him In Triple-A
Refsnyder has two minor league options left and the Yankees would be well within their rights to use them. Like I said, Refsnyder didn't have a great year in Triple-A this summer (123 wRC+ for a bat-first guy is meh), and he does still need to work on his defense, so more time in the minors is justifiable. Renda or Kozma wouldn't be much of an obstacle for playing time either.
As far as I'm concerned, middle infield depth is not a bad thing, especially since Castro (and Ackley) can move around. All it takes is one pulled hamstring for Castro to wind up at shortstop or third base, clearing a spot for Refsnyder to play everyday, or at least resume platooning with Ackley. Renda and Kozma are okay third and fourth options, but eh. The appeal of keeping Refsnyder is obvious.
Keep Him On The Bench
There is still room for Refsnyder on the bench, you know. Right now the bench is backup catcher (Gary Sanchez or Austin Romine), extra outfielder (Aaron Hicks), utility guy (Ackley), and a fourth player to be determined. Refsnyder can be that fourth player, possibly getting regulars at-bats against lefties with Castro sliding over to play shortstop and Didi Gregorius sitting out.
If the Yankees are truly comfortable counting on Castro to be the backup third baseman — he's only played a handful of career games at third, remember, and those were in rookie ball a long time ago — it makes it much easier to carry Refsnyder and his limited versatility on the 25-man roster. He'd give them another option against left-handed pitchers, which they really need. Southpaws chewed them up late last year.
* * *
It's clear at this point the Yankees do not think as highly of Refsnyder as many fans, who may only know him through box scores. The team was slow to call him up this past season even though Stephen Drew didn't hit for long stretches of time, then they went out and acquired Castro. That's not a move that gets made if they really believe Refsnyder's ready to be a starting Major League second baseman.
The Yankees don't have to do anything with Refsnyder. They can keep him and send him to Triple-A again if they want. There is something to the idea of trading him to help address a need elsewhere, and there's some appeal to keeping him on the bench too. Again, I don't think there's a right answer here, and the Yankees might not even know what they're going to do with him yet. They may be in wait and see mode. Anyway, time for a poll.
What should the Yankees do with Refsnyder?