We have one last Retro Week article left over after it was delayed late last week. Enjoy our final flash back to the 1996 Yankees.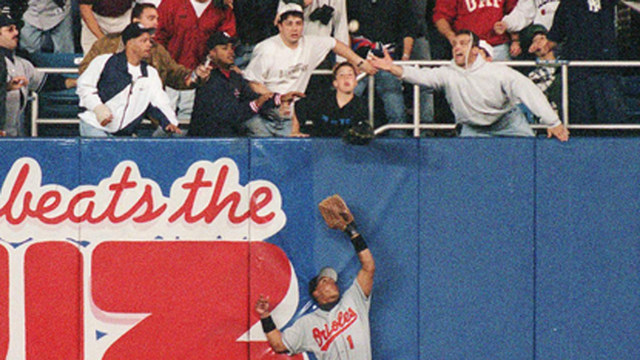 You guys know what game this is: The Jeffrey Maier game. It's probably the most well-known 1996 Yankees game given its aura of controversy, the division rivalry, and the game's classic nature.
The 1996 Baltimore Orioles were a powerhouse – their 257 home runs were, at the time, an all-time ML single season team record. It helped that Brady Anderson had a freakish 50 HR year but then again, they also had prototypical power suppliers like Rafael Palmeiro (39 HR), Bobby Bonilla (28), Roberto Alomar (22), and Cal Ripken Jr. (26) in their lineup. Along with the Mariners and Indians, the O's offense was one of the most fearsome in the ML.
The same couldn't be said about their pitching staff though. Baltimore had a 5.15 team ERA, which ranked 21st out of 30 ML teams – also making them the first team in ML history to advance to playoffs with staff ERA over 5.00. Simply said, they had below league average results for an above-average team. Staff ace Mike Mussina was the only starter with an above-average ERA+ (103) and guys like David Wells, Scott Erickson, Rocky Coppinger and Kent Merker all had ERAs over 5.00.
The 1996 Yankees, on the other hand, didn't really have offensive superstars but they were a very solid bunch. Mike's article from Wednesday summarized it well: "The Yankees were not an offense reliant on one or two players. Superstars are good, but depth is important, and one through eight the 1996 club put together quality at-bats and produced." The team produced a slash line of .288/.360/.436 – not the most powerful but they hit for a good average and got on base.
The pitching staff had an ERA of 4.65, which seems high (17th in ML) but that didn't mean that the group was without talent. For the postseason, Yankees were ready to send out David Cone, Jimmy Key and Andy Pettitte – three pretty reliable names. Kenny Rogers, who had an average year, could scratch out a nice one or two as a no. 4 guy. The bullpen had one of the best tandems of the team history – Mariano Rivera and John Wetteland – to secure victories for New York. The overall staff had flaws but they had potential to come up big throughout the postseason.
NBC broadcasted Game 1 of the 1996 ALCS with Bob Costas, Joe Morgan and Bob Uecker in the booth. The internet was not as big back then as it is now (also I was only five years old that year) so I have no idea how that troika of broadcasters were received among listeners, but based on this Baltimore Sun article, it sounds like they were crowd-pleasers.
Costas is within an elite group of sportscasters whose presence enriches a telecast. Some Baltimoreans supposedly have detected a Yankee bias in his call, but that's a complaint from people in need of a clue.

…

As for Morgan, the Hall of Fame second baseman has no peer among baseball analysts. In every telecast, Morgan provides a clinic of inside information and insight for those knowledgeable about baseball as well as the casual fan.

…
Uecker, the voice of the Milwaukee Brewers, commercial pitchman and erstwhile actor, is the comic foil, trading on his sad-sack playing days.

The former catcher has a keen sense of humor, which is needed when Costas and Morgan take baseball so seriously. However, the network would do well to let Uecker tone down that act and do some serious analysis.
Pitching matchup: Scott Erickson (13-12, 5.02 ERA, 222.1 IP) vs. Andy Pettitte (21-8, 3.87 ERA, 221.0 IP)
Erickson was a guy who had seen his share of ups and downs leading up to his age-28 season. In 1991, his second ML season, he pitched to a stellar 20-8 record with a 3.18 ERA, earning an All-Star nod and finishing 2nd in the AL Cy Young vote. In the next five seasons, he would have three with ERA+ below league average (including 1993, when he led the league in losses with a 8-19, 5.19 ERA record).
During the middle of 1995 season, Twins traded "unhappy" Erickson to the Orioles for hard-throwing Frankie Rodriguez (no, not K-Rod). Erickson, who was 4-6 with 5.95 ERA before the trade, threw to a 9-4, 3.89 ERA with the O's. The talent was there – he just needed a change of scenery. And what scenery it was to be with the Orioles. Even though the 1995 Orioles only finished 3rd in AL East, they were poised for a big 1996. Not only did the O's hire a very experienced manager in Davey Johnson, but they also went out and signed free agents Randy Myers, B.J. Surhoff and Roberto Alomar, and traded for David Wells to bolster the team.
In 1996, Erickson, like the rest of the Baltimore pitching staff, had an inconsistent season. Up to August 31, the righty had a 9-11 record with an unspectacular 5.45 ERA while allowing a .305/.363/.456 slash line to hitters. For the month of September, however, he showed signs of life by finishing off the season with a record of 4-1, 3.19 ERA in 6 starts.
Andy Pettitte was riding the upswing of his then-very young career. The 24-year old had just finished his second ML regular season after winning a league-leading 21 games and being named to All-Star team for the first time. Along with David Cone, who was the veteran ace of the rotation, Pettitte was starting to be considered as the possible second one in Bronx. George Vecsey of New York Times had a pretty lofty words for the lefty.
But isn't there room for two aces on a staff? Pettitte's natural and sincere deference to his elders wisely keeps the pressure off himself. He is no Keyshawn Johnson screaming for the football after one professional catch, no pro basketball rookie demanding a starting job.

…

Twenty victories. Stop and think about it. Pettitte was the first pitcher to win 20 games in the major league with a designated hitter in every lineup and a smaller strike zone than the National League…
Expectations for Pettitte for the 1996 playoffs were high and eager, understandably so. The game against the O's would be his second career postseason start (he started a game versus Mariners in the 1995 ALDS, allowing 4 ER in 7 innings in a loss). The Yankee team itself, coming off winning the AL East division and the ALDS against Texas, was confident yet feeling challenged to face the divisional foe Baltimore in ALCS. Not only the Orioles were a good team but also New York wanted to shake off the bad juju of losing the 1995 ALDS in the worst possible way.
"You don't want to get to the playoffs and lose every year," Paul O'Neill said. "I knew we were going to make the playoffs, but we're not where we ant to be yet. We have some steps left."
The Game
The game was scheduled to start at 4:08 p.m. on October 9, 1996. A sellout crowd of 56,495 people showed up at the Yankee Stadium II. In the top of the first, Pettitte struck out Anderson and grounded out Zeile to start things off. As Roberto Alomar started to approach his at-bat, the entire Yankee Stadium echoed with thunderous amount of boos. The reason? His infamous spit incident with the umpire John Hirschbeck only few weeks earlier. Then-NYC mayor Rudy Giuliani, who threw the first pitch of the game, urged the crowd to give Alomar a silent treatment.
"If you want to register your protest, be silent when he gets up," he said. "Have the stadium be very, very quiet, and each time he comes up, make it clear that we don't acknowledge the fact that he is even in the game." Well, that didn't really work out. Pettitte struck Alomar out on a curveball outside and that drew a big cheer (or happy yell) from the Bronx faithful.
"Pettitte works a perfect first, fanning two," Costas said. "No argument from Alomar, and we'll be back."
Tim Raines, leading off for the Yanks, hit a bloop double to left to start the threat. It was a very odd hit: seemed like a routine fly for LF B.J. Surhoff but apparently he never saw it until it was about to fall right in front of him. Boggs grounded out to first to advance Raines to third and Bernie Williams drove him in with an RBI groundout. 1-0 New York.
Baltimore tied the game immediately. Palmeiro worked a 3-1 count walk and Ripken Jr. drove a double to the gap to make it runners on 2nd and 3rd with one out. Up next was Eddie Murray, who was at the tail end of his career. The future HOF'er hit into an RBI ground out to make it a 1-1 tie in the second.
New York struck right back. Big Daddy Cecil Fielder walked to lead off and O'Neill reached on a fielding error by Roberto Alomar (much to the Bronx crowd's delight) to make it no out with runners on first and second. It was initially called as an infield single but was modified as an error. Up next was Mariano Duncan, one of the least disciplined and most contact-oriented in the lineup. The second baseman grounded to second on the first pitch and it seemed like the Orioles were going to turn an easy 4-6-3 double play. But Cal Ripken's throw from second base was a bit wide, pulling Palmeiro off the bag and Duncan was safe. Yankees took a lead on Leyritz's RBI ground out, (which was also bobbled momentarily by 3B Todd Zeile, jeez) 2-1 New York. Jeter hit an infield single to potentially make things more interesting but Raines flew out to LF (this time, Surhoff didn't have a hard time recognizing it) to end the inning.
Did I mention that Orioles are high-powered? Well, Brady Anderson was the catalyst. With one out in the top of the third, he took Pettitte deep on the first pitch. It was a hanging curveball up in the zone, almost identical to the pitch he struck out on in the first inning. 2-2. Rafael Palmeiro, another slugger, took the lefty deep the next inning to give Baltimore a 3-2 lead. This time, it was a fastball inside that Palmeiro just straight turned on it. Pettitte didn't really miss his spot – but Palmeiro, back in his heyday, was a very dangerous power hitter. Pettitte had only allowed one home run to lefties all season – by the fourth inning of this game, he had allowed two.
The Orioles could have scored more in the fifth. Tino Martinez flashed his leather to rob B.J. Surhoff of an extra base hit leading off. Had Martinez missed it, the course of the history might have been different. After that, Mike Parent singled and Brady Anderson walked to add more pressure. Pettitte struck out Zeile and induced an Alomar ground out to get out of it but man, Tino's fielding really changed the outcome.
Baltimore struck again in the sixth. After a seven-pitch battle, Pettitte walked Palmeiro to begin the inning. He got Bonilla to fly out but promptly allowed a single to Ripken through the SS-3B hole. The Orioles had the bases loaded after Murray walked on five pitches, then scored another run with a B.J. Surhoff sac fly. 4-2.
Meanwhile, the Yankee bats were laboring against Erickson. The righty settled in after allowing a run each of first two innings. By the time the bottom of sixth started, he had induced sixteen ground outs, a clear sign that his bread-and-butter sinker was working. Yankees also ran into some ratty luck as well. Beginning that frame, Cecil Fielder was robbed of a base hit by Alomar's gem (much to Yankee fans' dismay) and O'Neill flied out about a half step away from the LF wall. Duncan and Leyritz each singled to give New York a scoring chance but Jeter grounded out to waste the opportunity.
Pettitte would get into his last bit of trouble of the night in the seventh. After retiring Anderson and Zeile, the lefty allowed a single to Alomar. Rafael Palmeiro, who had already homered, hit another big one towards the right field wall, but instead of going over, the ball bounced off the short porch wall and held Palmeiro to a very loud single. Palmeiro definitely hit it hard enough for it to be a homer but the ball dove down instead of sailing out, which is a break that Pettitte and the Yanks needed. With two outs and runners on corners, Pettitte faced Bobby Bonilla and induced a fly out to get out of the inning. He would be done for the game with a 7 IP, 7 H, 4 ER, 4 BB, 4 K, 2HR performance: bent but didn't break.
The Yankee offense started to rally in the bottom of seventh. With one out, Boggs worked a walk. Bernie Williams, behind the count at 0-2, drilled a liner to RF Bobby Bonilla which appeared to be caught … but he dropped it at the last moment. It was almost a great catch but the ball jarred out as his body hit the wall. It was another play in which lady luck smiled in New York's direction, but definitely not the biggest one of the night. Johnson put in the lefty Jesse Orosco to get out of the frame. Tino Martinez struck out in seven pitches and the O's opted to intentionally walk Fielder ("I don't think they're gonna walk him, personally" said Joe Morgan right before C Mike Parent raised his arm for intentional walk) with O'Neill on deck. The bases were loaded.
"It tells you how much confidence Davey Johnson has in (Orosco), really," said Uecker. It was also probably that O'Neill was hobbled by a nagging hamstring injury that would usually put him in 15-day DL. "Do you let Paul O'Neill hit against Orosco? If it's me, I say no, but I'm not the manager," quipped Joe Morgan.
Torre apparently agreed with Morgan and put righty Charlie Hayes into the deck. O's manager Davey Johnson responded to that by putting RHP Armando Benitez into the game. Not to be outdone, Torre quickly switched in lefty Darryl Strawberry to pinch hit for Hayes.
"The guy," Costas said, referring to Strawberry, "even if he's past the prime, he's the guy who has the most presence in this team … say anything you want about him; his presence is a dramatic one and in this situation, what more could you ask for?"
Strawberry definitely made his presence known. He battled Benitez to a full-count walk to drive in Boggs. The lead was cut to 4-3. It was a very impressive at-bat by Strawberry – he didn't chase anything out of the strike zone. The next hitter, Mariano Duncan, had the exact opposite at-bat. He swung and missed three times to leave the bases loaded.
Torre put in the tall righty reliever Jeff Nelson to take care of the eighth. Nelson had an interesting 1996: if you look at his strikeout number (91 in 74.1 IP), you'd think he's one of the harder relievers to hit. But he allowed 75 base hits and also walked 4.4 batters per 9 IP, which made for a bit of a polarizing season for him. However, that night, Nelson was efficient. He got Ripken to ground out weakly, Murray to fly out deep in the center and Surhoff to strike out swinging.
The Jeffrey Maier Moment
Johnson left Benitez in to start the bottom of eighth. The hard-throwing righty struck out Leyritz to start the inning rather swimmingly. Up next, the rookie shortstop Derek Jeter.
Benitez fired a fastball down the middle for a strike one. He threw another one a little higher and Jeter didn't miss it – he drove it towards the right field wall, but it seemed like RF Tony Tarasco (coming in for Bonny Bonilla) had room in front of the short porch to make the catch. The ball was falling towards his glove, and all of a sudden, it was gone – or rather, intercepted by another glove above Tarasco's head.
"And what happens here?" Costas reacted, "(Tarasco) contends that a fan reaches up and touches it! But Richie Garcia says no, it's a home run!"
Tarasco started to protest the call to Garcia. Benitez ran all the way from the mound to join and then manager Davey Johnson came out from the dugout to separate the players from the umps and do the talking himself. The NBC broadcast replay, covering different angles, showed that the Orioles had every right to be upset. But this is way before the era of instant replay – the ship had sailed for Baltimore and the game was declared tied, 4-4. The replay also showed that the child, later revealed to be a 12-year old named Jeffrey Maier, didn't quite catch the ball – the glove momentarily cradled it and brought it into the stands. Nonetheless, the damage was done.
Davey Johnson, rightfully so, was not in a state to stay in the game. He was thrown out and the beat seemed to go on against the O's. Bench coach Andy Etchebarren stepped in as an acting manager. After the delay, Tim Raines lined the first pitch deep into right but was held to a single after Tarasco hustled the ball in. Boggs followed it up with a ground out and the O's had Benitez intentionally walk Bernie Williams. With the lefty Tino Martinez up, the Orioles brought in Arthur Rhodes – a move that paid off to stop the bleeding. Martinez lined the ball towards shallow right-center and it was caught by none other than Tony Tarasco. The future Yankee Tarasco had an inning that he will never forget.
Wetteland came into the ninth and pitched a scoreless inning with two strikeouts. He overcame a Jeter-Raines defensive gaffe that turned into a Brady Anderson double.  With one out, Anderson popped one up into shallow left field that looked very catchable by either fielder, yet neither of them made the final move to do so. I'm glad I wasn't watching this game live back then. I would have gone into cardiac arrest. However, Wetteland retired Zeile (fly out) and Alomar (strikeout) to bail them out.
The Yankee offense came back out to try to win the game in the ninth. The O's had Terry Mathews in to pitch. Mathews, then 32-yr old righty reliever, spent first half of the 1996 season with the Marlins and was getting by pretty mediocrely (4.91 ERA in 55.0 IP). However, he did better down the stretch after being traded to Baltimore (3.38 ERA in 18.2 IP). Mathews walked Fielder in four pitches. Torre sub'd pinch runner Andy Fox in for Fielder as the fan favorite Strawberry came up to bat. Strawberry lifted a mighty fly ball to center but he got under it a tad – Anderson caught it just in front of the warning track. After hitting Duncan with a fastball way inside, Etchebarren lifted Mathews for their closer Randy Myers.
Myers had a very good career as a reliever. Debuting with the Mets in 1985, the lefty's career bloomed as their closer in 1988 when he notched 26 saves with a sparkling 1.72 ERA. He was traded to the Cincinnati Reds after the 1989 season, which turned out to help his #brand a lot. Along with Norm Charlton and Rob Dibble, Myers became part of the hard-throwing relief corp that was dubbed as "Nasty Boys." Myers won a ring with the Nasty Boys and Cincinnati in 1990 and had stops with the Padres and Cubs before signing with the Orioles after the 1995 season. With 243 career saves and 119 ERA+ in 11 ML seasons up to 1996, Myers was one of the most reliable relievers pre-Rivera era. He also had postseason experience. Up to that ALCS, Myers had not allowed any runs in 16.1 career postseason IP.
As a corresponding move, Yankees brought out Joe Girardi to pinch hit for Mike Aldrete. On the second pitch, Girardi squared up for a liner towards shortstop. Ripken reached out to catch the ball and doubled off Fox for a line drive double play. Had Ripken not caught the ball, the game would have been over. On to extras.
Extra Innings
Yankees brought in a 26-year old righty named Mariano Rivera. As many know, he made name for himself as one of the most reliable relievers in ML that season. His record – 8-3, 2.09 ERA, 107.2 IP and 130 K's – speaks for itself. As dominant he was in 1996, it just so happened that Baltimore was one team that gave him the most trouble. He took a loss against the O's on June 28 after allowing 3 runs (including a homer to Rafael Palmeiro) in 2.1 IP. Baltimore put up another 3-spot on Mo on September 19 (in 0.1 IP with 4 hits allowed). Those two stinkers resulted in two out of three total losses Rivera had that season.
But that night, Rivera came into the game and pitched as brilliantly as he had all season. In two innings, he allowed three hits but stranded all baserunners while striking out three. The highlight of his outing came as he faced his last batter of the night – the much reviled Roberto Alomar. With two outs and runner on first, Rivera and Alomar got to the full count. On the pitch no. 40 for the night, Rivera unleashed an inside high fastball – which was probably out of the strike zone – and the perennial All Star second baseman couldn't check his swing quick enough.
In the bottom of 11th, the Yankees had Bernie Williams, Tino Martinez and Andy Fox due up but would only need one of them. Myers delivered an outside ball one to Bernie but caught the edge on the next pitch. At that moment, Bob Costas informed watchers with prophetic information.
"This is Williams' power side," Costas said as Bernie was hitting right-handed against Myers, "two of his three home runs came right-handed in the Division Series and 16 of his 29 in regular season were hit right-handed." It was not just a power side but rather an overall better hitting side for Bernie. Williams, as a LHH hit for an .828 OPS in 1996 as opposed to 1.141 as a RHH. Pretty big difference.
On the next pitch, Myers aimed to throw a same pitch on the outside edge again – but this time, it caught too much of the plate and hung well enough for Williams to clobber it all the way to the upper deck. 5-4, Yankees win.