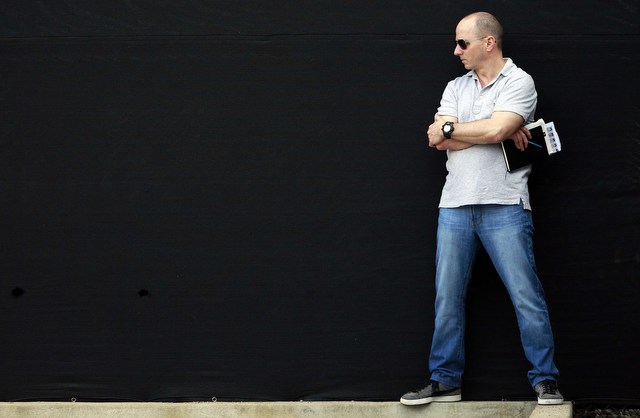 When the Yankees played their first Grapefruit League game of the year Wednesday, future rotation cornerstone Luis Severino was on the mound. Severino represents a sea change for the Yankees. Not too long ago the team used promising young like players like him to acquire proven big leaguers. Now they're incorporating players like Severino into their big league roster and looking towards the future.
This emphasis on young players is fairly new. Remember, it was only two offseasons ago that the Yankees committed over $450M to big ticket free agents, including Jacoby Ellsbury and Masahiro Tanaka. Last year the Yankees shifted gears and went young with a few mid-range free agents mixed in, namely Andrew Miller and Chase Headley. This offseason they avoided free agents all together and continued to get younger.
That's the plan now: young players and no big money long-term contracts, at least not until the ones already on the books expire. The Yankees say they're committed to this plan and I buy it. They've been to the postseason once in the last three years, and that was a one-game cameo as the wildcard team last season. Ratings and attendance are down. The Mets are the talk of the town. The free agent class was outstanding. The Yankees had every reason to spend big and trade prospects for big leaguers this past winter, and they didn't do it. Regardless of whether you agree with it, their restraint was impressive.
Meanwhile, a few hours north, the Red Sox have apparently once again changed their organizational philosophy. Last week owner John Henry said the club won't rely on analytics as much going forward — they're not abandoning statistical analysis, just scaling back — even though they've had a ton of success over the last 12 years thanks to their ability to interpret numbers. Heck, Henry made his fortune using data to analyze hedge funds. You won't see the Yankees abandon analytics anytime soon.
"One of the reasons that we've been able to avoid a dramatic falloff and at least be competitive is how effective our analytics have been," said Brian Cashman to Peter Gammons recently. "We've been able to find players to fit in, like (Nathan) Eovaldi. We have great scouts and development people, but there are a lot of factors that go into the totality of an organization."
Over the winter the Red Sox signed 30-year-old David Price to a $217M contract only a year after Henry said spending big on players on the wrong side of 30 is a bad idea. "Virtually all of the underpaid players are under 30 and virtually all the overpaid players are over 30, yet teams continue to extravagantly overpay for players above the age of 30," said Henry to Nick Cafardo in 2014. "It is a wildly different approach. We haven't participated in this latest feeding frenzy of bidding up stars."
The Red Sox also traded high-end prospects for bullpen help after former GM Ben Cherington — with Henry's blessing — wanted the club to focus on developing their own cornerstone players. That plan didn't work in 2014, the year after the BoSox won the World Series by spreading the wealth around and signing several quality free agents rather than one or two stars. That spread it around strategy came about after spending huge dollars on Adrian Gonzalez and Carl Crawford failed spectacularly.
That's an awful lot of philosophical changes in a short period of time. The Red Sox have spent big, spent small, gone young, and now they're circling back to spend big again. And now they're scaling back on analytics to some degree. It gives off the impression the BoSox are reeling from all the recent last place finishes, don't have any answers, and are scrambling for a solution. Fair or not, that's how it comes off. Every plan needs to be flexible. This goes beyond normal flexibility.
For better or worse, the Yankees are now going young — they're entering year two of this go young plan, so it's lasted longer than any of the Red Sox's recent plans — after years of spending big and emphasizing veterans. The Yankees were bonafide World Series contenders not too long ago and spending big made sense. Success is fleeting these days. I think you have to go all-in when you can, and the Yankees did just that.
Now it makes sense to step back and retool for the future, which the Yankees are doing. They're trading for young guys with upside and keeping their prospects. That they've so far been able to do that without becoming an abject embarrassment on the field is gravy. I have no idea if this plan will work, but I'm pretty confident the Yankees will see it through either way.
Changing strategies year after year is no way to run a team. Not if the goal is long-term success. You've got to find a plan, stick to it, and hope it's successful. One year is not nearly enough time to determine whether something as important as a team-building strategy is a success in this game.