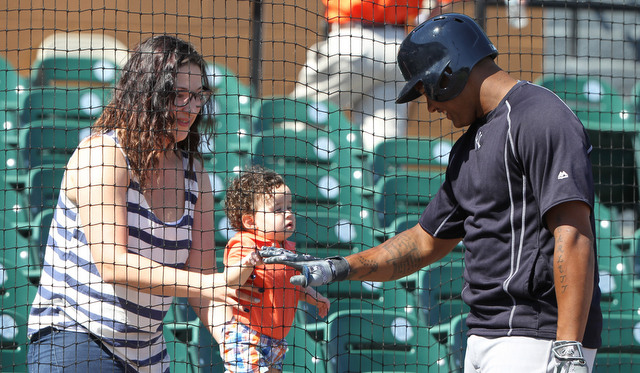 The Yankees lost their second straight Grapefruit League game this afternoon, falling 3-0 to the Tigers. Vinnie Pestano served up a three-run homer to Miguel Cabrera for the day's only offense. Didi Gregorius, Brian McCann, and Dustin Ackley each had one hit. Didi doubled and drew the team's only walk. Starlin Castro and Aaron Hicks were both 0-for-3.
Bryan Mitchell struck out two in two hitless and scoreless innings. He did walk and a hit a batter. James Kaprielian retired all six batters he faced with two strikeouts, and one scout told Erik Boland he was sitting 94-96 mph. I'm sure Kaprielian was a little amped up for his first spring outing, though it does seem last year's velocity uptick is here to say. He joked he "had a game plan and everything" for Miggy but didn't get to face him, says Jared Diamond. Here's the box score, here are the photos (no video since the game wasn't on TV), and here are the day's notes:
Pretty slow day at the complex. Masahiro Tanaka threw a bullpen, Brett Gardner (wrist) hit in the cage again, and all the regulars who didn't play in this afternoon's game took batting practice. That's about it. CC Sabathia, Dellin Betances, Ivan Nova, and Andrew Miller will all throw in workouts tomorrow. [Chad Jennings, Brendan Kuty]
Domingo German (elbow) will be shut down for two weeks with ulnar nerve irritation before beginning a throwing problem. His recently rebuilt elbow ligament is intact. Donovan Solano was scratched from today's game and is dealing with some back tightness. [Kuty, Jennings]
Jacoby Ellsbury will leadoff tomorrow in what will be his first spring game of the year. Chasen Shreve will also pitch in tomorrow's game after taking a line drive to the back during live batting practice earlier this week. Tomorrow's game will air on YES, MLB Network, and MLB.tv. Tyler Cloyd is scheduled to start. [Ryan Hatch, Jennings]
Here is the nightly open thread. MLB Network is showing the Royals and Padres live a little later tonight, plus all of the local hockey and basketball teams are playing except the Islanders. And there's some college hoops on the schedule too. Talk about those games or anything else right here.