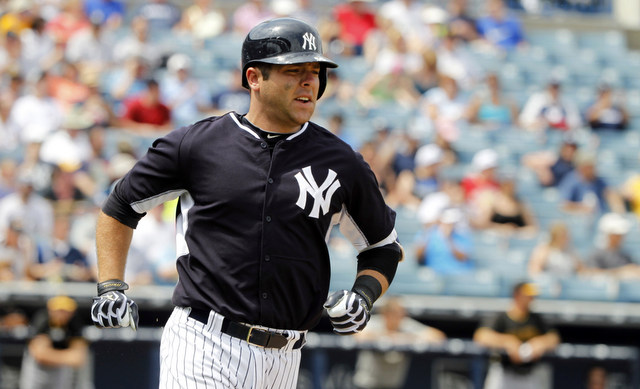 Coming into the spring, half of the bench was set. We knew Dustin Ackley and Aaron Hicks would occupy two of the four spots and nothing's changed. The last two spots were up for grabs. One will go to the backup catcher, and because the plan to play Starlin Castro at third base didn't work out, the other has to go to a backup third baseman. The Yankees don't have much of a choice with those last two spots, positionally. Let's preview those last two bench players, whoever they may be.
The Backup Catcher (For Now)
The Yankees have had some pretty good backup catchers in recent years. At the very least, they were strong defenders. The Yankees place a lot of emphasis on catcher defense. Some of those backups even hit too, like Frankie Cervelli a few years back and John Ryan Murphy last year. Murphy was traded for Hicks over the winter, leaving the backup spot to a spring competition.
The two main competitors: actual prospect Gary Sanchez and former prospect Austin Romine. The Yankees brought in veteran journeyman Carlos Corporan for depth, but Joe Girardi quickly ruled him out of the race, surprisingly. Others like Eddy Rodriguez and Sebastian Valle didn't get much of a look in camp at all. It was either Sanchez or Romine. Anyone else would be a surprise.
It's not yet official, but all signs point to Romine getting that backup catcher job to start the regular season. The Yankees optioned Sanchez to Triple-A last night, which effectively takes him out of the running. If he was still being considered for the job, the Yankees would keep Sanchez in big league camp so he could continue working with the big league pitchers. Instead, they sent him to minor league camp for at-bats and regular reps.
Sanchez and Romine are very different players. Sanchez hit 25 home runs in 500 total plate appearances a year ago. Romine hit 25 home runs from 2011-15. Sanchez is an outstanding thrower and an adequate receiver. Romine is an adequate thrower and a very good receiver. They're pretty close to polar opposites, really. Sanchez was miserable during Grapefruit League play (1-for-21!) though, and Girardi said he felt he was pressing in an effort to make the team.
Sending Sanchez to Triple-A for a few weeks is totally justifiable given his still rough around the edges defense. The service time aspect can't be ignored either. Thirty-five days in the minors delays Sanchez's free agency a year. That's potentially huge. If he turns into the type of player his tools suggest he can become, gaining control of his age 29 season in 2022 would be enormous. It's a no-brainer, really. How do you not send him down to delay free agency?
The Yankees have gone young at almost every opportunity over the last 18 months, and replacing Murphy with Sanchez seems like the logical move. Remember, Romine was pretty close to out of the organization last year. The team designated him for assignment at the end of Spring Training, he slipped through waivers, and they stashed him in Triple-A. He was added to the 40-man roster and called back up in September only because Sanchez was dealing with a hamstring issue and the Yankees wanted a third catcher when rosters expanded.
So, for now, Romine is in line to be the backup catcher. The key words there are "for now." There is zero doubt Sanchez is in the club's long-term catching picture. Ideally, he would spend some time as Brian McCann's understudy before taking over the starting job. That apprenticeship is still likely to begin this year, I think. Once his free agency is delayed and once the Yankees are comfortable with his defense, Sanchez will be in the show. Romine is a placeholder more than anything.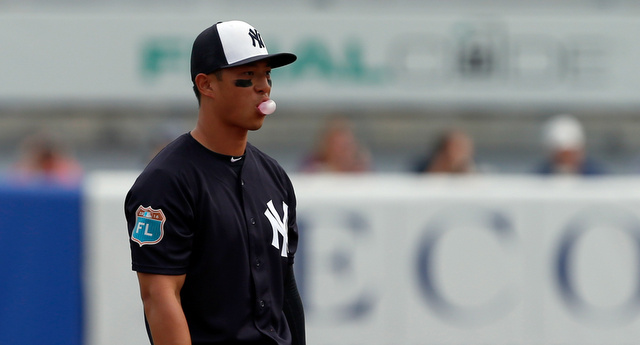 Open Tryouts At Third Base
Eight different players have played third base for the Yankees during Grapefruit League play this spring. Eight! It would have been nine had the team not pulled the plug on the Castro experiment. One of the eight is the starter (Chase Headley) and another is a prospect (Miguel Andujar) who was up from minor league camp for a day to help out during a set of split squad games. The other six: Jonathan Diaz, Pete Kozma, Rob Refsnyder, Deibinson Romero, Donovan Solano, and Ronald Torreyes.
Diaz, Romero, and Solano have all already been assigned to minor league camp, taking them out of the running for the final bench spot. The remaining three candidates hit the bench guy stereotype trifecta:
Kozma: Veteran utility man who's played for some pretty good teams in the past.
Refsnyder: Prospect with no clear path to playing time, so he's trying to improve his versatility.
Torreyes: Third tier prospect with just enough tools to potentially force the issue.
Kozma is a known quantity at this point. He's not going to hit, but he can play some pretty good defense at the three non-first base infield positions. Refsnyder has handled himself quite well at third base this spring despite being thrown into the fire. Give him some props. Learning a new position and trying to make the team at the same time isn't easy. Torreyes? Well, I learned his name is pronounced "to-reyes" and not "torre-eyes" like I had been saying in my head. That about sums up his spring.
I get the feeling Refsnyder has the inside track for the final bench spot right now, though cases could be made for Kozma and Torreyes. Remember, this is a part-time gig. The Yankees could want Refsnyder playing everyday in Triple-A — and working on his third base defense — rather than sitting on the bench and playing maybe twice a week in the big leagues. Two months (55 days to be exact) in the minors delays his free agency a year. Like Sanchez, is it worth keeping Refsnyder up to play only a handful of times in those two months when he could instead play everyday in Triple-A and push his free agency back? That's a question worth asking.
Kozma could be buried on the bench for weeks at a time a la Brendan Ryan and no one would care. Torreyes does not have Refsnyder's offensive upside but he's a contact machine with some speed and solid defensive chops. He truly may be a better bench option than Refsnyder because he does more things well. Refsnyder's all bat. Torreyes is more well-rounded and his development isn't a huge priority. If he sits on the bench and plays once every ten days, so be it.
The Yankees say they want to rest their regulars more often this season, but Girardi also acknowledged Didi Gregorius and Castro don't need as much rest as everyone else because they're so young. Whoever gets this last bench spot will be responsible for backing up Headley, first and foremost. Didi and Starlin don't need as many days on the bench. I think Refsnyder will get the job. I also wouldn't be surprised if the Yankees go with the "safer" bet in Kozma or the more well-rounded option in Torreyes.