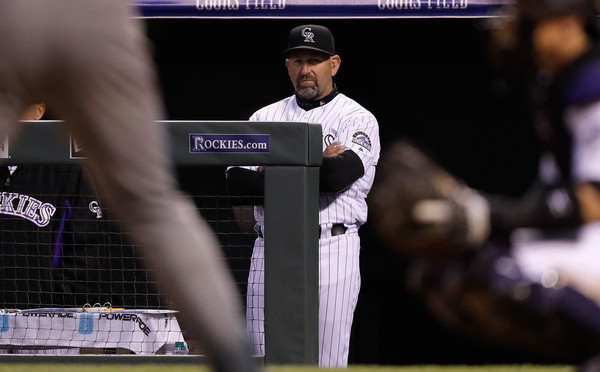 The Yankees are back in the Bronx for a nine-game homestand following a disappointing 3-3 road trip through Colorado and Minnesota. They're playing the Rockies again — and they'll play the Twins again later on the homestand — after dropping both games in Coors Field last week. This is another quick two-game set.
What Have They Done Lately?
The Rockies beat the Yankees twice last week, then they went to Miami for four games with the Marlins, and they dropped three of four by the combined score of 20-12. Figures. Colorado is 33-36 overall with a -9 run differential on the season. They seem to do this every year. Stay somewhat relevant through June or so, then completely collapse in the second half.
Offense & Defense
As we saw last week, the Rockies can score runs in a hurry. Manager Walt Weiss' team is averaging 5.01 runs per game with a team 94 wRC+, though it's worth pointing out they score only 4.24 runs per game on the road compared to 5.97 runs per game at Coors Field. The Rockies have one injured position player at the moment: LF Gerardo Parra (65 wRC+). Remember when SS Trevor Story (114 wRC+) ran him over chasing a pop-up last week? Parra landed on the DL with an ankle sprain because of that play.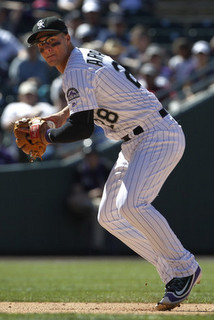 Weiss builds his lineup around two players. Well, three players, really. Megastar 3B Nolan Arenado (132 wRC+) is the centerpiece and RF Carlos Gonzalez (123 wRC+) sure is one heck of a second piece. Don't sleep on CF Charlie Blackmon (107 wRC+) though. He sets the tone from the leadoff spot. 2B D.J. LeMahieu (118 wRC+) and Story are very good complementary players on the middle infield. There's a little of everything in that group. Power, contact, speed, you name it.
1B Mark Reynolds (103 wRC+) is having a very nice season to date even though he's not a true talent .290 hitter. We all know that. OF Ryan Raburn (99 wRC+) and OF Brandon Barnes (18 wRC+) are splitting time in left with Parra out. C Nick Hundley (108 wRC+) and C Tony Wolters (43 wRC+) split catching duties. IF Cristhian Adames (60 wRC+) and IF Daniel Descalso (170 wRC+) are the other bench players. With the DH this series, I'm guessing Weiss will shoehorn both Raburn and Barnes into the starting lineup.
The Rockies have a very good team defense, led by the otherworldly Arenado at third base. He's unreal at the hot corner. LeMahieu and Story are very good on the middle infield and so is Blackmon in center. CarGo is a fine right fielder and Barnes is definitely the better defender between him and Raburn. Reynolds is Reynolds. You can run on Hundley. Not so much Wolters though. Colorado can catch the ball for sure.
Pitching Matchups
Tuesday (7:05pm ET): RHP Ivan Nova (vs. COL) vs. RHP Chad Bettis (vs. NYY)
Bettis, a personal fave, has a 5.63 ERA (4.52 FIP) in 14 starts and 78.1 innings this season, so it seems I have a thing for bad pitchers. In my defense, he has been better on the road (5.52 ERA) than at home in Coors Field (5.79 ERA). Wait, that doesn't work. Dammit to hell. Anyway, the 27-year-old right-hander has good walk (5.5%) and grounder (51.0%) numbers but bad strikeout (16.8%) and homer (1.38 HR/9) rates. He's also been getting hammered by righties, which is not unusual. He has a career reverse split. Bettis operates with three fastballs: low-90s sinkers and four-seamers, plus an upper-80s cutter. A mid-80s changeup and an upper-70s curveball are his two offspeed pitches. Last week Bettis held the Yankees to three runs (two earned) in six innings.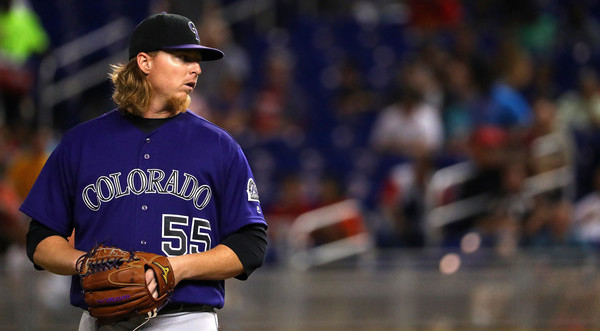 Wednesday (1:05pm ET): LHP CC Sabathia (vs. COL) vs. RHP Jon Gray (No vs. NYY)
Ah yes, the one who got away. The Yankees drafted the 24-year-old Gray out of junior college in the tenth round back in 2011, but he turned down their well-above-slot bonus offer, went to Oklahoma for two years, and blossomed into the third overall pick in the 2013 draft. Gray has a 4.55 ERA (3.53 FIP) in eleven total starts and 65.1 innings this season, and he'll bring above-average strikeout (26.8%) and grounder (49.0%) rates into tomorrow's start. His walk rate (7.7%) is about average and he's been a bit dinger prone (1.1 HR/9), though Coors Field can be blamed for at least part of that. Gray has allowed five homers in 28.2 innings at home and only three in 36.2 innings on the road. Lefties have had a tad more success against him than righties. As you'd expect from the No. 3 pick, Gray sits comfortably in the mid-90s with his fastball and has run it up as high as 99 mph this season. A hard upper-80 slider is his put-away pitch. He'll also throw some mid-80s changeups and even a few upper-70s curves per start. As far as promising young pitchers with less than a full year of MLB service time go, Gray is among the best. The Yankees didn't see him in the series in Colorado last week.
Bullpen Status
Believe it or not, the Rockies are carrying nine relievers at the moment. Yes, nine. They normally carry eight relievers anyway, but the other day starter Tyler Chatwood landed on the DL with a back problem. The Rockies called up an extra reliever for a few days until they need to call up the spot starter later this week. Here is the bullpen Weiss has to work with:
Closer: RHP Carlos Estevez (3.86 ERA/4.02 FIP)
Setup: LHP Boone Logan (1.45/1.78), RHP Jason Motte (2.00/3.90), RHP Chad Qualls (4.64/4.71)
Middle: RHP Miguel Castro (5.14/5.19), RHP Gonzalez German (4.88/4.95), RHP Justin Miller (5.46/4.03), RHP Scott Oberg (4.05/5.22)
Long: RHP Eddie Butler (6.26/5.14)
Gosh, that's a lot of bullpen. Colorado is currently without LHP Jake McGee (4.98/4.50), the ex-Ray and their usual closer. He's out with a knee issue. Estevez is closing in the meantime with those three veterans setting up. The Rockies committed $32.5M across seven contract seasons to Logan, Motte, and Qualls. They're not shy about paying veteran free agent relievers well. How else are they going to get them to come to Colorado?
Oberg is the new addition. He was called up the other day to temporarily replace Chatwood. He wasn't on the roster when the Yankees and Rockies met last week. Motte (23 pitches), Estevez (17), Logan (9), Castro (3), and Qualls (2) all pitched yesterday, though only Castro has pitched in each of the last two days. Head on over to our Bullpen Workload page for the status of Joe Girardi's bullpen.