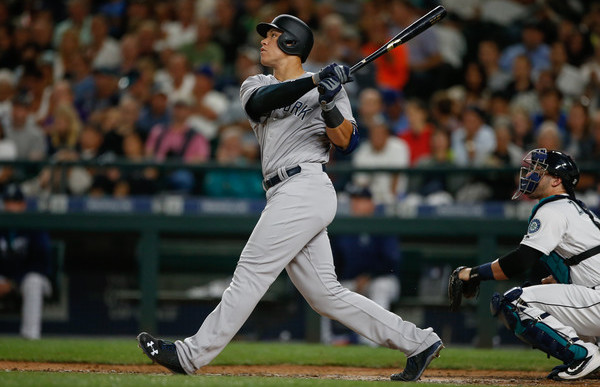 Last night, in his 14th big league game, Aaron Judge went 0-for-3 with three strikeouts before being lifted for a pinch-hitter in the eighth inning. Judge started his career with seven hits — including two home runs — in his first 18 at-bats, which works out to a .389 batting average. Since then he's gone 2-for-28 (.071) with 16 strikeouts, many of them on feeble swings.
It's not entirely unexpected that Judge is having trouble in his early days as a big leaguer. I mean, most players do, but Judge's history — he struggled his first few weeks in Triple-A too — and the fact he's so damn big suggested an adjustment period was coming, and it has. Not everyone can come up and be Gary Sanchez right away, unfortunately. Judge has some things to work on.
"It's part of the maturing process," said Joe Girardi to Brendan Kuty a few days. "As I said, with Aaron, it's a big strike zone he has to cover. He doesn't know how pitchers are going to approach him. I believe he's going to make the right adjustments. We might see some strikeouts but I think he's going to make the adjustments and be very productive."
Brian Cashman said Judge would take over as the everyday right fielder when he was called up, and that has been the case. He's started 13 of 15 games since being called up, and there's no indication Girardi will start sitting him regularly anytime soon. That's good. The Yankees should remain patient with Judge because he's very talented and needs to play to continue his development.
At the same time, Judge has adjustments to make, and that's something he has to do on his own. The hitting coaches can help him, but they're only coaches, not miracle workers. Ultimately the onus falls on Judge to make the adjustments. It seems he is being really passive at the plate at the moment, like he's waiting for the perfect pitch until he's forced to protect with two strikes.
Here, via the incredible Baseball Savant, is every fastball Judge has taken for a called strike in his brief time with the Yankees: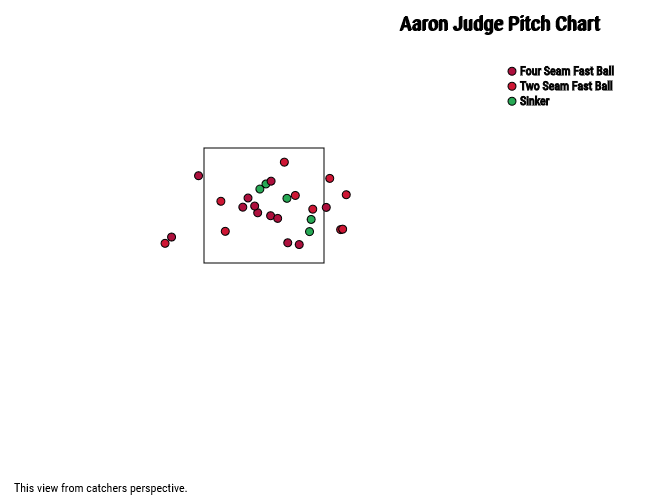 There are some borderline calls that went against Judge there, no doubt, but there's also more than a few fastballs right down the middle that he took for a strike. I know I've seen Judge take some pitches I thought he should have offered at. Various YES announcers (Paul O'Neill for sure) pointed this out as well. Judge has been letting some hittable pitches go by.
Now let's look at Judge's swing and contact rates. We are still talking about a small sample size here, so we shouldn't take these numbers as an indication of what he'll do going forward. This is just a record of what Judge has done in his 53 plate appearances so far. MLB averages are in parenthesis:
Zone Swing Rate: 55.1% (63.9%)
Out of Zone Swing Rate: 35.6% (30.5%)
Zone Contact Rate: 81.6% (86.5%)
Out of Zone Contact Rate: 48.9% (62.2%)
Judge's contact rate on pitches both in and out of the strike zone are below the league average and that's not all that surprising. He's always been a guy who swings and misses and he probably always will be. The zone contact rate is the more important number there, and Judge is on par with guys like Kris Bryant (82.6%) and Mark Trumbo (81.4%), so he's below-average, but not "he'll never be productive at this rate" below-average.
The swing rates are more interesting, especially the zone swing rate. Judge is swinging at way fewer pitches in the strike zone than the average player. In fact, among the 152 hitters with enough plate appearances to qualify for the batting title, only five have a lower zone swing rate than Judge: Matt Carpenter (54.3%), Curtis Granderson (52.8%), Martin Prado (52.4%), Ben Zobrist (52.3%), and Jayson Werth (51.7%).
Those are five pretty good hitters, so it's possible to swing at this few pitches in the zone and still be productive, but three of those five are very high contact hitters. Granderson and Werth will swing and miss a bunch, though they make up for it with their power. (Or did in their primes.) That's the type of hitter Judge will be. He's not going to be a contact machine like Prado or Zobrist. His size won't allow it.
These days we're conditioning to think taking pitches and working the count is a priority each at-bat, and while it's good to make the pitcher work, the ultimate goal is to get something good to hit. If that comes on the first or second pitch, so be it. Judge has been letting a few too many hittable pitches go by, either because he's guessing wrong or wants to work the count or something else.
Whatever it is, there's an adjustment that has to be made. The current passive version of Judge, the guy who seems to be down 0-2 in the count as soon as he gets in the batter's box, is going to have a hard time being productive. The good news is Judge has shown the ability to make adjustments in the minors. Triple-A pitchers worked him over last year, so he altered his stance (bigger leg kick, lowered his hands) to compensate, and positive results followed.
"I'm just going to stick to my routine. It's part of the game," said Judge to Kuty, in typical boring YankeeSpeak. "You're going to have the ups and downs, but try to stick to your routine. You're going to have those days where you're 0-for-4 and days where you're 4-for-4. Can't get too excited or too down. Stick to your routine and everything will work out."
Guys this size tend to get stereotyped as lumbering meathead sluggers who grip it and rip each pitch. That's not really Judge. He's a better pure hitter than he gets credit for and he has very good baseball aptitude. He's shown the ability and willingness to make adjustments, which will serve him well going forward. When pitchers give him a pitch in the zone and a chance to extend his arms, Judge has to take it. He's been passing on too many of those opportunities so far.