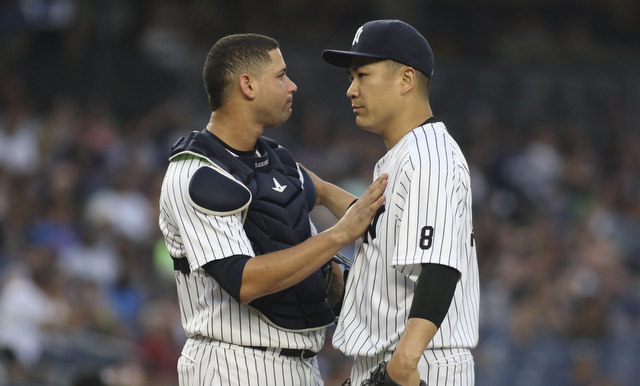 Would it be a stretch to call this a season-defining road trip? I don't think so. The Yankees are going to come out of this eleven-game road trip either firmly in the race with a chance to go to the postseason, or so far out of it we'll all know the season's basically over. This is make or break time, folks.
The Yankees are in Boston for the first of four with the Red Sox tonight, so we're in for a bunch of nice low-intensity ballgames that are in no way stressful and definitely won't last more than two-and-a-half hours. No way will these four games feature 16 hours of gut-wrenching baseball. No siree. Here is the Red Sox's lineup and here is the Yankees' lineup:
LF Brett Gardner
CF Jacoby Ellsbury
C Gary Sanchez
2B Starlin Castro
DH Billy Butler
SS Didi Gregorius
3B Chase Headley
RF Rob Refsnyder
1B Tyler Austin
RHP Masahiro Tanaka
It's a cool and clear night in Boston. Definitely gonna have a postseason baseball feel to it. Tonight's game will begin at 7:10pm ET, and you'll be able to watch on YES locally and MLB Network nationally. Enjoy the game.
Roster Move: The Yankees officially announced the Butler signing earlier today. He's in the starting lineup, so duh. Nathan Eovaldi was transferred to the 60-day DL to clear a roster spot.
Injury Update: Aaron Judge (oblique) has a Grade II strain and is officially done for the year. Those take a while to heal. He's expected to be good to go for Spring Training though. The Yankees placed Judge on the 15-day DL for whatever reason.
News: The Yankees announced earlier today they will hold a pregame ceremony honoring David Ortiz prior to their game on Thursday, September 29th. That will be Ortiz's final game in the Bronx. Go forth with faux outrage.