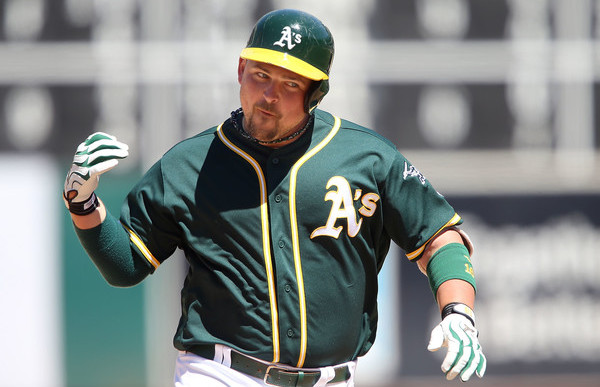 Looks like the Yankees have a new DH option. The team has agreed to sign the recently released Billy Butler, reports Jon Heyman. The Athletics cut Butler loose earlier this week and are responsible for his $10M salary. New York will only owe him the pro-rated portion of the league minimum. I'm guessing Butler will be with the team tomorrow.
The Yankees signed Butler for one reason: to DH against left-handed pitchers. The Aaron Judge injury took away a righty bat, and Austin Romine had to DH against Clayton Kershaw this afternoon, so yeah. There's room on the roster for Butler. Being able to slide Judge or Nathan Eovaldi to the 60-day DL means no one has to lose their roster spot either. It's an easy add.
Not coincidentally, the Yankees are scheduled to face three left-handed pitchers against the Red Sox this weekend (Eduardo Rodriguez, David Price, Drew Pomeranz), so Butler's going to be in the lineup an awful lot right away. The Yankees are tentatively scheduled to face seven southpaws on this upcoming seven-game road trip as well: Rodriguez, Price, Pomeranz, Drew Smyly, Blake Snell, Francisco Liriano, and J.A. Happ.
Butler, 30, hit .276/.331/.403 (100 wRC+) with four homers in 242 plate appearances with the A's before being released, including .262/.316/.369 (84 wRC+) against lefties. He's a career .299/.381/.491 (133 wRC+) hitter against southpaws and surely that's the Butler the Yankees are hoping they get these next few weeks. Hopefully Butler can be a chunkier version of 2014 Chris Young and unexpectedly rake.
Because he's signing after August 31st, Butler is not eligible for the postseason roster should the Yankees actually qualify for the postseason. There are no loopholes, no 60-day DL tricks, nothing. He's not eligible, period. That's fine though. The Yankees are just trying to get to the playoffs right now. They'll be happy if they have to figure out the postseason roster without Butler.