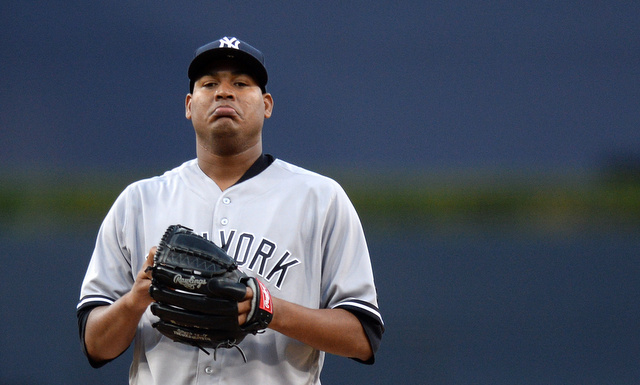 Aside from his rookie season, when he was trying to establish himself as a big leaguer, this was the most important season of Ivan Nova's career. He returned from Tommy John surgery last year and didn't pitch well at all (5.07 ERA and 4.87 FIP), so this year Ivan wanted to show everyone he is still a viable starter before becoming a free agent. There was a lot of money at stake.
Unfortunately, this summer was more of the same for Nova, at least while he was in pinstripes. He was consistently inconsistently. Occasionally great, too often terrible, and mostly mediocre. The quintessential fifth starter, basically. The kind of guy who's worth keeping around as depth, but probably not someone a contending team runs out there every fifth day. Nova's time with the Yankees — he originally signed with the team in 2004 and was the longest tenured player in the organization — came to an end at the trade deadline.
The Spring Training Competition
As expected, the Yankees made Nova compete for a rotation spot in Spring Training. His primary competition: CC Sabathia. Nova was going to have to thoroughly out-pitch Sabathia in March, because anything close to a tie was going to go to the well-paid former Cy Young award winner. The odds were stacked against Ivan. No doubt about it. He was going to have to make the decision a no-brainer.
Nova allowed two runs in nine innings in his first two Grapefruit League starts, which seemed to have him in the lead for the fifth starter's spot. He then allowed four runs in 4.1 innings in his fourth start and six runs in 4.2 innings in his fifth start, and that was that. Those two duds were enough to sway the competition in Sabathia's favor. Sabathia started the season in the rotation and Nova had to settle for a bullpen job. Such is life.
The Brief Stint in the Bullpen
The Yankees came into the season with maybe the most dominant bullpen trio in baseball history, and although Aroldis Chapman was serving his suspension in April, the team still had Andrew Miller and Dellin Betances available on Opening Day. So, naturally, Nova picked up the club's first save of the season. Just as we all expected, right? Right.
Nova got that save in the second game of the 2016 season. It was a blowout 16-6 win over the Astros, and Nova threw four shutout innings to close out the game. Throw the final three innings of the game in relief and you get a save, regardless of score. What a stat.
Nova worked sparingly in April, which is usually how it goes with long relievers. They'll go ten days between appearances then bam, we need four innings from you. Ivan appeared in only six of the team's first 29 games, and in those six games he allowed eight runs on 16 hits and one walk in 14 innings. Only once did he enter a game with the Yankees leading. It was that 16-6 win over Houston.
"We have to use him in different situations," said Joe Girardi in April. "We need for him to get outs."
Back in the Rotation
Nova's stint in the bullpen lasted 29 team games. Sabathia went down with a minor groin injury in early-May, then Luis Severino went down with a triceps problem about a week later, which opened a full-time rotation spot for Nova. And at first, it went really well. Really, really well. Well enough some wondered why Ivan wasn't in the Opening Day rotation.
May 9th vs. Royals: 4.2 IP, 6 H, 1 R, 1 ER, 1 BB, 3 K, 1 HR (on a pitch count)
May 14th vs. White Sox: 5.2 IP, 4 H, 1 R, 1 ER, 1 BB, 2 K, 1 HR
May 19th @ Athletics: 6 IP, 4 H, 1 R, 1 ER, 0 BB, 3 K, 1 HR
Pretty great! The Yankees weren't haven't much success as a team overall, especially with Severino and Michael Pineda struggling so much as starters, and Nova gave the team a nice shot in the arm. We've seen him be good for long stretches of time in the past. It looked like Ivan was about to go on one of those runs.
It didn't happen. Nova never once allowed fewer than three runs in any of his next seven starts. He allowed four or more runs five times. Nova had a 6.92 ERA (5.61 FIP) in 39 innings in those seven starts, and opponents hit .313/.368/.554 against him. That's basically Mookie Betts (.318/.363/.534). Nova faced nine Mookie Bettses every start for a little more than a month.
July went a bit better — Nova had a 3.86 ERA (5.18 FIP) in five starts and 28 innings that month — but by then it was too late. The Yankees were fading in the standings and the decision to sell was made at the trade deadline. Nova, as an impending free agent who wasn't getting a qualifying offer, was a prime candidate to go. It was either keep him and lose him for nothing after the season or get something, anything in return.
All told, Nova had a 4.90 ERA (5.10 FIP) in 97.1 innings across 15 starts and six relief appearances with the Yankees this season, which was a bit too close to last year's numbers. He had a 4.86 ERA (5.33 FIP) in those 15 starts, and, amazingly, Nova allowed a home run in 14 of his 15 starts. The only team that didn't take him deep as a starter was the Padres in spacious Petco Park, so yeah. Same ol' Nova.
Welcome to Pittsburgh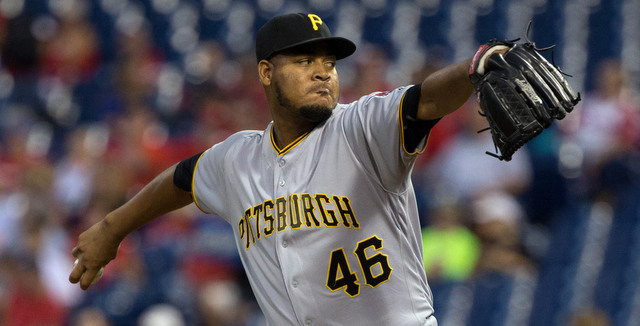 Minutes before the August 1st trade deadline, the Yankees shipped Nova to the Pirates, their favorite trading partner. They received not one, but two players to be named later in return. It seemed like a miracle. Nova hadn't pitched well since 2013, remember. He was hurt in 2014 and terrible in both 2015 and 2016. The Rangers and a few other clubs reportedly had interest as well. Pittsburgh it was.
As you no doubt know, Nova pitched far better with the Pirates than he did with the Yankees this year. He had a 3.06 ERA (2.62 FIP) in eleven starts and 64.2 innings with Pittsburgh, though his strikeout (17.8% vs. 19.8%) and ground ball (54.3% vs. 52.3%) rates were basically the same. His walk rate (5.9% vs. 1.1%) fell big time because he threw way more pitches in the zone (41.6% vs. 48.1%).
The Pirates didn't change Nova's pitch selection all that much. He threw more sinkers and fewer four-seamers after the trade, but not a ridiculous amount. Pittsburgh got his sinker and four-seamer rates back where they were in April and May, basically. The biggest adjustment, according to Bill Brink, involved Nova's chin. Yes, his chin.
Pitching coach Ray Searage advised Nova to keep his chin low during his delivery and align his chin with the target. This keeps the front shoulder closed. The results: Two walks in 46? innings, a 2.53 ERA and two complete games in his past four starts.

Nova had heard of the need to keep his chin down before. Recovering from Tommy John ligament replacement surgery, though, threw his mechanics out of whack. Releasing the ball later has improved Nova's curveball.

"My release point was too off the timing. It was up here," he said, with his arm above his shoulder, "and then just hold it a little bit more, throw it right in front."
Nova's curveball did improve after the trade. With the Yankees, opponents hit .212 with a .188 ISO against his curveball. With the Pirates, it was .175 with a .175 ISO. He also got more swings and misses (16.5% vs. 19.8%) with the curve, but, weirdly, fewer grounders (42.2% vs. 33.3%). Here are Nova's curveball location heat maps before and after the trade, via Baseball Savant: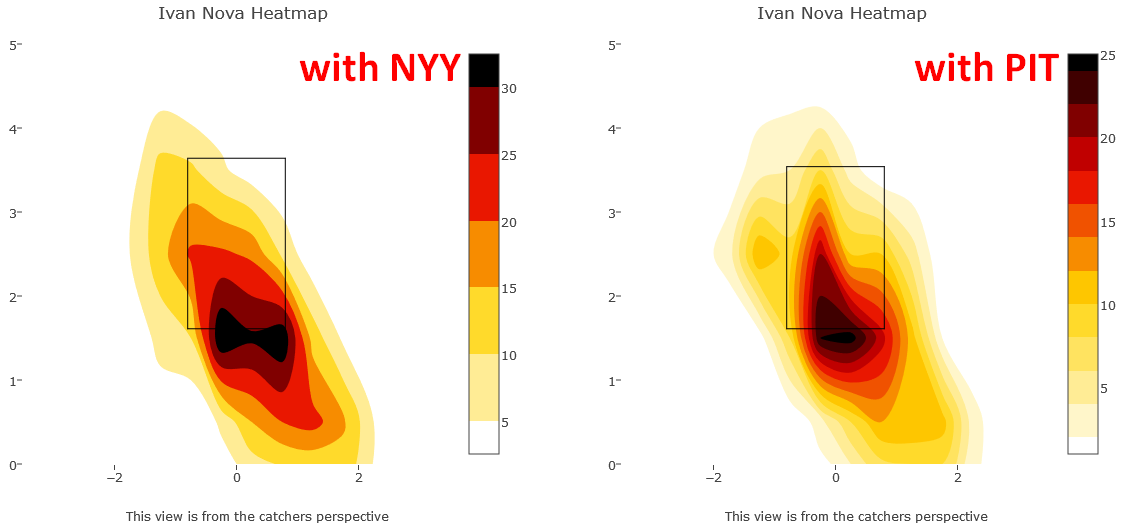 They look … pretty similar? Kinda? The vast majority of Nova's curveballs are right at the bottom of the zone, and anything higher is on the inner half to righties and outer half to lefties. I wouldn't get too caught up in this. Nova threw 252 curveballs with the Pirates. Total. The location is generally the same. Most of his curveballs were at the bottom of the zone.
There are other factors to consider here too. The switch from the AL to the NL is an undeniable help. Getting to face pitchers instead of guys like David Ortiz and Edwin Encarnacion and Mark Trumbo is kind of a big deal. Also, Nova moved into a more hitter friendly ballpark, and did face some weak competition. Six of his eleven starts with the Pirates came against the rebuilding Reds, Brewers, and Phillies. Must be nice, eh?
Whatever the reason, Nova performed much better with the Pirates than he did the Yankees. Good for him. He needed that little boost heading into free agency. The Yankees received outfielder Tito Polo and lefty Stephen Tarpley, two High-A prospects, as the players to be named in the trade, though they came over in late-August and barely played after the deal was finalized.
Outlook for 2017
Nova is a free agent this offseason and his agent is already floating the idea of a five-year contract worth $70M. Can you blame him? Jeff Samardzija led the lead in hits, earned runs, and homers allowed last year and he got five years and $90M. You're never going to get Scott Kazmir for Victor Zambrano if you don't ask. Start with a big opening demand and come down from there.
This upcoming free agent pitching class is bad. So, so bad. That works in Ivan's favor. His strong finish with the Pirates will undoubtedly convince some team he's turned the corner for good a la J.A. Happ, though for every J.A. Happ who left Pittsburgh and thrived, there's an A.J. Burnett who left Pittsburgh and stunk. We've seen Nova do this before, right? Look unhittable for a few weeks then go right back to being Ivan Nova.
The Yankees need rotation help this offseason the same way every team needs rotation help. I have a hard time thinking they'll pursue a reunion with Nova, however. Been there, done that. The Yankees are looking to move forward, not backward. Re-signing Nova puts them right back where they were this year, only Ivan will be more expensive. Someone's going to pay Nova big bucks this winter and that's great for him. Chance are it won't be the Yankees though.