Only eight questions in the mailbag this week. It was ten before the Brian McCann trade made two questions obsolete, but also I've been in a fewer questions/longer answers groove the last few weeks for some reason. As always, RABmailbag (at) gmail (dot) com is the place to send us anything.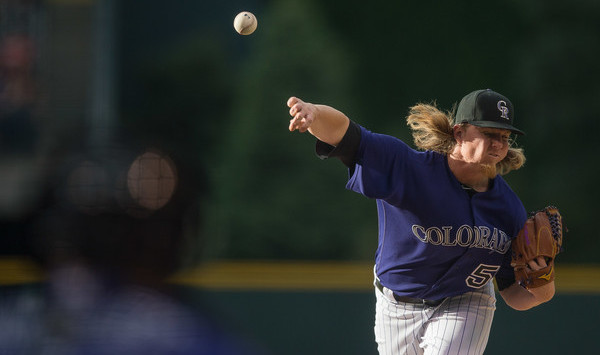 Bryan asks: The Rockies always need pitching so I'm not betting on them dealing it away, but what would your interest level in Jon Gray be and what would you be willing to give up? Young, tall, hard throwing, and I'd assume they like him after trying to get him in the '11 draft.
Interest level: Extremely high. Willing to give up: Lots. I'm all in Gray. The 4.61 ERA is ugly, I know it is, especially since it was actually worse on the road (4.91) than it was at Coors Field (4.30), but the guy had a 3.60 FIP with a 26.0% strikeout rate in his first full season as a big leaguer. That's a good sign. He also had a better than average 88.7 mph exit velocity, which is on par with other weak contact pitchers like Justin Verlander (88.2), Jacob deGrom (88.7), and Jose Quintana (88.9).
(Amazingly, MLB.com doesn't seem to have video of
Gray's 16-strikeout game
in September.)
Gray turned 25 earlier this month and he comes with five years of team control. This is the kind of dude you go all out to acquire. Swing and miss power stuff — Gray had better than average swing-and-miss rates with his fastball and slider, and an average swing-and-miss rate with his changeup — and a half-decade of control. He might not be an ace right away because being an ace is hard, but the tools are there. He's a rotation cornerstone going forward.
The Yankees did draft Gray out of junior college in 2011, though I don't think that matters much. His dominance and potential is not some secret. There are 30 teams who want this guy. The Rockies actually have a good amount of young pitching these days (Gray, Tyler Anderson, Jeff Hoffman, German Marquez), so while they might be in position to trade a starter, I'd be floored if it's Gray. He's their best pitcher and someone to build around. If they put him on the market and demand, say, Gleyber Torres and Clint Frazier and Justus Sheffield, plus some other stuff, how do you say no?
Jon asks: Any chance the Yanks could swing a trade for Chris Archer this offseason? What do you think it would cost them?
I'll start out by saying no, I don't think there's a chance the Yankees could trade for Archer. Not because they don't have the prospects to make the deal. They certain do. I just don't think the Rays will trade him within the division. Archer had a down year in 2016 but there will still be plenty of interested teams if they put him on the market, enough that Tampa could get a great package without getting the Yankees involved.
That said, pursuing Archer would be worthwhile and a no-brainer for the Yankees. He just turned 28 — fun fact: Archer is 36 days older than Masahiro Tanaka — and he's owed only $38.5M over the next five years when you include the club options.  That's a bargain price for a pitcher of his caliber. Archer's is a long-term rotation piece and the Yankees need a few of those going forward. The fact he's already had success in the AL East is a plus.
Archer's performance did take a step back this year — he had a 4.02 ERA (3.81 FIP) in 2016 after putting up a 3.23 ERA (2.90 FIP) last year and a 3.33 ERA (3.39 FIP) the year before — though the only significant change in his underlying performance was his home run rate, and everyone gave up more homers this year. The slider is still electric and the velocity is there. As long as Archer is healthy, I'm in.
My trade proposal sucks, but I'm thinking Tampa needs some combination of three top prospects or young players ready to step right into the MLB roster, plus some secondary stuff. Trading for a pitcher as good and affordable as Archer should hurt like hell.
Matt asks: With the Cubs possibly looking for a lefty swinging outfielder (if Dexter Fowler declines the QO), and the Yanks surplus of outfielders, would the Cubs have any interest in acquiring Brett Gardner? And if so, would Ian Happ be a possible trade target for the Yankees?
No on Happ. I can't imagine the Cubs would give him up for Gardner. Way too good of a prospect. Gardner could be a fit for the Cubs though, considering they need a center fielder and leadoff hitter given Fowler's impending departure. Perhaps they'd even have interest in Jacoby Ellsbury given Theo Epstein's history with him from their Red Sox days. That'd be swell. Gardner seems more likely though given his far less painful contract. Too bad the Cubbies don't have any real pitching to trade. I'm a Rob Zastryzny fan, but not enough to take him back as the centerpiece in a Gardner deal.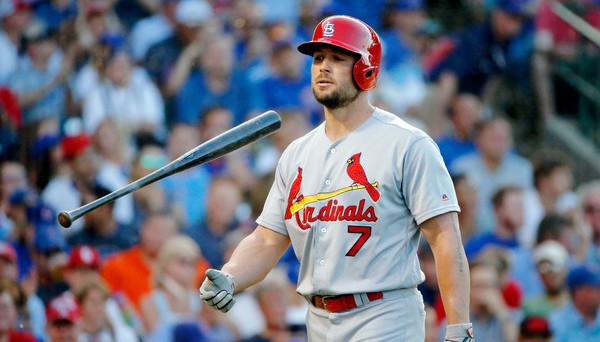 Reggie asks: Now that he's a free agent , wouldn't Matt Holiday make a good option as a DH/emergency outfielder? He might be a quality veteran bat to be had on a two-year deal.
Holliday turns 37 in January and is in clear decline — his wRC+ the last four years: 147, 132, 124, 109 — so I'd try to limit it to a one-year contract, but yes, I think he could be a good DH candidate. Holliday would have to be cool with playing some first base though. He played ten games there for the Cardinals this year, so I assume this won't be a problem. He's not very mobile in the outfield these days, and limiting him to first and DH may keep him healthier.
This past season Holliday hit .246/.322/.461 (109 wRC+) around a broke thumb that was suffered on a hit-by-pitch. There are some worrisome trends in his underlying performance. His walk rate, which hadn't been below 10.4% since 2007, dropped to 8.2% in 2016. When an older player stops walking, it usually stems from hunting fastballs early in the count because he knows can't react to soft stuff as well as he once did. Also, Holliday's ground ball rate has climbed from 45.6% to 48.1% to 50.0% the last three years. More balls on the ground is a classic sign of aging.
I'd target Carlos Beltran over Holliday as a one-year DH, but Holliday is probably option No. 2. I'd take him over Mike Napoli, who certainly has more power, but has extreme contact issues and gets chewed up by even decent righties. Holliday is what announcers like to call a "professional hitter." He grinds out at-bats and is a right-handed hitter with a true all-fields approach (via Baseball Savant) …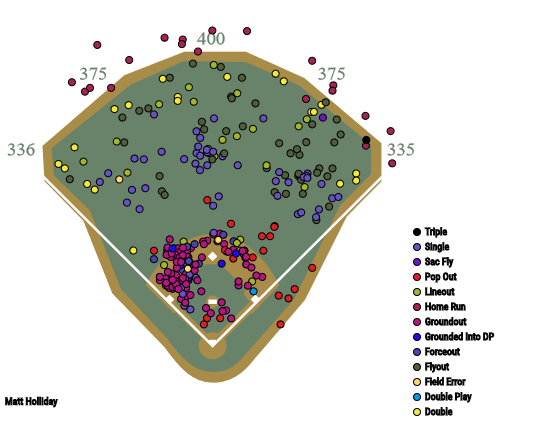 … and I'd rather hitch my wagon to that guy than the grip it and rip it Napoli. I'm a little wary of hitters on the wrong side of 35 after watching Alfonso Soriano, Mark Teixeira, and Alex Rodriguez go from great to useless in an offseason, but if the Yankees are going to sign someone like that to be their DH next season, Holliday wouldn't be a bad choice. I'd prefer Beltran because he's a switch-hitter and there'd be less of an adjustment period, but Holliday would work too.
Ladislao asks: Hey quick question for mailbag, what do you think about Eric Thames who is playing out in the KBO? He has power and speed and wasn't terrible when he last played in MLB. Could he be a productive cheaper OF/DH/1b option?
Thames, who you might remember from his time with the Blue Jays a few years ago, has spent the last three seasons in Korea and his numbers are insane. He hit .317/.425/.676 with 40 home runs this year, which is down from the .381/.497/.790 and 47 home runs he hit last year. Keep in mind the KBO is very hitter friendly. The league as a whole hit .290/.364/.438 overall this year. It's an entire league of Buster Poseys (.288/.362/.434 in 2016).
Thames turned 30 earlier this month and he's probably worth a deeper look outside a mailbag setting. My big question is this: how did he improve? Is he still the same guy he was in MLB, and he just spent the last few years feasting on inferior pitching? Or did he make legitimate progress in some way? Byung-Ho Park had huge numbers in KBO (.343/.436/.714 in 2015) but he fell flat on his face with the Twins (.191/.275/.409), which was a reminder not everyone makes the transition as easily as Jung-Ho Kang did with the Pirates last year.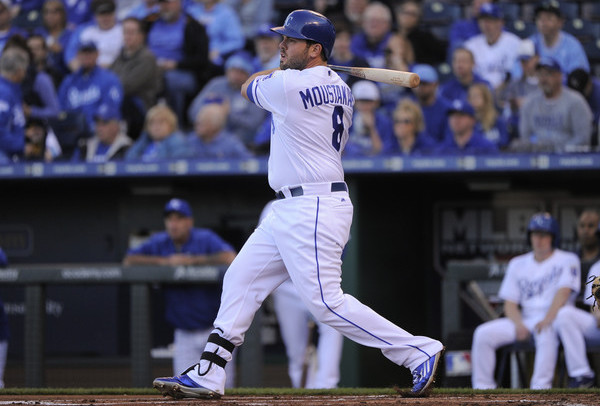 Michael asks: If the Yankees did end up dealing Headley, how do you see them filling 3rd base?  Also what would it take to get Mistakes, ones year to free agency and coming if an injury?
Shout out to Michael for the A+ autocorrect. I'm assuming Mistakes is Moustakas, as in Mike, who is indeed one year from free agency and coming off a torn ACL. The Royals are at a crossroads right now. Basically their entire core will become free agents after 2017. I'm talking Moustakas, Eric Hosmer, Lorenzo Cain, Wade Davis, Alcides Escobar, and Danny Duffy. They're going to be left with Salvador Perez, Alex Gordon, and Ian Kennedy. That's about it.
Kansas City, who reportedly listened to offers for Davis at the deadline, has to decide whether to tear it all down now and begin a rebuild, or try to win one last time with the core in 2017. Personally, I think they should go for it, and if things aren't looking good at midseason, tear it all down at the trade deadline. They might not get the best possible trade return that way, but they'd still get plenty. More than a bunch of draft picks, anyway.
Moustakas would certainly be a fine option at third base for the Yankees even after the injury. You get him for a year, and if he plays well, the Yankees could either re-sign him (he's only 28) or make him the qualifying offer and get a draft pick. As always, it comes down to cost. If the Royals make Moustakas available, teams are going to flock to him before looking at Chase Headley, so he won't come cheap.
Sam asks: Could the Yankees trade several lesser prospects (the ones they'd probably lose in the rule-5 draft, maybe others of that ilk) plus some money, along with ARod's contract to a big-market team with small payroll (I'm thinking the Phillies)? The Phillies would, in effect, be buying some prospects.
In theory, yes, they could do this. The problem with this is lesser prospects who might get popped in the Rule 5 Draft don't have much trade value. The Phillies are certainly in position to absorb Alex Rodriguez's contract as a way to net some prospects, but Rule 5 Draft fodder ain't gonna get it done. Guys like Gio Gallegos and Tyler Webb don't move the needle a whole lot. If you want to unload A-Rod's contract on another team, it's going to take real prospects to make it happen. Eating $21M in salary should net you a Jorge Mateo or an Aaron Judge, not random fringe players, and I'm not trading those guys to dump $21M. The Yankees can afford that dead money.
Dennis asks: What is your opinion on Justus Sheffield? Does he have top starter potential? And do you possibly see him splitting this upcoming season between AA and AAA and then coming to Spring Training 2 years from now with a chance to crack the rotation.
Yes I see him possibly splitting next season between Double-A and Triple-A. I think Sheffield is likely to spend most of the year in Double-A before a late season promotion to Triple-A rather than a true 50/50 split at the levels. He is still only a 20-year-old kid, remember. Getting to Double-A at age 20 is quite an accomplishment. Hopefully Sheffield doesn't get the same "he had 60 good innings hurry let's promote him!" treatment as Luis Severino. Patience, yo.
As for his long-term potential, Sheffield figures to be more a very good mid-rotation guy than a true No. 1 starter. Aces are rare. There's like 12-15 of them in baseball at any given time. Sheffield has above-average velocity and an out-pitch curveball, as well as an improving changeup, and right now his biggest need is to improve his command of his secondary pitches. He's looking more like a +3 or +4 WAR starter long-term rather than a +6 WAR guy. That's really good!