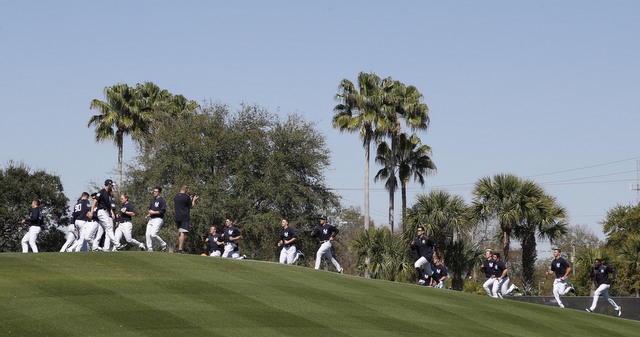 In just three days the Yankees will play their first game of the Grapefruit League season. These next five weeks and four days will be used to determine the final few roster spots and shape the Opening Day roster, a roster that will inevitably change many times during the regular season. The Opening Day roster is never the roster that finishes the season.
The Yankees readily admit they're in the middle of a "transition" right now, and while they're not completely throwing in the towel and tanking, they are emphasizing the future over the present. It's refreshing. They've needed to do this for a while. A year ago the Yankees won 84 games and were still in the wildcard race in late-September. It seems they're in for more of the same this year. In fact, let's look over the 2017 projections quickly:
FanGraphs: 80 wins (last in AL East, three games back of second wildcard spot)
PECOTA: 82 wins (third in AL East, two games back of second wildcard spot)
SportsLine: 80.4 wins (fourth in AL East, four games back of second wildcard spot)
The Yankees have outperformed the projections and their run differential for several years running now. Run differential says they should have won 323 games from 2013-16. They actually won 340. Do it once and it's a fluke. Do it year after year — we're talking about 17 extra wins across four years here, that's a lot — and it's a trend. For whatever reason the Yankees are always a few games better than expected. It's happened too long to ignore.
Anyway, the projection systems see the Yankees as a .500 team or thereabouts in 2017, and I can't say I strongly disagree with that. Based on the way things have gone the last few years, that probably means they'll end up with something like 84 wins instead. Enough to remain interesting but almost certainly not enough to seriously contend for a postseason berth. They'll need some things to break right to play in October this year.
Some of those things are obvious. Masahiro Tanaka needs to stay healthy or the Yankees are completely screwed. There's virtually no path to the postseason that includes Tanaka being anything less than ace-like. Gary Sanchez needs to be an offensive force. He won't do what he did last year again, though the Yankees are counting on him to provide big time power. When the team has a lead after seven innings, Dellin Betances and Aroldis Chapman have to make it stand up.
The Yankees are going to need some other things to go their way to contend this year, things that are not so obvious. Without fail, each year every contending team get some kinda surprise out-of-nowhere performance that helps push them over the hump. Do you think the Red Sox expected Sandy Leon to hit like that last year? Of course not. The Dodgers weren't counting on Grant Dayton being an ace setup man. Those surprise performances are what make baseball fun.
So, with that in mind, here are a few things I think need to happen for the Yankees to have a real chance at contending this year. I'm talking 89 wins or more, something that puts them right in the thick of the wildcard race. It's doable. Unlikely? Sure. But doable. Let's get to it.
Either Bird or Judge becomes bonafide a middle of the order hitter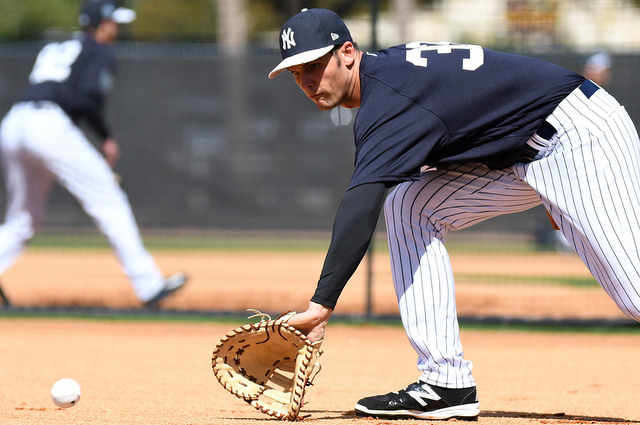 First base and right field are offense positions. Strong defense is always appreciated, though generally speaking, teams are looking for bashers at those spots. Bird and Judge both have a lot of potential, though they're kids with fewer than 300 big league plate appearances combined. It's tough to know what to expect. Especially since one is coming back from major shoulder surgery and the other is 6-foot-7 and making all sorts of mechanical adjustments.
As it stands, the Yankees will lean on Sanchez and Matt Holliday to anchor the middle of the order. I'll be surprised if they're not hitting third and fourth (in either order) on Opening Day. The Chris Carter addition provides some protection in case Bird gets off to a slow start or needs time in the minors to get his swing back. Carter is a flawed hitter, no doubt, but at least you know he'll sock dingers on the regular. Ideally he'd something like sixth or seventh though, not fifth.
Point is, the Yankees have a pretty glaring need for another middle of the order hitter, someone to give the team a formidable 3-4-5 with Sanchez and Holliday. Bird and Judge have the most offensive potential among the young players, and while it would be cool if both established themselves as big time hitters this summer, the Yankees are going to need at least one of those guys to do it to contend. They need to add length to the lineup. No doubt about it.
Gardner and Ellsbury bounce back at the plate
Brett Gardner and Jacoby Ellsbury had similar offensive seasons a year ago. Gardner got on base more often and hit .261/.351/.362 (97 wRC+) overall. That was down from the .259/.343/.399 (106 wRC+) line he put up in 2015. Ellsbury showed a little more pop than Gardner and finished with a .263/.330/.374 (91 wRC+) batting line last year. That was actually up from .257/.318/.345 (83 wRC+) in 2015.
The Yankees have hinted at breaking those two up atop the lineup, though the fact of the matter is the offense is at its best when Gardner and Ellsbury are playing like they did in 2014 and early in 2015, before Ellsbury hurt his knee. It seemed like they were on base a combined six times each night. The Yankees don't want to break those two up. They want them to play well enough to remain atop the lineup. That's the best case scenario.
Like I said earlier, the Yankees need a deeper lineup, and that starts right at the top with Gardner and Ellsbury. Whether they're capable of giving more at their ages — Gardner turns 34 in August, Ellsbury will do the same in September — is another matter entirely. I can't say I'm optimistic about Ellsbury bouncing back at the plate, personally. For the Yankees to contend in 2017 though, they'll need their two veteran speedsters to raise some hell as table-setters.
Severino pulls a Danny Salazar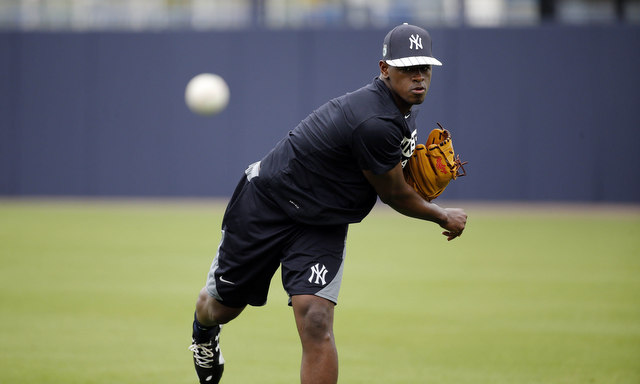 In 2013 the Indians called Salazar, a top pitching prospect, up to the big leagues in the second half, and he gave them ten starts with a 3.12 ERA (3.16 FIP). Cleveland was counting on him to be a key member of their rotation in 2014, but instead Salazar didn't pitch all that well (4.25 ERA and 3.52 FIP) and spent a chunk of the season in the minors. Then, in 2015, Salazar reestablished himself as a top young arm by throwing 185 innings with a 3.45 ERA (3.62 FIP).
The Yankees are hoping Severino follows a similar path. He came up and helped the team with eleven strong starts in 2015 before struggling in 2016 and spending part of the season in the minors. With any luck, Severino's 2017 will look like Salazar's 2015. There are plenty of caveats here — Salazar's changeup is better than either of Severino's secondary pitches, and Salazar really wasn't that bad in 2014 — though the point stands. A good second half cameo in year one, struggles in year two, then a breakout in year three. This is year three for Severino.
Pineda has a big contract year
If there was ever a time for Michael Pineda to become the pitcher the Yankees expected when they acquired him all those years ago, this would be it. Big Mike will be a free agent after the season and putting together a solid campaign from start to finish would set him up for a nice payday. The Yankees need him to pitch well to solidify the rotation too. Pineda pitching well is a win-win. He sets himself up well for free agency and the Yankees get some wins out of it. Another year of below-average production helps no one.
At least one of the young relievers breaks through
In Betances and Chapman, the Yankees have as good a bullpen one-two punch as any team in baseball. Things get a little dicey after that. Tyler Clippard was solid after the trade last year, though he is clearly no longer the pitcher he was a few years ago, and an extreme fly ball pitcher whose fastball is dipping closer and closer to 90 mph might not be such a great fit for Yankee Stadium and the AL East in general. Clippard is the No. 3 reliever right now.
Adam Warren is the fourth option and he seems to be at his best when he's a Swiss Army Knife reliever, not someone who is tied down to a specific inning. Then there's Tommy Layne and two open spots, which figure to log a lot of mileage this year. We'll see plenty of pitchers come in and out over the summer months. We always do. Sometimes by design but often out of necessity. The Yankees have been as aggressive as any team calling up relievers.
One of the young relievers like, say, Ben Heller or Jonathan Holder becoming a reliable sixth or seventh inning guy would go a long way to improving the bullpen. The rotation doesn't figure to log many innings, making the middle of the game treacherous at times. Another year of middle innings instability won't get the Yankees to the postseason. Finding that extra bullpen piece could swing a lot of games in those tricky middle innings.