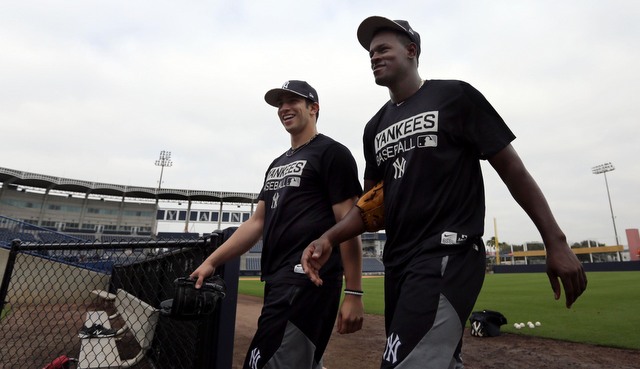 With less than two weeks to go before Opening Day, the Yankees are still in the process of picking their fourth and fifth starters to start the season. So far none of the various rotation candidates has separated himself from the rest of the pack. I'm sure the Yankees have their internal preferences, but from a Spring Training performance standpoint, no one has looked great.
Based on recent comments by Brian Cashman, the fifth starter won't be all that important early in the season. While talking to George King, Cashman indicated the Yankees intend to use all those early season off-days to skip their fifth starter the first two times through the rotation. Here's what Cashman said:
"We have to lock in sooner than later,'' the GM said. "And one of those guys isn't going to pitch until the 16th [of April] with days off. We have to make some decisions soon and get people in the right spots whether it's the bullpen or Scranton.''
The Yankees have three off-days within the first ten days of the regular season, so not only can they skip their fifth starter the first two times through rotation, the four starters they do use will still get an extra day of rest between their first and second starts. April is always loaded with off-days because of potential weather issues. Here's the schedule.
The benefit here is obvious. Being able to avoid your fifth starter until the 12th game and 15th day of the season frees up a roster spot, typically for an extra reliever. And that reliever could be the fifth starter. Let's say the Yankees go with Luis Cessa as the fifth starter. They'd be able to use Cessa in long relief once or twice within the first ten days of the season, then let him start that April 16th game, the first time a fifth starter is needed.
Nowadays the Yankees try to give their regular starters an extra day of rest as often as possible, which is why I thought they might stick with five starters right out of the gate. It would keep the workloads light before ramping things up in mid-April. I guess that's not much of a concern so early in the season though. It's more of a concern at midseason, when off-days are harder to come by.
I should probably note that by skipping the fifth starter, the third starter will start the home opener on April 10th. I have no idea whether the Yankees care about that honor, but, if they do, I'd bet on CC Sabathia getting the ball. That means Michael Pineda would slot in behind Masahiro Tanaka as the No. 2 starter. Whatever. Point is, no fifth starter the first two times through the rotation. Thanks, off-days.