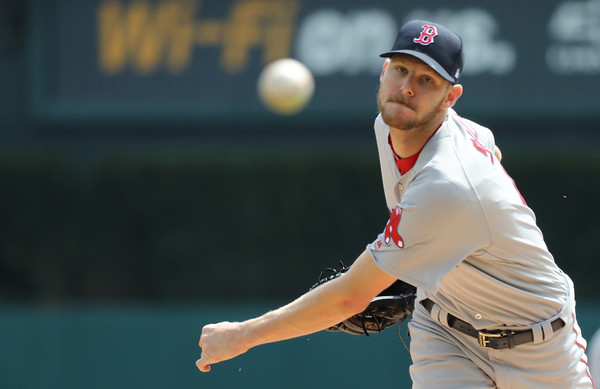 On Thursday, the Yankees get their first crack at Boston Red Sox ace Chris Sale. However, there's a fair amount of familiarity between Sale and the Yankees.
If you're not familiar with the numbers, they're gaudy, to say the least. In 53 1/3 innings against the Yankees, Sale has surrendered just 32 hits, 12 walks and 4 HBPs while striking out 61 batters and allowing just 13 runs (seven earned). That's good for a 1.17 ERA and a WHIP of .820. Sale has the lowest ERA of any pitcher in MLB history with at least 50 innings against the Yankees (h/t to Katie).
Unfortunately for the Yankees and their fans, Sale is going to be tacking on a lot more innings to that total over the next three years. With team options, the Red Sox have Sale under contract through 2019 and there's nothing saying they couldn't bring him back on a longer contract when that's up. We're talking about a pitcher with five All-Star appearances in the five seasons he's been a starter, and he hasn't finished lower than sixth in the Cy Young voting. That's a keeper.
So what does this mean for the Yankees? What can the Bombers do to counteract the way-too-early favorite for AL Cy Young? Here are a few things to know about facing Sale.
1. Lefties are practically useless against him: Sale is a beast but especially vs. lefties. He's given up 114 home runs in his career and just eight were hit by left-handed batters. While RHBs have a .228/.283/.370 line against him, lefties are far worse at .202/.258/.268. No power and no average.
In his seven starts against the Yankees, Sale has faced few lefties. The Yankees started three against him in 2012 and in the six starts since, haven't started more than two. Typically, it's been the lefties you don't take out of the lineup, the Robinson Canos of the world. You have to try and load up on the platoon advantage to neutralize Sale because his size and motion are so difficult to pick up for a LHB.
This is why you acquire Chris Carter and Matt Holliday. Not just for Sale of course. For any tough lefty. Sale, David Price, etc. Having a veteran with some savvy in the middle of the order can counteract Sale … as much as you truly can counteract Sale. When Sale took the mound vs. NYY last May, it led to a distinctive lineup with Aaron Hicks leading off, Brett Gardner batting seventh and no Jacoby Ellsbury. Sale threw a complete game, but the point still stands. Maximize your potential by platooning like crazy. You may see a lineup that goes something like this.
1. Aaron Hicks, CF
2. Chase Headley, 3B
3. Matt Holliday, DH
4. Starlin Castro, 2B
5. Aaron Judge, RF
6. Chris Carter, 1B
7. Brett Gardner, LF
8. Austin Romine, C
9. Ronald Torreyes, SS
You have to sit one of Gardner or Ellsbury for Hicks here and moving the one lefty outfielder down the card makes sense, too. Last season's lineup shows Joe Girardi is willing to do just that. He's done some interesting things like put Yangervis Solarte in the five-hole as well. The lineups this season with Ellsbury batting fourth and so on have looked pretty peculiar, so Thursday's lineup may just blend in.
2. Headley is key to hitting Sale: Headley has been much maligned at times during his stint in pinstripes, but boy can he hit Sale. He has the third highest OPS off Sale of any batter with at least 10 plate appearances. In 14 PAs vs. the 6-foot-5 southpaw, Headley is 5-for-13 with two home runs, a double and a walk.
Sale even helped Headley get back to being himself last season. After a horrible April and early May, Headley got his second extra-base hit of 2016 off Sale with this home run.
Girardi has put Headley
near the top
of the lineup card with Sale on the mound, both in 2015 and 2016. His first homer off Sale
came back in 2014
 during an interleague series between the White Sox and Padres.
The point being, Headley is really important here. I'm not sure I expected to be saying that, but here we are. Headley has similar numbers off the person I would say is Sale's most logical current comparable, Madison Bumgarner. He has three home runs and 10 hits in 36 at-bats off Mad Bum. Go figure.
Only three other Yankees have multiple hits off Sale: Carter, Castro and Hicks. Hicks is 4-for-12 with a double, Carter is 2-for-13 with a double and a homer, and Castro is 2-for-11. Unsurprisingly, Carter has struck out seven times vs. Sale. Ellsbury and Gardner are a combined 1-for-16 with two walks, a hit-by-pitch and nine strikeouts. Welp.
3. Time for the Baby Bombers: I'm unsure if the Yankees were trying to be cruel last May, but they had Gary Sanchez make his first MLB start as the DH facing Sale. You will no doubt be shocked to learn he went 0-for-4 with a strikeout.
However, this is where having a few young, dynamic, right-handed bats comes in handy. Sanchez may be hurt right now, but he'll get more opportunities off Sale during the next few seasons. Sanchez, Judge and even Clint Frazier or Gleyber Torres can give the Yankees an element few teams have vs. Sale: An all-righty top of the lineup that can withstand him. They'll surely have some troubles off him like Sanchez last May, but they're NYY's best shot. These guys will get plenty familiar with Sale over the next few years.
As for Greg Bird, it makes sense to bench him for Carter in terms of trying to win that day's game. However, starting Bird vs. Sale would be interesting for the long-term. Giving him some at-bats against him now could give Bird a chance against him in future meetings, plus Bird has hit lefties well in his early MLB career.
4. If he wasn't on the Red Sox/facing the Yankees, Sale would be a lot of fun to watch: Sale's mesmerizing. His herky-jerky motion is not something you'd teach any kid and that may be part of what makes it so effective. It's different and it's been nearly impossible to hit. He's a consistent Cy Young contender for a reason and despite a motion many in baseball would label a concern, he's remained pretty healthy, making at least 29 starts in four of the last five seasons.
And he's quite simply fun to watch. He strikes out guys with ease, averaging 227 strikeouts a year since he moved into the rotation. How many pitchers do you see make hitters look like this?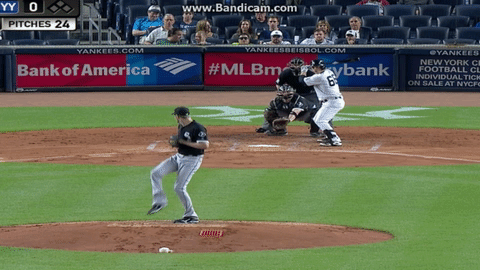 Or make Sanchez look like this?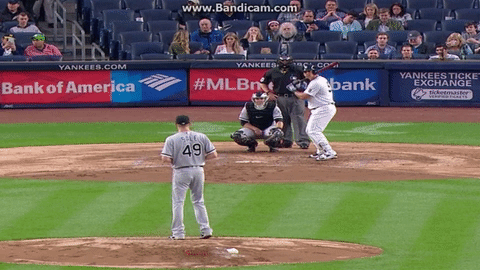 The Yankees are going to have to contend with Sale for a while and we may as well enjoy the ride. Pedro Martinez had some dazzling performances against the Yankees in the late 90s/early 2000s and beating him was a joyous occasion. It'd be nice to have a pitcher-against-the-Yankees rivalry like that going again and Sale is a prime candidate to make that happen. And even when he inevitably adds a win or two to his record vs. the Bombers, you'll still be able to see one of the best of this generation take the mound.