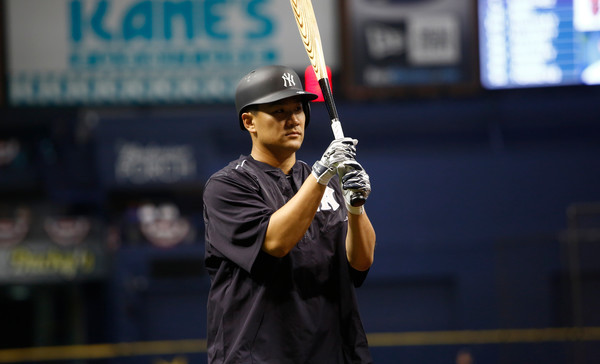 The Yankees and Orioles continue their three-game series with the middle game later this afternoon. Until then, here are some bits of news and notes to check out.
Yankees shoot down Tanaka opt-out report
The Yankees have shot down a report that said they would not pursue Masahiro Tanaka should he exercise his opt-out clause after the season. "It ain't on my radar screen right now — an entire season to play. Secondly, anyone that knows me knows that I don't get emotional or personal about business. Any decision then will be made on a solid analysis of all the relevant data, per usual," said Hal Steinbrenner to George King. Brian Cashman and Randy Levine rejected the report too.
The original report sounded like the Yankees trying to negotiate through the media and it didn't really pass the sniff test. Why make a free agent decision in April? If Tanaka opts out, it will be because he stayed healthy and had a very good 2017 season, in which case he'd be in high demand. Why close the door on that guy in April? There's also this: If the Yankees truly do not intend to pursue Tanaka after he opts out, they should trade him as soon as possible. Can't let him go for nothing but a dinky draft pick.
Yankees not yet thinking about extensions for young players
According to Joel Sherman, the Yankees are not yet considering long-term contract extensions for young players like Greg Bird and Gary Sanchez. "It's a bit premature," said Cashman. One of the reasons? The luxury tax. Signing any pre-arbitration player to an extension now means their luxury tax number would be equal to the average annual value of the contract. Sanchez and Bird will both make six figures in 2018, which will help the Yankees immensely with the luxury tax situation. They're desperately trying to get under the threshold.
"It can be an issue. I am not saying we have confronted the issue with Hal, but that would be a hurdle to get past. I am not saying it is unsurpassable, but that is my best guess," said Cashman. Interestingly enough, Cashman also seemed to indicate the Yankees are more open to discussing an extension with Didi Gregorius. Gregorius can be a free agent after the 2019 season. Bird has to wait until after 2021 and Sanchez (and Aaron Judge) until after 2022. I wrote about this early this week. Signing these guys now could save millions down the road, but it would also make it more difficult to get under the luxury tax threshold next year.
Jeter involved in bidding for Marlins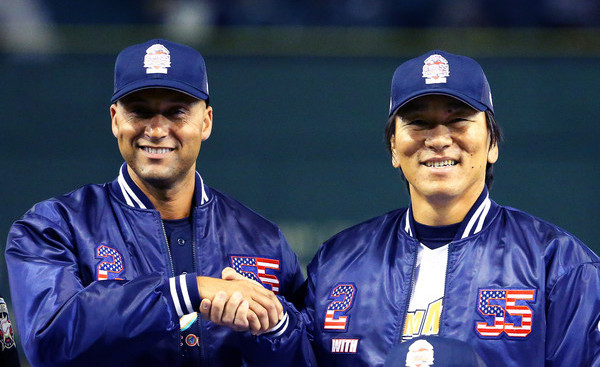 Since retiring, Derek Jeter has become a husband and he will soon become a father. Now he wants to own a baseball team. According to Charlie Gasparino, Brian Schwartz, and Tim Healey, Jeter is involved with a group led by longtime investment banker Gregory Fleming that is bidding for the Miami Marlins. Two other ownership groups are in the running too. MLB has to be kept in the loop during the process and the league is aware of Jeter's involvement.
"There are many groups who are interested. We field offers often. The difference now is those offers are being looked at very seriously," said Marlins president David Samson. Owner Jeffrey Loria reportedly had a handshake agreement in place to sell the team for $1.6 billion a few weeks ago, but that fell apart. Jeter has made it no secret he would one day like to own a team, and getting involved as the face of an ownership a la Magic Johnson and the Dodgers would seem to make the most sense.
Torreyes is keeping No. 74
I thought this was a fun little story. Ronald Torreyes gave up his No. 17 to Matt Holliday this year — Holliday wore No. 5 with the Rockies and Athletics, and No. 7 with the Cardinals, and those numbers weren't going to happen with the Yankees — and, in exchange, Holliday bought him a new suit, according to Dan Martin. Torreyes then picked No. 74 because that's the number the Yankees gave him when he joined the organization last year.
"Last year, 74 was the number they gave me when I arrived for Spring Training. This year, I used it again and had good results with it (in the spring), so I decided to keep it," said Torreyes to Martin. That's pretty neat. Better than the time the Yankees ripped No. 29 away from Francisco Cervelli and gave it to Rafael Soriano. I enjoy seeing young guys in the lineup with uncommon numbers like 74 and 99. Gives them a little personalty.