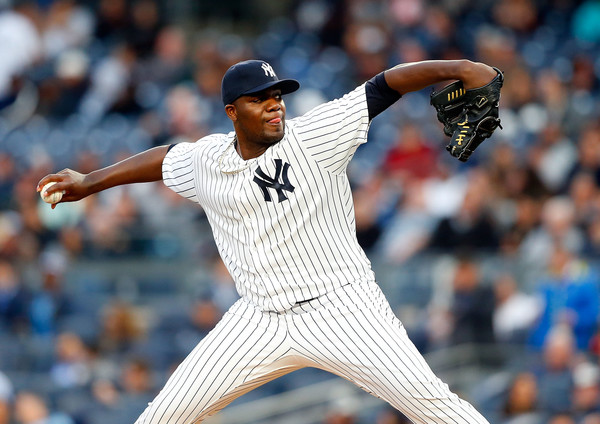 Who is the more unlikely "ace" between Michael Pineda and Jason Vargas? (It's obviously Vargas, but bear with me.)
Pineda has already matched last season's bWAR total in 134.1 fewer innings, and his 3.27 ERA is nearly a run and a half lower than the 4.60 mark he posted between 2015 and 2016. He's in the top-ten in all of baseball in K%, BB%, and K-BB%, and he is first among Yankees starters in most every metric. It's telling that his last start – a 6.2 IP, 6 H, 3 R, 1 BB, 7 K effort against the Astros – was viewed as something of a disappointment. This is something that we've long known that Pineda is capable of; he simply couldn't put it together the previous two seasons.
And Vargas – he of the career 4.07 ERA and 97 ERA+ – leads the majors with a ludicrous 1.01 ERA (417 ERA+). He's 34-years-old, and less than two years removed from Tommy John Surgery … and he's allowed 0 or 1 run in 6 of his 7 starts. Vargas has done this with a fastball that sits right around 86 MPH, and a 39.7 GB%.
When the season began, nobody would have expected this match-up to be a potential pitcher's duel – and yet here we are.
Here's the Royals lineup for this evening. The Yankees will counter with:
Brett Gardner, LF
Gary Sanchez, C
Matt Holliday, DH
Starlin Castro, 2B
Aaron Judge, RF
Chase Headley, 3B
Didi Gregorius, SS
Aaron Hicks, CF
Chris Carter, 1B
The first pitch is scheduled for 8:15 PM EST, and the game will be on YES.