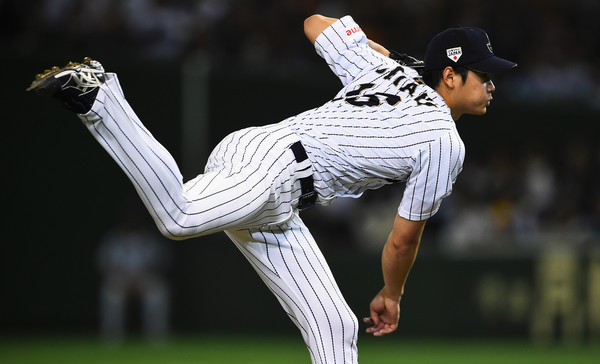 The Yankees and Cubs continue their three-game weekend series with the middle game today, though not until 7pm ET. Weekend night games are just the worst. Here are some notes to check out as you wait for first pitch.
MLB seeks to revise posting agreement with NPB
According to report out of Japan, Major League Baseball has applied to renegotiate a provision in their posting agreement with Nippon Pro Baseball. That's the system used to bring players from Japan over to MLB. Apparently MLB wants to reduce the maximum release fee, which is currently $20M. The owners are trying to cut costs? I'm shocked. Shocked I tell you. The two sides will reportedly discuss the matter Monday.
MLB managed to get NPB to agree to an overhauled posting system four years ago, conveniently right before Masahiro Tanaka came over. The old system was a blind auction, and the team that made the high bid won the player's negotiating rights. Under the new system, the player is allowed to negotiate with every team like a true free agent, and only the team that signs him has to pay the release fee. That's how the Yankees landed Tanaka.
So, the last time a significant player was set to come over (Tanaka), MLB was able to change the system to lower costs. (The Rangers won the rights to Yu Darvish with a massive $51.7M bid under the old system years ago.) Now another significant player (Shohei Otani) is expected to come to MLB soon, and they want to lower costs again. A sense a pattern.
Yankees expected to sign three top international free agents
MLB.com released their top 30 prospects for the 2017-18 international signing period earlier this week, and according to the write-ups, the Yankees are expected to sign three of those top 30 players: Venezuelan OF Everson Pereira (No. 4 on the top 30), Dominican 2B Ronny Rojas (No. 11), and Venezuelan OF Roberto Chirinos (No. 16). You can read the scouting reports for free at the MLB.com link. We've heard the Yankees connected to Pereira before. The international signing period opens July 2nd, as always.
A few things about the 2017-18 IFA signing period. One, the Yankees can spend again! The penalties from the 2014-15 spending spree, which limited the Yankees to a maximum bonus of $300,000 in the 2015-16 and 2016-17 signing periods, have expired. Two, this is the first signing period with the hard cap, and the Yankees only have $4.75M to spend. Not a penny more. That stinks. And three, this is potential the Otani signing period. He'll be subject to the hard cap because he is not yet 25 years old. His earning potential is severely limited at the moment.
Based on the write-ups, several other potential Otani suitors (Red Sox, Cubs, Blue Jays, Mariners, etc.) are expected to sign some of MLB.com's top 30 international prospects, indicating they are not saving their bonus money for Otani. Others like the Dodgers, Giants, Astros, Nationals, and Cardinals will be limited to $300,000 bonuses as part of the penalties for past international spending. Is anyone going to have hard cap space left for Otani? Assuming teams following through on their agreements with international amateurs, there might not be any money left over. Hmmm.
Sanchez has top selling AL jersey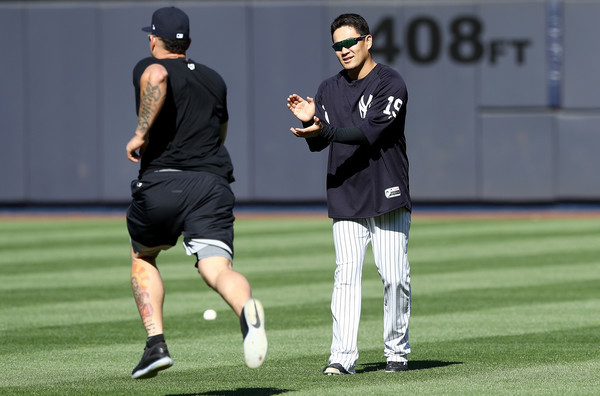 Two weeks ago MLB and the MLBPA announced their annual top selling player jerseys list based on online sales since the end of the 2016 World Series. Here is the press release. You will be surprised to learn the defending World Series champion Cubs dominate the top of the list:
Kris Bryant, Cubs
Anthony Rizzo, Cubs
Clayton Kershaw, Dodgers
Javier Baez, Cubs
Kyle Schwarber, Cubs
Gary Sanchez ranks ninth on the best selling jerseys list overall, but is first among AL players. He's one spot ahead of Mike Trout and five spots ahead of Mookie Betts. Sanchez, Trout, Betts, Francisco Lindor, Jose Altuve, Dustin Pedroia, and Josh Donaldson are the only AL players in the top 20. The list is decidedly NL (and Cubs) heavy. Pretty cool that Sanchez is so popular already. I guess doing what he did last year has a way of creating attention.
Over the last week, however, Aaron Judge has the third best selling player jersey behind Bryant and Rizzo, according to Buster Olney. The Yankees should have give away Aaron Judge-sized Aaron Judge shirts at a game one day as a promotion. That would be pretty cool.
All-Star Game voting opens
Voting for the 2017 All-Star Game starters is now open. They get a really early start on this each season. The ballot is right here. You can vote pretty much an unlimited number of times, though you'll need different email addresses. On merit, both Aaron Judge and Starlin Castro legitimately deserve All-Star votes right now. Will they in two months? I sure hope so. I doesn't really matter though. Royals fans are going to stuff the ballot like they always do anyway. Looking forward to seeing Eric Hosmer at first base, you guys.