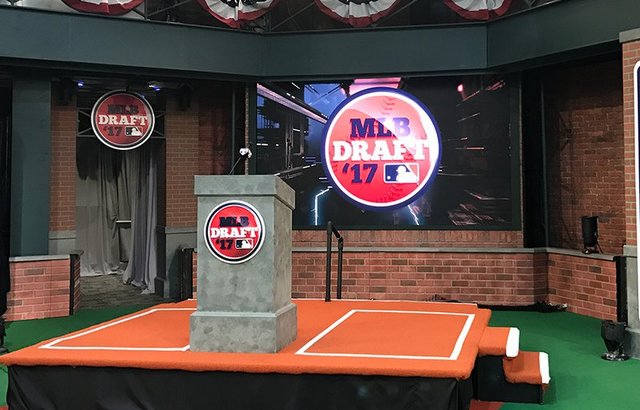 Later tonight, the Yankees will begin their seven-game West Coast swing with the first of three against the Mike Trout-less Angels. The Yankees are currently in first place at 37-23 and have baseball's best run differential at +115. It is a pretty awesome time to be a Yankees fan. The team is good (and fun!) and the farm system is excellent.
In the grand scheme of things, today's big event is not the game in Anaheim. One game is just one game. Hard to make too much of 'em. More importantly, the 2017 amateur draft begins tonight, so the Yankees and every other team has a chance to add impact players to their organization. Future All-Stars will be drafted tonight. Probably an MVP and Cy Young winner. Maybe even a Hall of Famer.
The MLB draft is a three-day event and a total of 75 picks will be made tonight. That covers the First Round, Supplemental First Round, Competitive Balance Round A, Second Round, and Competitive Balance Round B. The Yankees have two picks tonight: 16th (first round) and 54th (second round). The full draft order is right here. The Astros and Pirates lead the way with four picks tonight. The Cardinals have zero.
Reports these last few weeks have been all over the place. The Yankees have most often been connected to arms, both college and high school, though the prevailing thought is they will pounce should a top talent fall into their laps in the first round, a la Blake Rutherford last year. For what it's worth, the Yankees have selected 14 players in the first three rounds over the last four drafts, and nine of the 14 were college players. We'll see how it goes.
Tonight's draft broadcast begins at 7pm ET, and you'll be able to watch live on MLB Network or stream online on MLB.com. You can also follow along on MLB.com's Draft Tracker. Here are Baseball America's top 500 draft prospects and MLB.com's top 200 draft prospects for reference. As always, MLB.com's draft content is completely free. The scouting reports and everything.
We'll have a regular game thread for tonight's game later on, closer to first pitch. For the time being, use this thread for all draft-related comments and whatnot. Enjoy the draft, everyone. This promises to be a fun day.