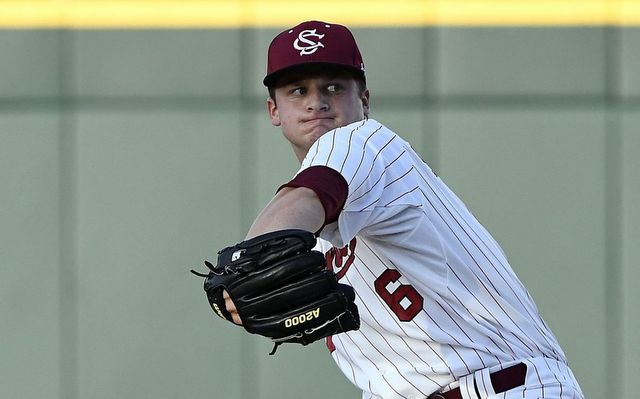 The Yankees have signed their top two selections in the 2017 amateur draft. The team announced deals with South Carolina right-hander Clarke Schmidt (first round, 16th overall) and California high school right-hander Matt Sauer (second round, 54th overall) earlier this afternoon. Sauer posted photos of his contract signing on Twitter.
Here is the bonus information:
Schmidt: $2,184,300 per Jack Curry ($3,458,600 slot)
Sauer: $2,500,000 per Jim Callis ($1,236,000 slot)
Schmidt, 21, received a below-slot bonus because he is currently rehabbing from Tommy John surgery. He had the procedure in May, so he's going to be out until midseason 2018. As our Draft Pool tracker shows, the Yankees now have a little less than $460,000 in bonus pool space remaining before hitting the penalties. They've maxed out their spending pool the last few years. I imagine that $460,000 is going to a late round pick.
Based on the way things played out, the Yankees planned all along to sign Schmidt below-slot — I'm guessing they had a pre-draft agreement in place — and spend the savings on a highly touted player who slipped into the second round. That happened to be Sauer. I think this was Plan B. Plan A was using the first round selection on a player who was no longer on the board when that pick rolled around, so they called an audible.
Anyway, Baseball America ranked Schmidt as the 32nd best prospect in the draft class. MLB.com ranked him 49th and Keith Law (subs. req'd) ranked him 74th. He was considered a mid-first round talent before blowing out his elbow last month. Here is a piece of MLB.com's free scouting report:
Schmidt relies heavily on a 92-94 mph fastball that can reach 96 and features power sink. Both his slider and curveball can be plus pitches at times but also lack consistency, and he also mixes in a decent changeup. He generally throws strikes but can be vulnerable if his pitches wander up in the strike zone … He maintained his improved velocity until he got hurt this spring, but scouts don't love his delivery and now have even more questions about his durability.
Sauer was ranked as the 28th best prospect in the draft class by both MLB.com and Baseball America. Keith Law ranked 67th. Here's a snippet of MLB.com's scouting report:
He's reached 97 mph at times this spring and has sat comfortably in the 91-95 mph range in most starts. He combines that with a nasty slider, up to 87 mph, thrown from a three-quarter slot with good power, bite and deception. The changeup is a distant third pitch … Some scouts are not in love with Sauer's arm action and see him more as a potential power bullpen type of pitcher. Others see a potential three-pitch mix, two above-average to plus offerings, with the build to be a rotation workhorse.
The draft signing deadline is Friday, July 7th, so two weeks from yesterday. The Yankees have already handled all their major business, however. They've signed each of their picks in the top 17 rounds plus several late rounders. I expect them to spend that remaining $460,000 ($457,949 to be exact) on someone. That has been their M.O. in the draft pool era. To spend as much as possible without incurring penalties forcing them to surrender next year's first round pick.