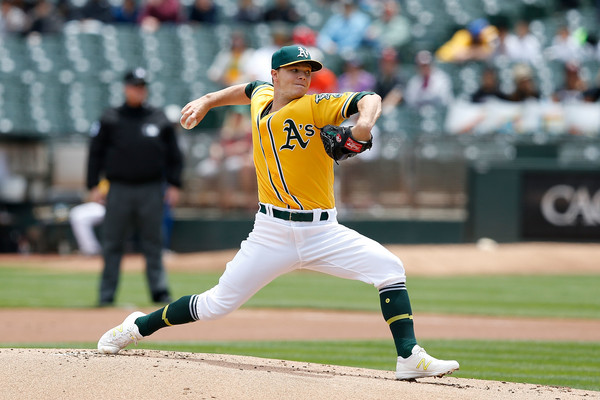 On Monday afternoon, one of the prevailing concerns about the series with the Angels was that it was a 'trap series.' The Yankees were red hot, but they've also struggled in Angel Stadium over the last few years – and the Angels have been surprisingly good since Mike Trout went down. A few days later the Yankees had dropped two of three and lost CC Sabathia to an injury. It was a disappointing series, to say the least, as seems to be the norm on these West Coast trips. Next up: the Oakland Athletics.
The Last Time They Met
The A's visited the Bronx just three weeks ago (May 26-28), and the Yankees took two of three. All three games were relatively close, as the Yankees outscored the A's by just two runs in total. Other points of interest:
Masahiro Tanaka tantalized us once more in the first game, pitching to the following line – 7.1 IP, 5 H, 1 R, 0 BB, 13 K. The key was his splitter, which was on-point for what may have been the only time this season. Thanks to some quirky rules, he took the loss despite not being responsible for the go-ahead run.
The Yankees won game two 3-2, in what was a frustrating game for the offense. They had just seven base-runners (only two of which reached base via hit), and had trouble squaring up the A's pitchers all day. Luckily, one of those hits was a go-ahead two-run home run by Matt Holliday, and that was all they needed.
Game three was much more Yankees-like, as the bats came alive and they plated nine runs. Aaron Judge was 2-for-4 with the first grand slam of his career, Ronald Torreyes was 2-for-3 with a couple of runs scored, and Brett Gardner picked-up a couple of 2-our RBI in a 9-5 victory.
Check out Katie's Yankeemetrics post for more detailed notes and statistics.
Injury Report
As was the case last time around, the A's have some key players on the disabled list. RP Ryan Dull, SP Kendall Graveman, SS Marcus Semien, SP Andrew Triggs, and RP Ryan Dull are on the DL, and none will return in time for this series (Triggs started against the Yankees in the previous series). OF Matt Joyce had to leave yesterday's game early following a collision, and he received three stitches to close a laceration on his chin. He's listed as day-to-day.
Their Story So Far
The A's have lost three in a row by a combined 13 runs, and are currently 27-38 with an AL-worst -77 run differential. They're also 4-9 in June, having been outscored 92-64 since the calendar flipped. Their offense has gradually improved (and is about league-average once adjusted for the park), but their pitching has backslid tremendously.
Yonder Alonso is a big part of that offense, and he has yet to show signs of slowing down. He's batting .303/.398/.635 with 16 home runs (174 wRC+) on the year, including a .370/.452/.630 slash line since these teams last met. Their offense as a whole has a 101 wRC+ this month, with 6 regulars sitting at 111 or better. Pitching was supposed to be their strength, but I'm sure that they're more than happy with fielding a competitive lineup every night.
The Lineup We Might See
Bob Melvin has used more distinct batting orders than any other manager in the game this year, as he has a proclivity for platooning and riding the hot bat. The fact that the team has dealt with a slew of injuries doesn't help, either. This is essentially the core lineup that he's been building off of lately (keeping in mind that Jordan Montgomery is pitching tonight):
Rajai Davis, CF
Jed Lowrie, 2B
Ryon Healy, DH
Khris Davis, LF
Yonder Alonso, 1B
Chad Pinder, SS
Trevor Plouffe, 3B
Matt Joyce, RF
Josh Phegley, C
With a RHP on the mound, Matt Joyce will bat higher in the lineup, and Stephen Vogt will start at catcher.
The Starting Pitchers We Will See
Thursday (10:05 PM EST): LHP Jordan Montgomery vs. RHP Sonny Gray
Two years ago, Gray looked like a legitimate top of the rotation starter. He was coming off of back-to-back 200-plus IP seasons with a combined 131 ERA+ and 8.9 bWAR, and he was turning 26 just before the start of the 2016 season. And then 2016 came, and he was hurt (just 22 starts) or ineffective (70 ERA+, -0.1 bWAR) throughout the season, and those injuries carried over to 2017. Gray has shown signs of his old self, though, as his strong strikeout (23.7%), walk (7.1%), and groundball (56.7%) belie his 4.37 ERA (94 ERA+).
Gray has found some velocity this season, and he now works in the mid-90s with his fastballs (four- and two-seamers). He also throws a low-80s slider, a low-80s curveball, and a change-up in the upper-80s. He throws all five pitches regularly, as well.
Last Outing (vs. TBR on 6/10) – 6.0 IP, 9 H, 5 R, 1 BB, 10 K
Friday (9:35 PM EST): RHP Luis Severino vs. LHP Sean Manaea
Manaea shut-down the Yankees three weeks ago (7 IP, 4 H,  R, 1 BB, 8 K), and has been going strong ever since. He now has a 3.67 ERA (112 ERA+) on the season, and his stuff has been improving as the weather warms up.
Last Outing (vs. TBR on 6/10) – 7.o IP, 6 H, 2 R, 2 BB, 5 K
Saturday (4:05 PM EST): RHP Masahiro Tanaka vs. RHP Jesse Hahn
This is Hahn's first healthy season in years, as the 27-year-old has dealt with a litany of arm-related injuries. He has been mostly effective throughout his major league career, with a 102 ERA+ and 3.0 bWAR in 277.0 IP, but that doesn't look quite as good when it's spread out over three-plus seasons. Interestingly enough, Hahn is the oldest member of the A's rotation with Triggs on the DL.
Hahn is a three or four-pitch guy, depending upon the day. He throws a mid-90s two-seamer, a mid-70s curveball, and a mid-80s change-up regularly. He'll also mix in a mid-80s slider, but that isn't a given on most days.
Last Outing (vs. TBR on 6/11) – 5.0 IP, 7 H, 3 R, 2 BB, 5 K
Sunday (4:05 PM EST): TBD (Chad Green?) vs. RHP Jharel Cotton
Cotton was viewed as a dark horse candidate for the AL Rookie of the Year heading into 2017, on the strength of a strong performance during a September call-up and a seemingly terrific fastball/change-up combination. He'll need quite a bit of work to get to that level, though, as he has a 5.52 ERA (74 ERA+) through eleven starts, to go along with below-average peripherals. The 25-year-old has just three quality starts on the season, to boot.
Cotton's bread and butter is ostensibly the coupling of his low-to-mid-90s fastball and mid-70s change-up. The discrepancy between those two offerings should keep hitters off-balance, but that simply hasn't been the case so far. Cotton also throws a slider in the upper-80s and a curveball in the upper-70s.
Last Outing (vs. MIA on 6/13) – 5.0 IP, 8 H, 5 R, 1 BB, 5 K
The Bullpen
The A's bullpen has the second-worst park-adjusted ERA in baseball, and it is only getting worse – the unit has a 7.16 ERA in 44.0 IP in June (which includes a 4.2 IP, 4 ER effort yesterday). Sean Doolittle just returned from an injury and Santiago Casilla seems to have righted the ship, but only four relievers have an ERA under 4.00 (and that includes Doolittle in just 8.2 IP). The rotation doesn't help matters, either, as they routinely turn the ball over to the bullpen in the 6th inning or earlier.
It's difficult to imagine the A's bullpen as a whole being in good shape for this series, as it was needed for 7.2 IP between Tuesday and Wednesday. Fortunately for them, neither Doolittle nor Casilla has pitched since Saturday, so their best arms are ready to go.
Who (Or What) To Watch
Sonny Gray was the object of the Yankees desire at one point, and the A's are almost always willing to shop their stars – so this could be an audition, of sorts, should Cashman and Co. seek to improve the team's rotation sooner rather than later. With Jose Quintana struggling in Chicago, however, Gray may be both the best and the cheapest option on the market come the trade deadline.