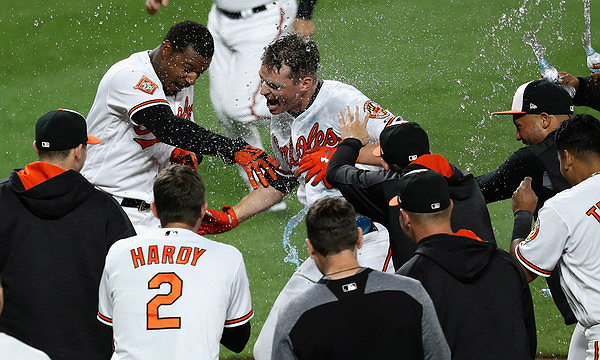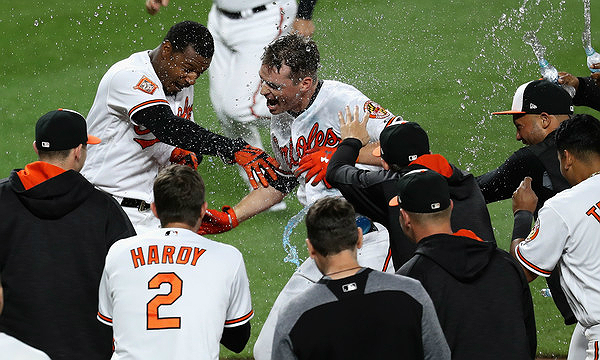 After taking two of three from the Red Sox, the Yankees close out their two weeks in the AL East with a three-game set against the Baltimore Orioles. The O's sit 3.5 back (four in the loss column) and are in third place.
The Last Time They Met
Long time, no see, eh? Yankees faced the Orioles just a week and a half ago, losing two of three starting on Memorial Day.
Jordan Montgomery struggled through the first game, needing 34 pitches to finish the first inning. He gave up three runs in five innings and the Yankees fell, 3-2, despite another home run from Aaron Judge.
Brett Gardner and Matt Holliday each hit two home runs and the Bombers rode 6 1/3 innings of one-run ball from Luis Severino to an 8-3 victory. Severino lowered his ERA to 2.93 and struck out eight.
Masahiro Tanaka was tagged for seven runs and the Orioles took the series finale, 10-4, with eight RBI between Adam Jones and Chris Davis.
Be sure to check out Katie's Yankeemetrics post from the set at OPACY.
Since They Last Met
The O's split a four-game set at Camden Yards with the Red Sox, winning the first two before losing the final pair.
They then swept a pair at home with the Pirates in dramatic fashion. They came back from 4-1 down, 5-3 in the 9th inning, on Tuesday thanks to a game-tying two-run shot from Jonathan Schoop and a 10th-inning walk-off single from Mark Trumbo.
The next night, Tony Watson blew another save (with the help of old friend Johnny Barbato) and the Orioles won despite being down to their last out. Trey Mancini did the honors with a game-tying two-run homer in the 9th and a three-run shot in the 11th to win it.
The O's lost a makeup game with the Nationals, 6-1, in Washington on Thursday. They struck out 15 times.
They've called up veteran RHP Edwin Jackson and former Scranton RailRider Ruben Tejada, replacing LHP Donnie Hart and SS Paul Janish on the roster.
Injury Report
Big injury news with Baltimore: Third baseman Manny Machado suffered a strained left wrist, which caused him to sit out Thursday's loss to the Nationals. He took a spike from Andrew McCutchen to the wrist on Wednesday and had to leave the game early. For more on the injury, check out the Baltimore Sun.
In his place, the Orioles put Davis at third on Thursday. He avoided making any errors, but his replacement at first, Trumbo, wasn't so lucky.
Zach Britton is still on the DL and won't be back during this series. Utility man Ryan Flaherty (right shoulder strain) is still on shelf and could return soon. Starting catcher Welington Castillo is still on the DL after a ball deflected off Didi Gregorius's foot on a HBP into Castillo's groin area. Yikes. Get well soon, Wellington.
Lineup We Might See
With Machado out on Thursday, the O's put together a weird lineup while in a National League park. Jones also got a day off. Buck Showalter always mixes up his lineups depending on opposing pitchers, platoons, etc. He'll face an extra question mark with Machado's health.
Here's something resembling what Showalter will throw at Montgomery on Friday.
1. Joey Rickard, LF
2. Adam Jones, CF
3. Mark Trumbo, RF
4. Trey Mancini, DH
5. Chris Davis, 1B
6. Jonathan Schoop, 2B
7. Caleb Joseph, C
8. J.J. Hardy, SS
9. Ruben Tejada, 3B
Against RHPs, he tends to take out Rickard and move Seth Smith into the leadoff spot, playing RF. If Machado's healthy, the lineup Domenic wrote up in last week's Series Preview is a pretty good idea of what it'll look like. Heck, you should read his piece regardless.
The Starting Pitchers We Will See
Friday (7:35 PM EST): LHP Jordan Montgomery vs. RHP Dylan Bundy
These are literally the same three pitching matchups as we saw in Baltimore last week, so I won't bore you with the details on each pitcher, referring you again to Domenic's terrific work on that series preview. Instead, let's look at each of the three O's last time out.
After holding the Yankees to two runs on Memorial Day, Bundy was a little shaky in a 5-2 loss to the Red Sox on Saturday. He allowed just two runs in five innings but wasn't very economical, needing 100 pitches to get through the frames. A 31-pitch fourth inning did him in. He gave up a two-run homer to Hanley Ramirez in that inning. Still, he allowed just five baserunners, but long at-bats were his downfall.
Saturday (7:15 PM EST): RHP Luis Severino vs. RHP Chris Tillman
Tillman was battered by the Yankees for five runs last Tuesday, including three home runs. He didn't get much better results come Sunday against the Red Sox.
He lasted six innings this game but earned a loss with five runs (three earned). He put 10 Boston hitters on base, four with walks, and allowed a home run to Andrew Benintendi. Believe it or not, his 43 game score was actually his best performance since his May 19 start vs. the Twins. He's allowed at least three earned runs in every start since his season debut on May 7.
Sunday (1:05 PM EST): RHP Masahiro Tanaka vs. RHP Kevin Gausman
Thirteen Yankees got on base vs. Gausman last Wednesday, yet he held them to three runs (two earned) while beating Tanaka. He had a better outing with superior control on Monday.
Facing the Pirates, he gave up four runs in 6 2/3 innings, although he was better than that line makes him seem. The Pirates strung together three runs in the second while Gausman scattered eight hits over his outing. He walked just one and struck out five. He was in line for the loss until the Orioles' late-game heroics.
The Bullpen
They needed three innings from Ubaldo Jimenez and one inning from Richard Bleier on Thursday night. It was Bleier's second straight night of work (just two pitches on Wednesday). They needed work from their two other long relievers, Jackson and Mike Wright, on Wednesday while Brad Brach and Mychal Givens each pitched both games vs. the Pirates.
Yankees Connection
Vidal Nuno is down in the minors, but there's still Buck Showalter, Bleier and Davis, the latter who was a former Yankees draft pick who didn't sign.
But there's a new one with Tejada, who spent spring training with the Yankees and was in Triple A Scranton until he was traded to the Orioles last week.
Who (Or What) to Watch?
The big thing to watch will be Machado. If he comes back, will he be at full health? If not, how will the Orioles manage their defense without the two-time Gold Glove winner? Machado played 319 out of a possible 324 in 2015-16, so he's typically durable.
Beyond that, this is the last time the Yankees face the O's until Sept. 4. Closing out this stretch of division play strong before heading on a trip out west would be a nice feather in the Bombers' collective caps.